The Loop
__I want to be the first to congratulate Plummer and Bennett on further screwing up the golfing public. Peter Stern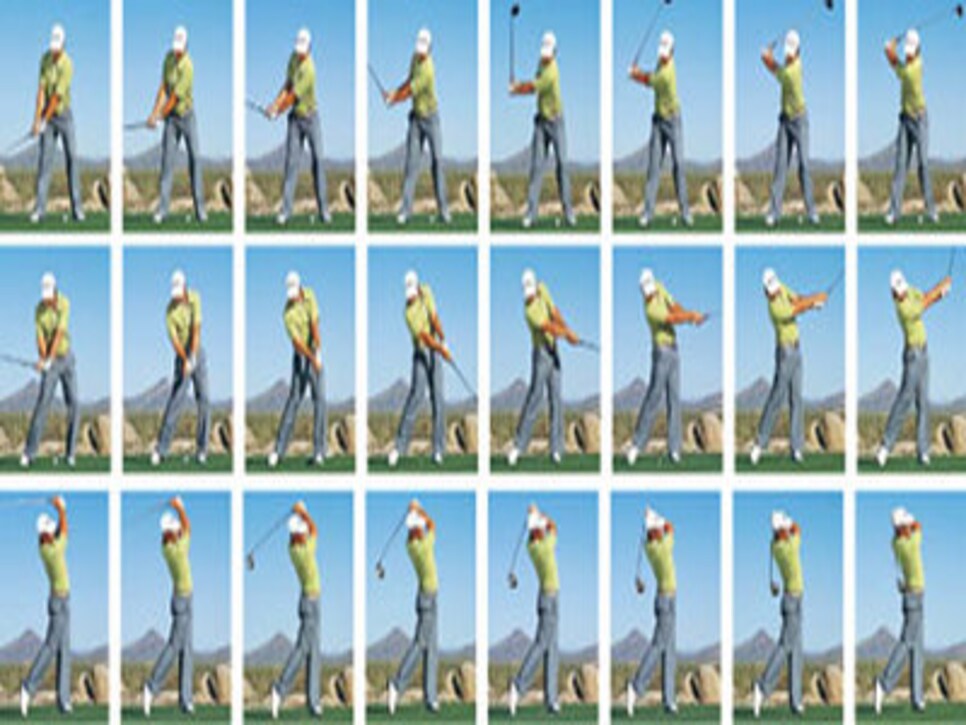 Okay, it's official. In my days at Golf Digest, which number approximately half of the years it's been in existence, no story has ever garnered a) as much discussion and b) as many success stories as The New Tour Swing. I'm not being promotional here. This is beyond the pale. Here are two of the latest from, the first from Matt Anderson of Cincinnati:
__In 2001-2002 I played as a 5 handicap using a swing very akin to the Stack & Tilt, with my weight centered and a spring-up through impact move.  However, I was convinced that I was somehow doing something wrong by not following convention, and that my game could improve if I used a more "standard" swing method.  After several years, lessons, and teachers, my swing was replaced with a more "standard" swing, and my 5 handicap was replaced with a 15.  In over 5 years, I haven't broken 80, and never saw the likes of a 5 handicap again...until now.  After reading the article I realized that I wasn't necessarily doing the wrong thing years ago.  I changed my swing to the stack and tilt, and after a few rounds at the range I was compressing the ball again, and hitting it consistently longer and straighter!  ! My last three rounds have been back in the 70's, and I'll never go back to the "conventional swing" again!  Thank you!
The second is from Mike Reed of Lake Charles, Louisiana:
After reading The Swing Wisperers and hitting a few wedges in my back yard, I was convinced I had found THE SWING. I played my first round with out practicing the swing on the driving range. I hit more fairways and greens than I had in years. The ball flight trajectory was great and there was little sideward movement.I am convinced that this swing will benefit many golfers who can not play or practice often. Congratulations to Mike Bennett and Andy Plummer.
Lest one think that the verdict is unanimous, however, here is the first of what I think will be several letters from instructors calling Foul! on Messrs. Bennett and Plummer. It comes from Peter Stern of the golf academy by the same name in Kings Park, New York. New Yorkers, even upstate New Yorkers, are outspoken:
__I want to be the first to congratulate Mike Plummer and Andy Bennett on further screwing up the golfing public. 90% of golfers are already doing what they propose which is why they can't break 100. __
P.S. Mr. Baddeley's spine is clearly tilted away from the target at the top of his swing in the tiny swing sequence pictures (weight shift) as opposed to the large picture demonstrating there method on page 122.
Peter, it's Mike Bennett and Andy Plummer, but we get your point. You are not the first instructor I've heard express this sentiment, only the first to write. But you have to admit, a lot of people at least think they're getting better when they think they're doing it.
What do the rest of you think? Tried it? Would you teach it?
(Baddeley sequence by J.D. Cuban)