The Grind
A surprising PGA Tour Cameo star, a couple odd Phil Mickelson firsts, and Hank Aaron's lasting gift to golf
Welcome to another edition of The Grind where we're starting to realize more and more that Tiger Woods' 2019 Masters win was an actual miracle. A few hours after we joked last week about how great it would be if Woods had Tom Brady's ageless back, the 15-time major champ announced he'd undergone another microdiscectomy. Tiger has now undergone as many back surgeries as he has green jackets. And while we're happy he hopes to still play at Augusta in April (Get well soon, Big Cat!), it's hard to feel too confident about him winning a sixth Masters, at least this year. So as we continue to face this pandemic together, hold on to your loved ones—and hold on even tighter to your major Tiger memories. We're lucky to have so many, in particular, that last one. OK, let's talk about some more uplifting stuff, shall we?
Si Woo Kim: With his win at the American Express—his first since the 2017 Players Championship—Kim is now one of only two current players age 25 or under with three PGA Tour titles. The other? Collin Morikawa. Pretty exclusive company.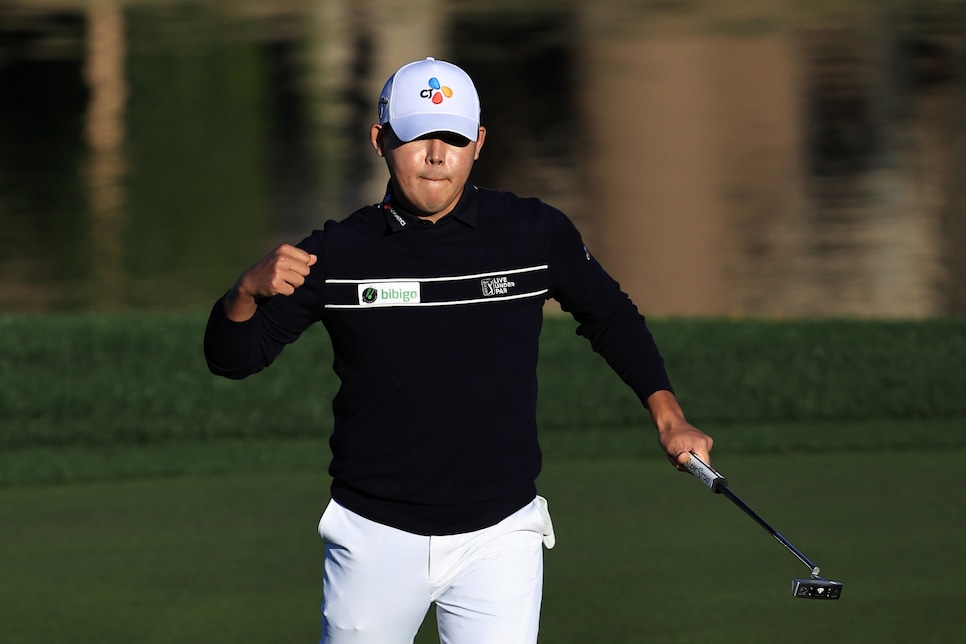 And he also made a bit of history by becoming the first person on Cameo to win a PGA Tour event. (Scrolls through Cameo's golf category…) Wait, Sergio Garcia is on Cameo? Really?!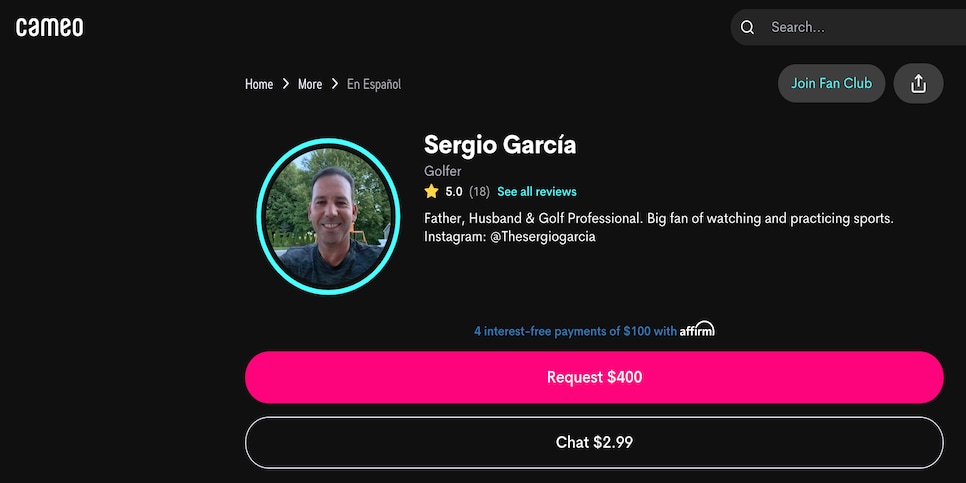 OK, so Kim is the first person on Cameo to win a non-fall PGA Tour event. Historic! And since I ranked the golf "talents" on Cameo in 2019 (Shooter McGavin was No. 1. Obviously.), Kim has already raised his rate from $25 to $150.

I wouldn't even do one for $25. . . kidding! I'd do one for less. Much, much less. Hit me up! Still, Kim, with his 5-star rating for absolutely electric messages like this one is charging $150 and he hasn't won a major (sorry, Players Championship) yet. So, Collin, get on Cameo already. You could make a killing!
Tyrell Hatton: Once known mostly for being a talented hothead, Hatton has now established himself as simply one of the best golfers in the world. In fact, with his latest win in Abu Dhabi, he's now up to No. 5 in the Official World Golf Ranking, ahead of guys like Rory McIlroy (more on him later), Brooks Koepka, and Bryson DeChambeau. Not bad for someone who a year ago was just laying around drinking red wine and playing Xbox as he recovered from wrist surgery.
Considering how well that rehab went for him, hopefully Tiger is doing the same.
The Kordas: The recent Golf Digest cover stars put on a show at the LPGA's season-opening event. Here's Nelly driving the green on a 330-yard par 4 for a second consecutive day:
The following day, big sister Jessica fired the fifth 60-or-better score in LPGA history before going on to win her sixth career title.
These gals are good (not to mention playoff loser Danielle Kang). Really, really good. It's a shame there's a month break in the LPGA schedule now, but after that, we should be in for a fun season.
This Pebble Beach house: After a $6 million slash in price, this Pebble Beach mansion that sits right on the 13th tee box and was originally owned by an architect who had a hand in the design of this storied course can be yours for $21 million: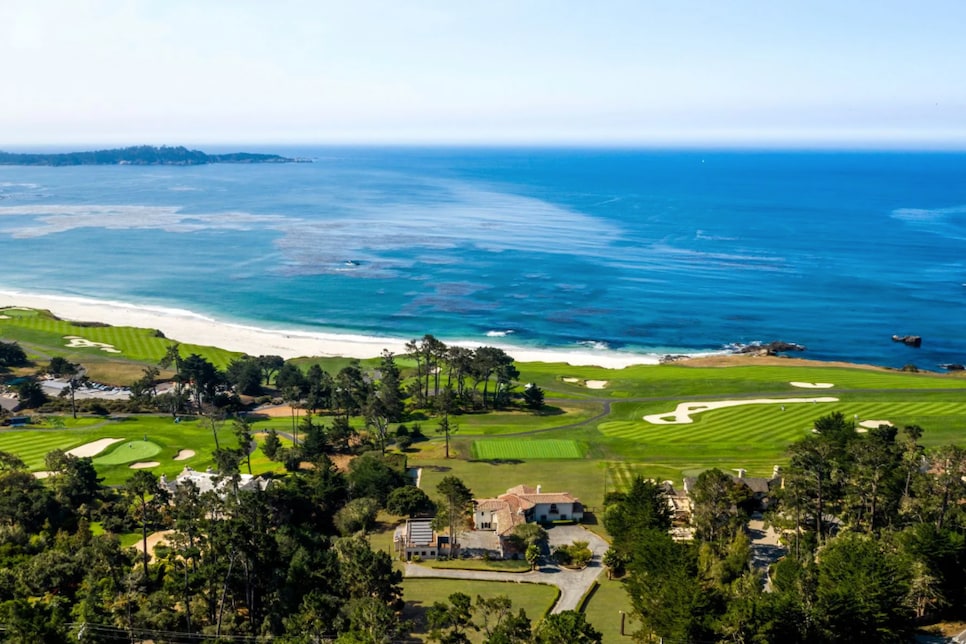 Sure, it's still a steep price tag. And you could probably buy Cameo instead and get all the Si Woo Kim messages you want, but LOCATION, LOCATION, LOCATION, am I right? This sounds like a great investment. Want to do it as a group? Count me in for a few bucks—emphasis on "a few"—if I'm able to land a couple Cameo gigs.
Tony Finau on Sunday: Once again, Finau had a chance to pick up that elusive second PGA Tour title and once again he came up short despite shooting a solid 68 on Sunday. In fact, the numbers show Finau usually plays well when he's in contention. Still, it's hard to look at this number and not call his lack of trophies a disappointment:
You can rattle off all the stats you want—including career earnings of more than $20 million—but the fact remains that Finau is still stuck on that lone victory at the 2016 Puerto Rico Open. C'mon, Tony! Don't you know Viktor Hovland broke the Curse of Coco Beach last month? It's time to win again!
Rory McIlroy on Sunday: The four-time major champ's winless drought isn't quite on Finau's level, but it's shocking that he hasn't won in more than a year following a blown 54-hole lead in Abu Dhabi. In fact, Hatton has won four times since McIlroy last hoisted a trophy at the 2019 WGC-HSBC Champions. So it's also time for this guy to win. No more excuses about the lack of fans or lack of sleep being a new dad. As your ex-caddie J.P. Fitzgerald once said, "You're Rory McIlroy! What the f--- are you doing?!" Speaking of what the f--- are you doing. . .
This pinky grip: Mark Hubbard, previously best-known as the guy who proposed during the Pebble Beach Pro-Am, will now be known as the guy who did this. Whatever this is.
We're guessing this won't catch on, but if it does, the USGA might have to look into a Pinky Ban because this is just absurd.
The PGA Tour heads to San Diego for the Farmers Insurance Open, AKA the one where my parents ask every year why I don't cover it so I can visit them. Sorry, mom. Maybe next year. This is also where Tiger Woods traditionally makes his first start of the year, but obviously that's not happening with the whole back surgery thing. But Torrey Pines will also be the site of the U.S. Open in June. So mom, if you're lucky you might still see Tiger and I in a few months. I'm pretty sure Tiger doesn't need a place to crash, though.
Random tournament fact: Only three of the top 10 are in the field this week so it's not as strong of a field as what we're used to seeing with some big names playing in Dubai instead. But don't worry, Rickie Fowler will still be there. We are Farmers! Dum-da-dum-dum-dum-dum-dum!
RANDOM PROP BETS OF THE WEEK
—Tiger Woods will ever be on Cameo: 1 MILLION-to-1 odds
—Rickie Fowler will win this week: 75-to-1 odds (Actual odds)
—Rickie Fowler will still lead this week in commercials: LOCK
Get a load of where Jorge Campillo's golf ball wound up:
Yep, that's a divot wrapped around the ball. And yep, he was allowed to remove it—but very delicately. Had the ball moved at all, Campillo would have been penalized.
Presenting the European Tour's latest gem, "The Angry Golfer":
The best part? Well, other than all the best parts in the video? This stuff is actually working! Check out this week's winner, Tyrrell Hatton:
Too bad Jon Rahm wasn't there!
QUOTE OF THE WEEK (OTHER THAN, "WHEN YOU'RE GLUM, POP UP THAT THUMB)
"It took me 17 years to get 3,000 hits in baseball. It took one afternoon on the golf course." —Hank Aaron. In addition to being one of the greatest baseball players of all time, the Hammer delivered one of the greatest golf quotes of all time. RIP to a true legend.
THIS WEEK IN PHIL BEING PHIL
What a week! First, Phil Mickelson used a mask to flex as the kids say. Then he put on a show hosting a charity match. Then he missed the cut at the AMEX after making 18 pars in a round for the first time in his entire career. EIGHTEEN pars! Phil Mickelson! Just wild. And then, he danced with his pants off for a new Mizzen+Main ad:
We might need to start doing a special Phil-only edition of The Grind. And considering Mickelson always pushing his magical coffee concoction it seems like an advertising match made in heaven. Let's make it happen, Phil!
The 2022 PGA Championship will go to Southern Hills and North Carolina native Davis Love III will be the 2022 Presidents Cup captain at Quail Hollow. Those have to be two of the least-surprising bits of news ever. . . . On the other hand, Claude Harmon said he's "devastated" after star pupil and pal Brooks Koepka left him. That's rough, but at least Claude still has Si Woo Kim. . . . Congrats to Mardy Fish for winning the celebrity portion of the LPGA Diamond Resorts Tournament of Champions. He remains the King of celebrity golf—at least, until Tony Romo returns from the TV booth. . . . Darren Clarke is suddenly the new King of senior golf after winning his second straight PGA Tour Champions start. Well, at least until Phil Mickelson returns. . . . And finally, check out the latest episode of Local Knowledge, which has tour tales from the three most recognizable rules officials (Mark Russell, Slugger White, and John Paramor) in the game, all of whom are retiring:
These guys are good. At rules stuff.
RANDOM QUESTIONS TO PONDER
What will be the next big rules controversy?
Who will be Brooks Koepka's next swing coach?
How much could Tiger Woods charge on Cameo?