FIRE PIT COLLECTIVE
The Summer of '22: A great season of golf from St. Andrews to the Hickory Championships
Editor's Note: This article first appeared in Fire Pit Collective, a Golf Digest content partner.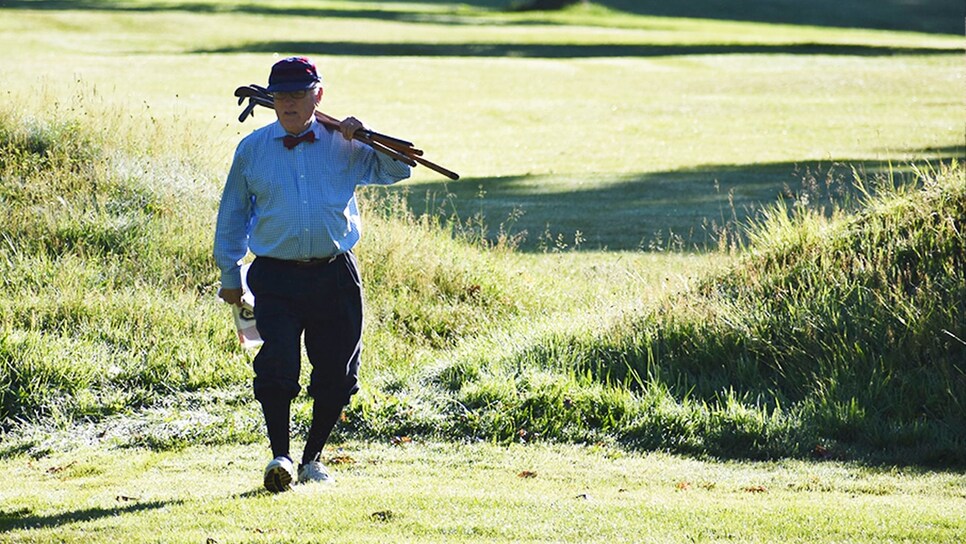 Memorial Day to Labor Day. It goes too fast.
Some of you, I know, have minds that run to numbers, and summertime numbers might include days at the beach, scores under 90, and raids of the Coast Guard station, if that reference means anything to anybody. My scores this summer were good, bad and otherwise. For me, though, summer is a song, more than anything else.
Sittin' in my car outside your house/
'Member when you spilled Coke
In early June, I went to the Memorial. Big Jack's tournament. Its name originally was a double-entendre, a reference to when it was played (it concluded on the Sunday of Memorial Day weekend) and its tradition of honoring golfers both dead and alive.
This first honoree was Bobby Jones, posthumously, in 1976. This year's honorees were the late Charlie Sifford and Ben Crenshaw, very much alive. Crenshaw talked about Sifford, Jones, Nicklaus, Herb Wind and others who shaped his life. He spoke from his heart, as he does. I don't know how it played on TV (Golf Channel), but sitting right there, as I was, was thrilling, in a mellow sort of way.
Herb once had a beautiful sentence about Crenshaw playing the USGA boys' junior championship in the summer of '68, and his pleasure in slipping on a sweater in the cool of early morning, at the Country Club in Brookline, Mass. A couple of weeks after the Memorial—in mid-June, when the U.S. Open was at the Country Club—Ben and his wife, Julie, made the trip to Brookline. They toured Eddie Lowery's boyhood home.
I drove to Dublin, Ohio, for the Memorial, from my home in Philadelphia. (A few weeks later I drove to Boston. Now, with Labor Day too close, I am driving up and down the California coast. What is it about summer and road trips?) It's an easy drive, Philadelphia to Columbus, and when flying solo (as every motorist knows) you play your music as loud as you like. My clubs were in the hatch, as per usual, with some extra ones along for the ride. They were hickory-shafted clubs with baked-out grips and funny names engraved on them.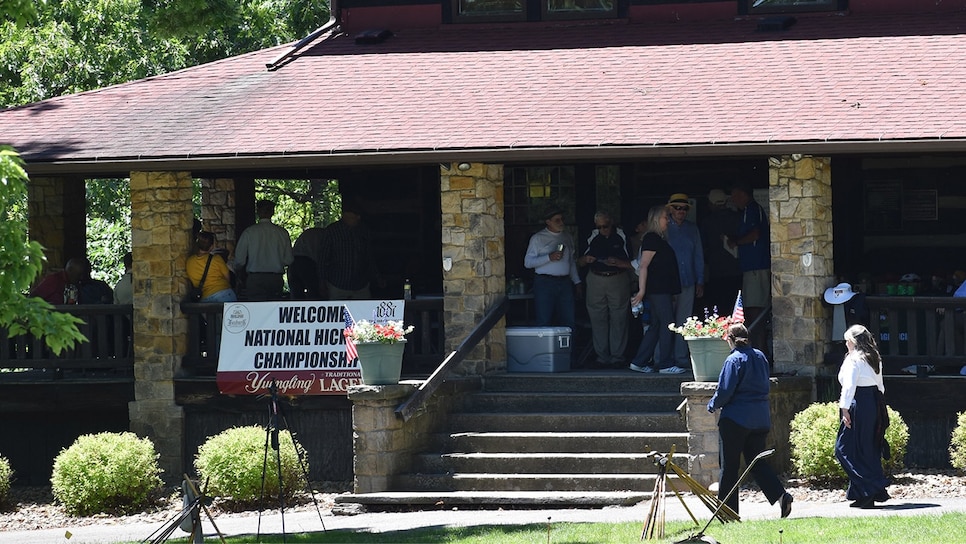 The trip I recount here had two parts to it: a day at the Memorial, followed by a visit to the 25th National Hickory Championship, which was played this year, as it has been before, on the nine-hole Foxburg Country Club course, in Foxburg, a tiny village in western Pennsylvania on the Allegheny River. The course dates back to 1887.
At the Memorial, I sat at lunch with Tony Jacklin, Hale Irwin, Andy North, Paul Azinger and others. Jordan Spieth was one table over. Nicklaus was hovering. Barbara Nicklaus was in the house. So were Julie and Ben. Just for the fun of it, I wore my caddie badge from the 1985 Memorial. An unlikely confluence of events landed me at that long table, but I would say the '85 Memorial had something to do with it.
Irwin, kindly making conversation with a reporter pretending to be in the club, asked me to name some players whose swings I liked. You can't, in that context, say Hogan or Tiger or Steve Elkington. (Too obvious.) I believe I offered Boo Weekley and Mickey Wright, among others, and in return got some appreciative nods. A pair of professional golfers who predate this rancorous summer for golf, or at least professional golf.
I fell for the game in the last days of persimmon and the early days of disco. I was drawn to the swings, the plaid pants, the ways the players walked and talked, their gruff grace with the sour taste of defeat still in their mouths. Also Judy Rankin's headband and sunglasses and tight draws.
As I was coming up in this niche sport of ours, golf was a summertime race-against-sunset game and the Sunday afternoon pros were gods. Weiskopf. Trevino. Watson. Jerry Pate and John Mahaffey and Hubert Green. You knew what they made because their winnings were listed in the paper every Monday, but that's not what drew you to them. Now it's money, money, money.
At the Memorial, Bryson DeChambeau took a stand for his god, his tour and his own self. No, it didn't sound convincing. He won the Memorial in 2018, the year he made his first Ryder Cup team, as a captain's pick. Who knows, he may never play in another Memorial. The U.S. Federal courts will have a say in that. Talking heads on Golf Channel were already opining about impending legal fights.
I was eager to get out. I pointed my six-speed Mini for Foxburg, sunroof open. I was ready to take a break from 21st-century golf. I was headed for 1887, aided by cruise control and google maps.
I have covered a bunch of U.S. Opens and British Opens. I have caddied in a bunch of national opens. (Canada, Portugal, Italy and others.) Now I would be playing in one for the first time. The National Hickory Championship. It's an open event. Anybody can sign up for it.
On my way out of Dublin, I stopped at the Men's Wearhouse on Blazer Parkway and bought a hat. I needed a particular style, per the rules of the National Hickory Championship.
From the tournament rule sheet:
Hats must be appropriate for the period. Wide-brimmed straw or felt hat, top hat, bowler or derby, flat-cloth cap (Hogan cap) or short-billed games or cricket caps. No baseball-type caps or modern visors.
The one I purchased brought to mind Sam Snead and Chi Chi Rodriguez and their chapeaus. A few of you might recall a hatted Chi Chi on the cover of the first Devo album, from the summer of '78. Devo came out of Kent State. A Buckeye band.
On my way to Foxburg, I stopped in Wheeling, W.Va., and ate dinner at an Italian restaurant called Figaretti's. Another diner said to me, "You either work in golf or play a lot of golf." Both, actually. My farmer's tan gave me away.
Every road trip has a destination, of course. But it's in the recounting when you realize what actually happens in the stops along the way. Who knew that Wheeling had such a good Italian restaurant? Or such a wonderful mountaintop driving range? I went to it after dinner. I was cramming.
The 2022 National Hickory Championship was a two-day, 36-hole event with gross and net divisions. In addition to the hat (men must also wear a tie), the rules require you to play with 19th-century clubs and a modern-made gutta percha ball.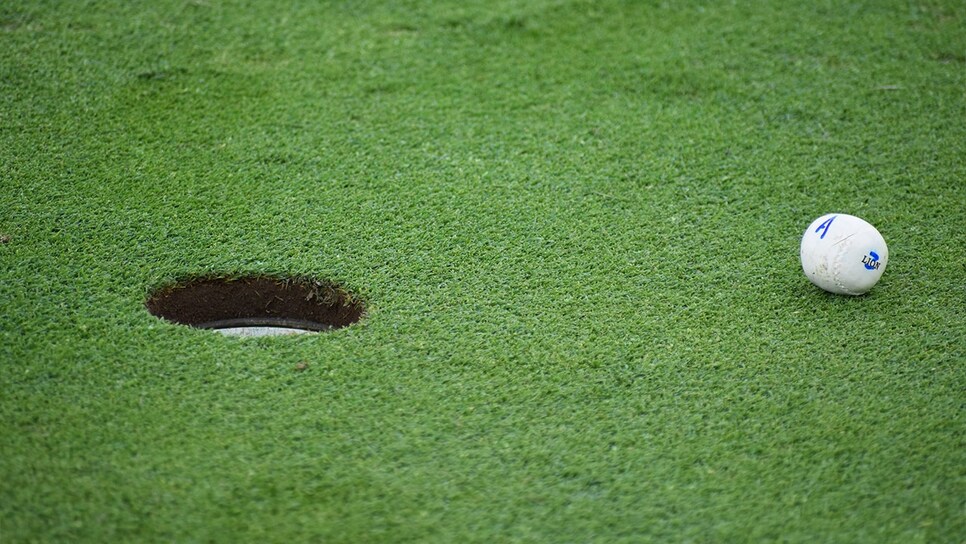 The clubs I brought did not pass inspection. The tournament chair, Pete Georgiady, could see that immediately. They were from circa 1910, he said. By then, clubs started having identifying names, like niblick and mid-mashie. In the 19th century, a club was named for the guy who made it. Murray or Angus or Spalding. Pete got me some spares from the back of his car.
Hickory golf is its own thing but also familiar. The ball doesn't go anywhere—my best drives traveled maybe 150 yards—and it's bouncy. You run your shots into the green. Pitch shots are challenging, to say the least. It seemed that when I opened the face, I shanked the shot. When I played the face square, I ran shots over the green. I averaged one duff per hole but never lost my temper. (Unusual, for me.) Maybe the necktie tucked into my button-front shirt helped.
After the first round there was a tournament dinner, Pete running the show. Stories were told and refreshments were served. The dress code was 21st-century casual. A fun and slightly odd gang. (Look who's talking.) That night, and all through the two rounds, I did not hear a single mention of Bryson DeChambeau or anything related to the modern game.
I had a nice chat at dinner with a fellow contestant named Andy Just. His father was Elmore Just, the founder of Louisville Golf, the last major manufacturer of wooden clubs. I wrote about Elmore in the summer of 2000, when the PGA Championship was at Valhalla. I bought a persimmon driver from Elmore, and he stamped my initials on it. I was so eager to hit it I sneaked on to the Valhalla driving range one night to give it a try, in the vicinity of Vijay Singh and Jesper Parnevik. Nobody chased me away. Tour security got tighter after Sept. 11, 2001.
Some of the people I met in Foxburg play all of their golf with hickory clubs. They may bring to mind Civil War reenactors, but I think there's more to it than that. The hickory golfers are drawn not just to the past, but to the beauty of simplicity. They are Thoreau in golf shoes.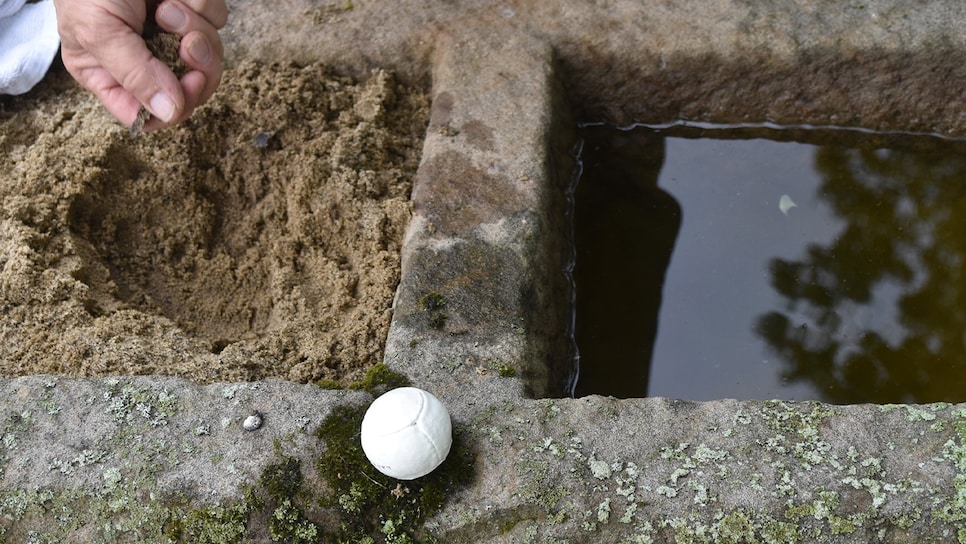 You don't use wooden tees, as they did not yet exist. You make your own tee with a pinch of damp sand. Before pinching the sand, you would dip your fingers in little pools of water beside the tee boxes. Some of them had tiny fish and tadpoles in them.
Hickory golf feels alive. The shaft is wood! The ball is certified organic. (It's hardened sap.) The grips are leather. The club in your hands is not a Spalding. It's a club made by a man named Spalding.
Weiskopf and his traveling brethren played with woods made of wood. A piece of wood connected to a steel shaft, with a grip that was sometimes leather. The ball was balata, a tree product, a natural rubber. In other words, the game they played was, at least in ways, closer to the hickory game than the modern PGA Tour/DP World Tour/LIV Golf game.
When Al Geiberger shot 59 in the summer of '77, it made the front page of The New York Times. Golf was harder with his equipment. When I caddied for Geiberger some years later, he had a red Spalding bag made of kangaroo skin. I'm not bragging about that, at all. How awful, killing a kangaroo just to make a golf bag. But the kangaroo-skin bag was a mark of high status on the pro golf tour, back then. It just was. Greg Norman had one too.
I shot 108 and 109. (Tournament golf is a numbers game, no matter what song you have in your head.) Yep, 108 and 109 on a course that was not even 4,300 yards long. It's a different form of golf, but it's golf. You could say it's a better form of golf. Hickory golf is not about the hit, not about clubhead speed. The starting point is rhythm. Also, playing with a gutta percha ball, it's hard to lose a ball. Putting is weirdly easier. The slow greens at Foxburg helped, but so did the pimples on the ball. They're like brakes.
Hickory golf has been part of the game forever. The Old Course, long before Cam Smith went around it in July in 268 shots over four rounds, was played with hickory clubs. As was Machrihanish, in southwestern Scotland, where I logged some rounds this summer. (Another road trip.) Ditto for the nine-hole course near my home, St. Martins, where I played on various July and August nights.
You could say the same of Bellport, my first course, in Suffolk County, on Long Island, and National Golf Links, 30 miles east Bellport. I played Bellport one night this summer, right through dusk. N.G.L. too. You talk about living lucky. The summer of '22. Caught some beautiful waves on the south side of the pier in Oceanside, Calif. Played a half-dozen of the courses I love most. Did not raid a Coast Guard station.
I admire how DeChambeau has gone about his pursuit of golf in his own way. I am talking about his grip, his backswing, the length of his irons. I admire independent thinking. But I wouldn't trade my experiences in golf with DeChambeau's for all the money in the world.
The gross winner at Foxburg was Seth Lominson from Smyrna, Tenn., who played the 36 holes in 161 shots. Lominson has won three NHCs. Had DeChambeau been in the field, I could imagine him breaking 160, but not by much. Hickory golf isn't meant for a smash-it swing like his. Now Boo Weekley, I would say, could shoot 150. With that swing? Absolutely.
We signed our second-day cards, took off our hats, ate lunch, headed home. Saturday night was coming in.
Lovely day! Lovely day, lovely day, lovely day, love-ly day
Let me take you back to Wheeling for a moment, as I wrap up this What I Did This Summer report. After dining at Figaretti's, I drove a few miles up a long hill, looking for a driving range in a place called Oglebay Park. The evening was spectacular. Fog in the valleys. An evening sky in every shade of pink and orange and blue. I used one of my circa 1910 clubs from the back of my car, this one a mashie-niblick with dots for scoring lines, a thick wooden shaft and baked-in rhythm. I don't know if I've ever made better swings.
At the dinner in Foxburg, somebody asked me if I had ever played with hickory clubs, and without giving my answer much thought I said no. But later I realized I had, beyond that evening session at the Wheeling range.
I spent the summer of '91 in Scotland, where I fell under the spell of an old Scottish teaching pro named John Stark, who performed an exorcism, driving the American golfer out of me and replacing that golfer with one more primitive and Scottish. In an early lesson, Stark had me play with a hickory-shafted iron marked with the name of its maker, R. Forgan. Later, he took me to a primitive six-hole course, laid out by a shepherd, in a remote glen called Auchnafree. I returned to Auchnafree this summer. That was some summer, that summer of '91. So was this one.
No, not for Jay Monahan. Not for Tiger Woods (at least not for Tiger Woods the tournament golfer). Not for Tom Weiskopf, may he rest in peace. I'm talking about those of us lucky enough to pay to play this game.
I'm talking about me and maybe I'm talking about you.