The Loop
Stop me if you've heard this before: The Patriots were punished for cheating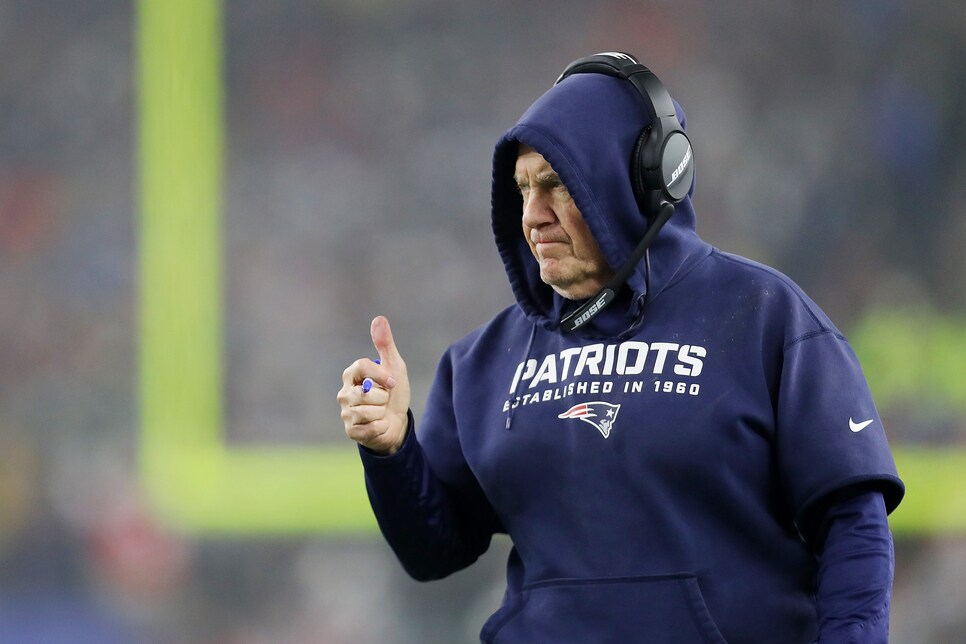 It's been a difficult weekend for me, all. There are huge dents in my fainting couch, where I've collapsed over and over in the last 24 hours, and my pearls, once round and opalescent, have been clutched into dust. I simply cannot stop gasping. You see, in a shocking development, the Patriots have been caught and punished for cheating...again.
This time, the story is that their TV crew filmed "the field and sideline" during a December game between the Bengals and Browns. They actually had credentials from the Browns to take some footage for a web series, but they seem to have overstepped their bounds...and the Bengals had absolutely no idea about any of it.
Now, there are excuses. There are always excuses. See, they were only filming the sidelines and game to "provide an illustration of an advance scout at work on the road." Or, um, the production crew "is not part of New England's football operation."
Sure. But the NFL, which is heavily inclined to letting things like this slide since they don't want the PR hit, couldn't even pretend to believe them. They levied a $1.1 million fine on the Pats, banned the TV crew from filming any games this season, and took away a 2021 third-round draft pick.
Now, do we actually know why they did it? No. And sure, the Browns and Bengals are both terrible. That doesn't matter—we have no evidence that it's the only time the Patriots pulled this particular trick, and whatever excuses their diehards want to drag out, this team has absolutely not earned the benefit of the doubt. From Spygate to false injury reports to Deflategate to suspicious headset malfunctions on the opponent's sideline to this, they pop up over and over and over as an entity that can't help but break the rules.
Bill Belichick is obviously a football genius, and he's done some brilliant (and completely legal) rule-bending in his time. But it's also clear that this predilection for finding loopholes doesn't stop at "permissible," and that he and his staff are constantly on the lookout for ways not just to exploit the rules, but to skirt them completely. And you have to ask: If this is what they're getting caught for, what are they getting away with?
Now, we're in the cursed year 2020. There's no such thing as real accountability for rule-breakers, at least not often. Sure, they took a fine, and sure, they lost a pick. But their fans will double down and continue to lionize Belichick while insisting that the NFL is on a haters' crusade, the team will be just fine, and far more neutral fans will be interested in seeing how Cam Newton fits in to the team than they will be in navigating the ins and outs of another complicated cheating scandal. The only hope is that the day comes, sometime far in the future, when their astounding legacy of success is inseparable from the blatant, routine, and inescapable cheating. In a perfect world, we'd look back at them not as the '20s Yankees or '60s Celtics or '50s Candiens, but as the East German swimmers of the NFL world; very good, but entirely corrupt.
Bad News of the Week: MLS Positive Tests
Last week, I helpfully informed you that after a short lull, all the sports news is bad again. Well, the latest unfortunate update is that MLS, ahead of its upcoming "MLS is Back" tournament in Florida, registered 26 positive COVID-19 tests among players and staff. They caught 24 of them before traveling to Orlando, and two after arriving. That's "only" 2.7%, which as ESPN points out is a better number than the NBA's 5.3%, but it's still not great...especially for a sport that, unlike golf, involves quite a bit of human contact and where even small percentages can become large ones very quickly when dozens of players are in close proximity. Which is why they're currently engaging in isolation for anyone who came in contact with the positive tests, although they're not releasing how many people that involves.
The other problem is another that the NBA shares: They're holding this tournament in Florida instead of, say, Montana. As the NYTimes reported today, that state is getting absolutely slammed after re-opening too quickly, and both leagues will have to contend with a dangerous environment as they pray it doesn't spread among their players.
All of which is to say that these returns to sport continue to be very precarious, with few signs of good news on the horizon.
Good News of the Week: The FA Cup Semifinals Will Rule
The EPL staged its FA Cup quarterfinals this past weekend, and the winners are juicy indeed: Man U., Man City, Arsenal, Chelsea. They took down Norwich, Newcastle, Sheffield United, and Leicester City, respectively, which means the semis are going to be loaded with the best clubs in England. Liverpool misses out, since they gave up on the FA Cup in order to be fresh for Champions League, which they promptly lost, but the clubs that remain are arguably the most famous in the country after the league champs.
A few highlights, starting with Ross Barkley's goal to put Chelsea through over Leicester (5:21 mark):
And here's Raheem Sterling's beautiful goal to seal the deal for Man City against Newcastle (6:04 mark):
And hey, the corona numbers aren't so bad in England! They might actually get to play this one out!