Courses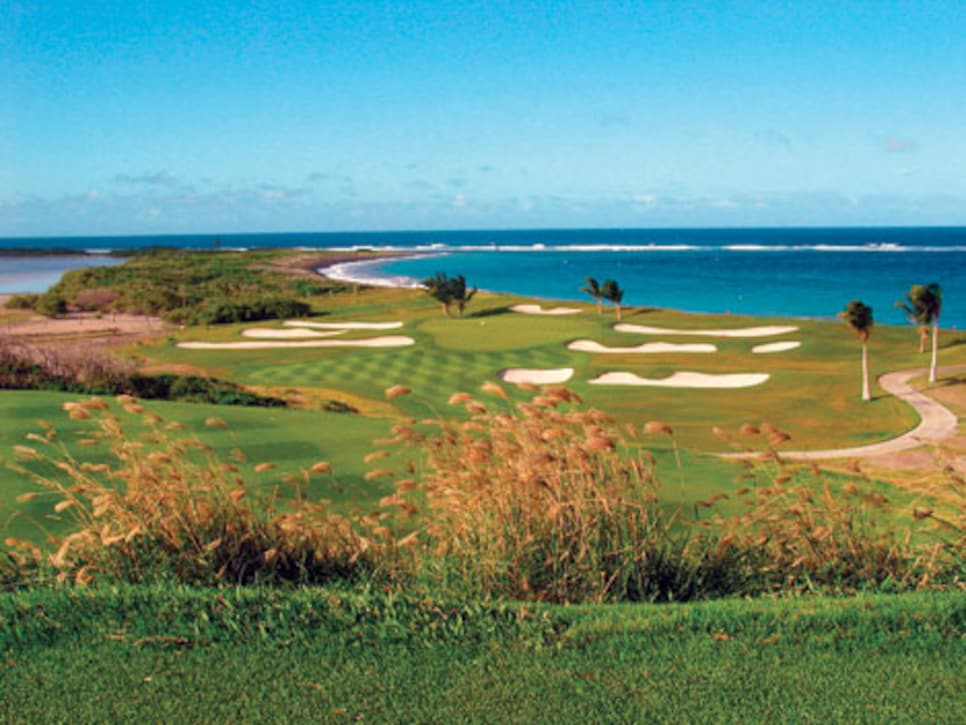 The Royal St. Kitts Golf Club has several holes alongside the Atlantic Ocean. Here, the 166-yard 15th.
The Caribbean nation of St. Kitts and Nevis has never really been a bonafide golf destination. But the sister islands, an hour's flight southwest of Puerto Rico, are now worth at least a long-weekend visit thanks to the refurbishment of The Royal St. Kitts Golf Club. First opened in 1976, the course was masterfully redone in 2004 and offers some of the best golf real estate in the region. The par-71, 6,900-yard layout, part of the St. Kitts Marriott Resort The Royal Beach Casino, plays alongside the Atlantic Ocean on the back nine and reaches the Caribbean Sea on the front. Featuring generous teeing areas and lush fairways, the course is a blast to play. The two-year-old resort ($164 a night for a standard room in mid-July) also offers gaming, a health club and multiple pools (including one with a swim-up bar).
A 40-minute ferry ride across the Caribbean will leave you on the Fantasy Island-like shores of the Four Seasons Resort Nevis. Its Robert Trent Jones Jr. course (
in Golf Digest's Best Places to Play guide) takes golfers up the west side of Nevis Peak, reaching a height of 400 feet before returning to the sea at the 18th green. The resort is world-class, a favorite of many celebrities, and pricey ($375 a night in July).
Visit here: St. Kitts' southern peninsula has outstanding white-sand beaches (Turtle Beach is the best). For history buffs, St. Kitts was the site of a 1782 battle between French ships and British soldiers occupying a hilltop fort. The islands gained independence from the British in 1983, but the Brimstone Hill fort still stands.
Eat here: On St. Kitts, the Marriott Resort has six restaurants, including a buffet. For a unique experience, try Miss June's on Nevis (869-469-5330, reservations required). It's a family-style, Caribbean dining experience in the home of local June Mestier. For drinks, try the "Killer Bee" at Sunshines on Nevis.
__Play here:__The Royal St. Kitts Golf Club costs $130 for 18 holes (with cart) through Nov. 4. It's $100 for guests of the Marriott Resort. The Robert Trent Jones Jr. course is $175, but you can play it for less using a Four Seasons golf package.
Travel advisory: American Airlines has flights to St. Kitts from San Juan, Puerto Rico or Miami, and US Airways has flights from Philadelphia and Charlotte. The Four Seasons has a free ferry to Nevis for resort guests, or you can book passage on a pay ferry ($10, round trip). Note: There is a departure fee of $20 before you leave the country.
Course ratings are derived from the exclusive 5-star Golf Digest Places to Play scale. A single star represents "basic golf." Five stars indicates "golf at its absolute best." Golf Digest's Best Places to Play guide, based upon the ratings of tens of thousands of readers, is available for $24.95.
Very good. Tell a friend it's worth getting off the highway to play.
Outstanding. Plan your next vacation around it.
Superb. Golf at its absolute best. Pay any price to play at least once in your life.
The equivalent of one-half star.
If a course has no star rating, it means that the course did not receive a minimum of 10 ballots, either because it is very new or simply was not visited by a sufficient number of Golf Digest readers. If you've played one of these courses and would like to rate it, click here.