The Loop
Stingers: Hey Sergio, snap out of it!
Eleven years ago, Sergio Garcia confirmed his status as a rising star, capturing his first win at Colonial less than two years after nearly taking down Tiger Woods at the 1999 PGA Championship. Remember "El Nino"? That affable, fiery Spanish bundle of energy? I do -- and I miss him.
I remember trying to model my own game after Garcia's soon after that epic duel at Medinah. And why not? Garcia was a fearless kid who hit his own stinging irons and who always seemed to be having fun on the course. Now he looks like a guy who makes playing golf for a lot of money on exquisite courses around the world not much fun at all.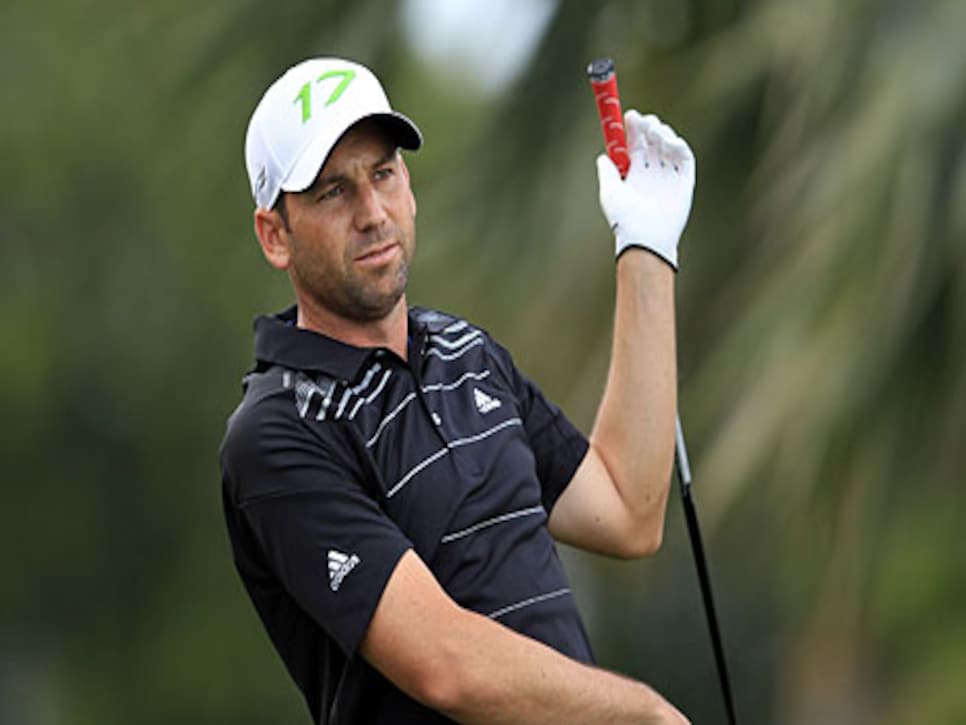 Sergio never seems happy these days. (Photo by Getty Images)
He's No. 22 in golf's world ranking, but Garcia is still trying to live up to his promise -- and it doesn't look promising that he will. As the man with a Ben Hogan-like swing returns to Hogan's home event more than a decade later, the only charge he's leading is that of the naysayers who don't think he has what it takes to win one of golf's biggest events.
"I've been trying for 13 years, and I don't feel capable of winning (a major)," Garcia was quoted by Spanish-language media following a third-round 75 at the Masters that dropped him out of contention. "I don't know what happened to me. Maybe it's something psychological."
It doesn't seem to be physical. When he's on, Garcia is still as capable a ball-striker as they come. And even with a shaky-at-best putter, he's shown enough flashes since coming back from a self-imposed 10-week break from the sport at the end of 2010 to climb back into the top 25 in the Official World Golf Ranking, including his 16th and 17th career top 10 in majors at last year's U.S. and British Opens. Most recently, a Saturday 31 on the back nine in windy conditions at the Players -- the site of his biggest career win in 2008 -- put him in contention. But afterward, he seemed completely indifferent about the round, even joking that the only reason he played well was that he "probably just got a little lucky." Not surprisingly, the "luck" wore off the next day as he shot 79.
At least that quote indicated somewhat of a departure from the woe-is-me attitude that once cause him to remark "I'm playing against a lot of guys out there, more than the field," after falling in a playoff to Padraig Harrington at the 2007 British Open. Here's a news flash, Sergio: Other golfers have suffered tough losses, too. Phil Mickelson, for one, had his share of close calls before winning his first major at 34. But while Garcia is only 32 and still capable of breaking through in an era of such parity, that confident kid who had the golf world swooning has become a dark cloud of emotion.
And that's a shame because it was Garcia's passion on the course that once made him so popular and seemed to propel him to play well. But in more recent years, it has often seemed like he loves just about anything more than golf -- from soccer to poker to tennis to, well, tennis players.
This week's tournament won't provide Garcia with a chance to capture that elusive first major, but it's yet another opportunity for him to prove something perhaps even more important. That he still cares.