The Loop
Stingers: Bubba Watson needs to toughen up and tone it down
*Editor's Note: Stingers is an occasional rant on the world of golf.
Bubba Watson's make-it-up-as-I-go style on the course made him a fan favorite long before he won his first major. If he's not careful, though, that same style with the press could cause the public to turn on him quicker than his famous hooked wedge from Augusta National's pine straw.
Upon returning to action at the Zurich Classic of New Orleans -- where he was the defending champ -- following a two-and-a-half-week break, the recent Masters winner complained about being "exhausted" and that it was "tough trying to play golf today."
He continued: "I can't hit a full swing yet. I knew I needed to be here being the defending champ for the local fans. So I'm here, but mentally I'm not here."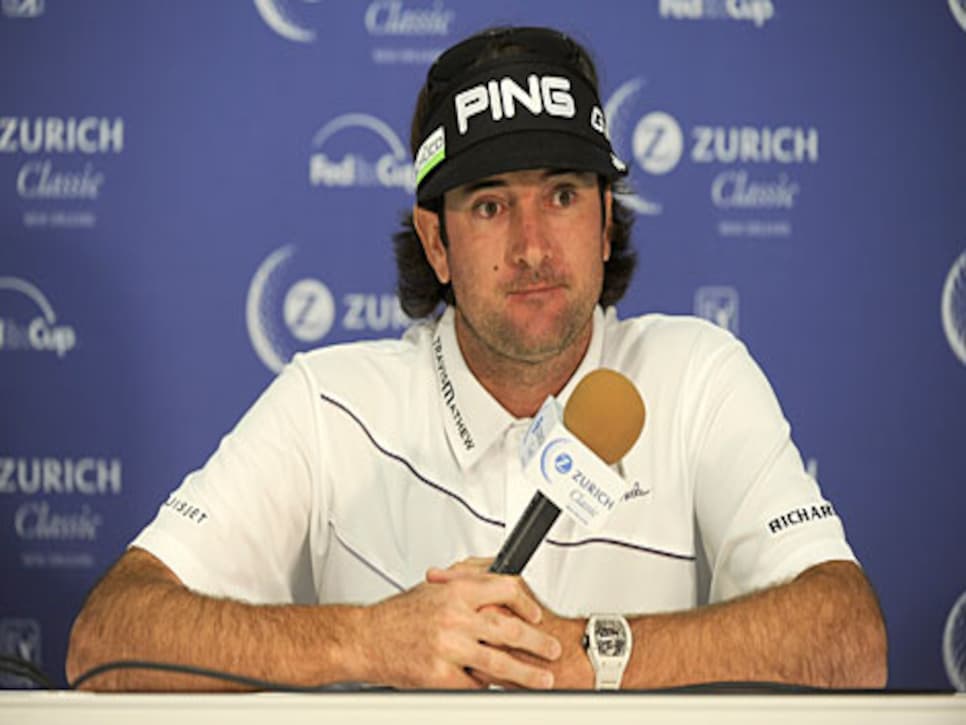 A full swing might be easier without that hefty watch... (Photo by Getty Images)
Wait, what? "I can't hit a full swing yet"? "Mentally I'm not here"? When did golf become hard labor? Bubba, we love you, but you've got to buck up here. Let's not forget you play golf for a living and get to decide when and where you play. You also happen to make more money in a good week than most people make in their lifetime. So please, tone down the bellyaching about doing a full-blown media tour that you agreed to, which included a grueling interview/putting contest with David Letterman.
This isn't the first time Watson's post-round comments have been off key. Last summer, his complaining about the playing conditions in France, as well as his ignorant comments about the country's culture, drew criticism. Most wrote off that incident simply as "Bubba being Bubba," but hopefully Watson realizes that line won't grant him unlimited mulligans.
Look, I've never won a major championship, so I don't know what it all entails. I do know, though, that when your job is to play golf, you need to be careful about saying anything that comes across as being spoiled or whiny. Despite struggling to "hit a full swing," Watson finished T-18.
"All in all, pretty good week being tired, coming back for the first time after winning the Masters, all this different media attention," said Watson, who withdrew from this week's Wells Fargo Championship. "It's something you got to get used to. (It) wears on you, tires you out. Somehow I finished -- I'm in the top 20. A lot of guys wished they did that."
Yes, Bubba, a lot of guys wished they did that and even more wish they could collect their own green jacket some day. Just keep in mind, those same guys don't want to hear about all the hardships that came with yours.