STRICKER STRONGER
Steve Stricker stares down Champions victory after health scare kept him out for 200 days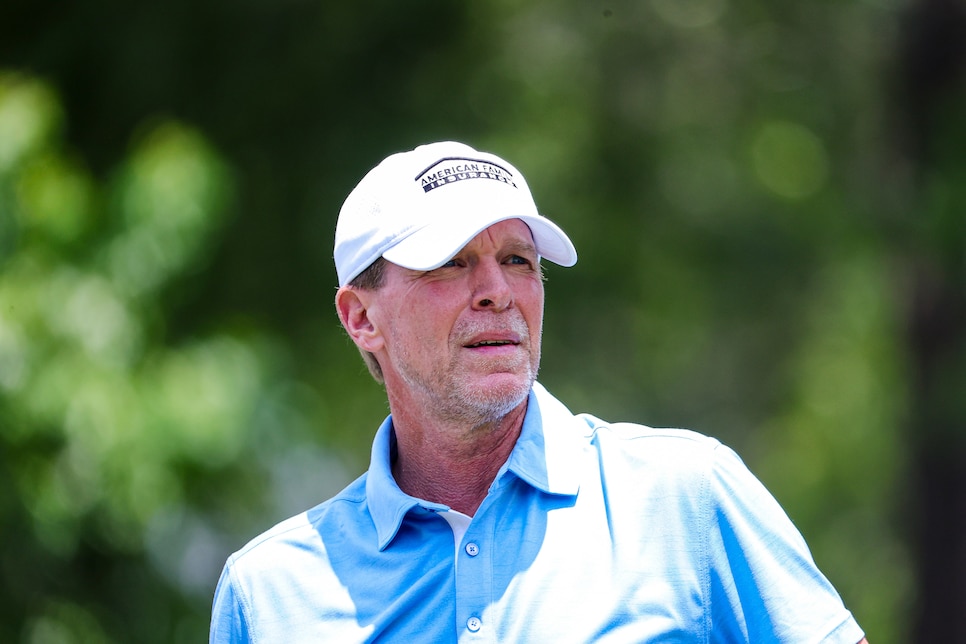 Steve Stricker keeps saying he doesn't know what to expect, yet somehow keeps playing better.
The victorious 2021 U.S. Ryder Cup captain had a health scare back in November which put him in the hospital just before Thanksgiving. It's been labeled as a "mystery illness" by Stricker and he hasn't played competitively since a PGA Tour Champions event back in early October.
Stricker, 55, wasn't sure if he'd be ready to compete this week at the Insperity Invitational at The Woodlands in Texas. He didn't know how fatigued he'd be or how much walking 54 holes in three days would take a toll on his body. He lost 25 pounds but is putting some of that weight back on. He said earlier in the week that he's not hitting any of his clubs nearly as far as he once did and that he came to Texas just looking to shake off the proverbial rust.
Well, he followed a first-round 67 with a seven-under 65 on Saturday to take a share of the lead into the final round. Brandt Jobe (68-64) and Steven Alker (67-65) are tied with Stricker at 12 under.
"Played really solid, a lot better today than I did yesterday except for a couple shots coming in," Stricker told reporters. "But overall, it was much better."
Stricker blitzed the first eight holes and was five under at that point. He chipped in on the par-4 10th hole to boost his lead to three, birdied Nos. 13 and 15, then closed with his lone bogey of the day at the 18th hole.
"It's just a progression I think and just keep plugging along," Stricker said. "Feel a little out of sorts when I'm up around the lead. It's been a while, but it's good."
Alker was only two under after 10 holes then went on a run that propelled him to the top of the leaderboard. After birdies on the 11th and 12th holes, Alker made eagles on Nos. 13 and 15, then followed with birdie on the 16th and shot 31 on the closing nine holes for his 65.
Jobe shot the low round of the tournament so far and, much like Alker, scorched the back nine by making five consecutive birdies (Nos. 12-16) and then made one on the last to shoot eight-under 64.
But even after Jobe's round, he was happy to discuss Stricker and the fact that they're tied after Stricker's extended absence.
"He's just got his game in a spot where he can turn it on and turn it off and not many people have been able to do that," Jobe said. "Obviously we're very envious of that because I can't do that. But he's got his swing and everything just in a spot where he goes out, he puts the work in, he comes back and it's like he hasn't missed a beat."