PGA Tour Champions
Steve Stricker goes wire-to-wire in convincing win at the Bridgestone Senior Players Championship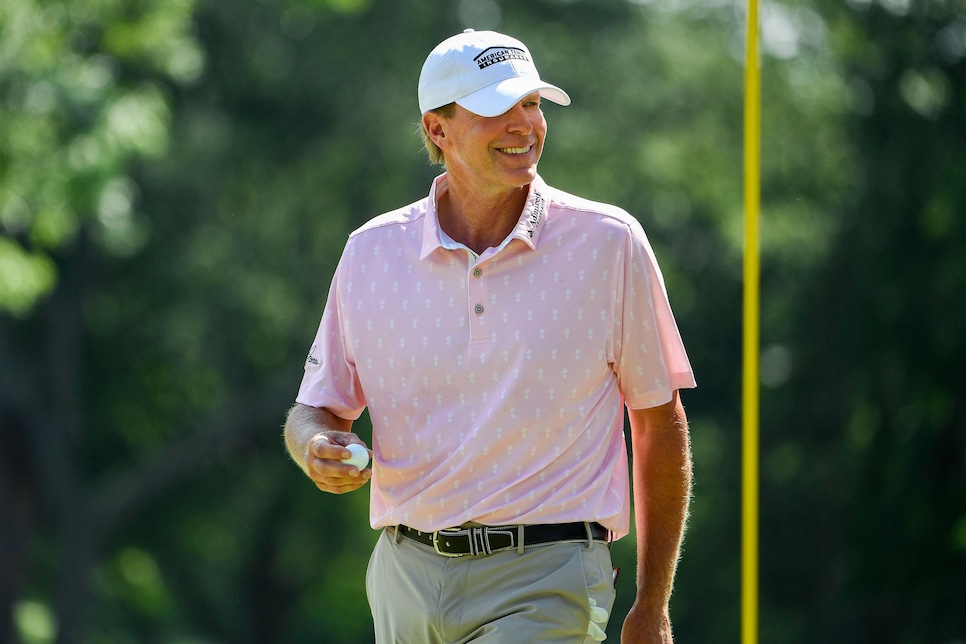 AKRON, Ohio — Call it payback or vindication or the curse of Jerry Kelly, but whatever it is that fuels spasms of excellence from Steve Stricker, it results in an emphatic victory in a senior major tournament.
This time it was a wire-to-wire victory in the Bridgestone Senior Players Championship at Firestone Country Club, a result that seemed as certain as a straight-in two-footer as soon as Stricker scribbled his signature on an opening seven-under 63 on Thursday. It was an opening body blow from which the rest of the field never recovered. Stricker led by four, stretched it to nine at one point in the third round, and no one ever got closer than two strokes.
A nervy final-round 70 on the arduous South Course produced a record six-stroke victory over Kelly, the defending champion and a man who needs to stop bringing out the savage in his fellow Wisconsin native.
"It was a tough day, but it's worth it in the end, I guess, when you can gut it out and walk away with a win," said Stricker, who completed 72 holes in seven-under 273 to join Arnold Palmer and Bernhard Langer as the only wire-to-wire winners of the event.
Kelly is the guy who seems to be the instigator here. Two weeks ago, he won his second straight American Family Insurance Championship in Madison, Wis., the event where Stricker serves as tournament host. In 2019, Kelly beat Stricker in a playoff at the AmFam, but the following week a still-agitated Stricker blitzed the field at the U.S. Senior Open by a record-tying six shots.
Six shots. Sounds familiar.
Kelly had to watch it all as Stricker's final-round playing partner on both occasions. Not even the winner truly enjoyed it. "It's hard when you're playing against your friend out there," Stricker said. "I know he wants to beat me bad, and I feel the same, but we're still friends and that's the nice thing about it. And I said that to him walking up 18. Iit was fun, but I don't like it."
What the U.S. Ryder Cup captain liked even less was spraying shots all over Summit County on a steamy Sunday. He hit only seven fairways and eight greens in regulation. Nevertheless, he exhibited enough calm and short-game savvy to register his seventh victory on the PGA Tour Champions, three of them of the major variety.
Kelly did make it interesting for about 15 minutes when he climbed within two through 13 holes with a 15-foot birdie to Stricker's bogey from 10 feet. But he never got closer. A loose bogey from the front bunker on the following hole started a free fall, and Kelly, after bogeys on the final three holes, finished at two-under 278. His closing 72 ended a string of seven par or better rounds.
"That was disappointing to finish that way," Kelly said. "I wanted to make sure I brought it in, but it was like the breaks decided to pile up on me. They gave it to me all week and said, 'No, not this time.'"
In the three years the Senior Players has been held at Firestone, only 10 times has a player finished under par. Stricker and Kelly, the only two men to break par this week, each has done it twice.
The victory, Stricker's second in three months, held extra meaning because he had failed to turn 54-hole leads into a victory in the year's previous two majors. This one wasn't getting away. And while that first-round 63 was nice, he'd started fast before, shooting 64 to open the 2019 edition only to end up sixth.
"This one means a lot because I had the lead in the other two majors this year and didn't win, so I felt a lot of pressure here this week," Stricker, 54, said. "I knew I hadn't been really shutting the door on the guys when I have the opportunity, so that played into my mind, too, a little bit, which made things more difficult. So it was good to kind of step up and hit a couple shots when I had to today."
Interestingly, Stricker's run at the 54-hole slam ends here. Ryder Cup duties (and some personal history) are pulling him to Silvis, Ill., in two weeks for the John Deere Classic, where he'll get more acquainted with some of the younger PGA Tour players bidding to make the U.S. team. Who know, along the way he might put himself in position to win. He's done it three times previously at TPC Deere Run. As recently as February, he was in the mix at the Waste Management Phoenix Open, where he ended up T-4.
Going to the John Deere means Stricker is forgoing his title defense in the U.S. Senior Open in Omaha, Neb. In addition to the previously cited motivations, this year's Deere celebrates its 50th anniversary, and Stricker, the softie that he is, wanted to participate in the festivities.
He faced a similar conundrum this week, entering both the Travelers Championship and the Senior Players. He chose wisely and headed to Firestone. His reward is an automatic berth in next year's Players Championship at TPC Sawgrass. He also exorcised some final-round demons. Now he just needs to keep seeing Kelly winning his hometown event.
"I don't know if I like that idea," he said with a smile. "But it does seem to work out OK."