PGA Tour Champions
Stephen Ames, aided by Tim Herron's stumble, erases seven-stroke deficit and wins the Principal Charity Classic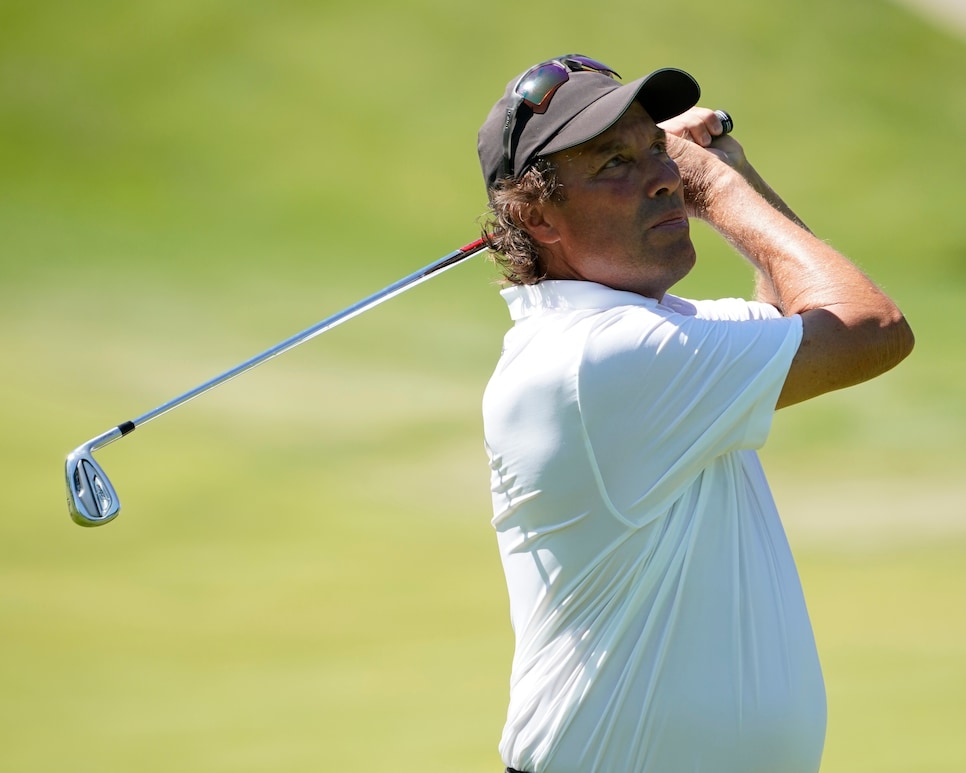 The Principal Charity Classic seemed to shaping up as Tim Herron's formal introduction to professional golf's second-act tour, the PGA Tour Champions. The man known as Lumpy, for apparent reasons, began the final round with the lead, stumbled on the back nine and the victory was scooped up by Stephen Ames.
On a breezy day at the Wakonda Club in Des Moines, Iowa, Herron played the back nine in three-over 39, including bogeys at 16 and 17 and fell to a tie for third, two behind Ames.
The victory was the second of Ames' senior career, and came more than four years after his first. He entered the final round in ninth place and trailing by seven, then finished with a five-under par 67 and a 54-hole score of 12-under par 204. Mike Weir finished second, one back.
"No, no chance at all," Ames said when asked whether he had in mind a victory at the outset of play on Sunday. "At the beginning of the day I did have a number in mind, which is 12 [under]. That was my goal and I achieved my goal and everybody else stumbled. Today was a tough day. It blew. It was very tricky."
Ames, 57, had been trending in the right direction, having finished second three weeks earlier at the Mitsubishi Electric Classic. Herron, meanwhile, was mired in mediocrity in this his rookie season on the senior tour. A four-time winner on the PGA Tour, Herron had made 19 previous senior starts without posting a top 10.
Herron's first two rounds, 67 and 63, gave him a four-shot lead and positioned himself to win for the first time since 2006, but a final-round 76 ruined his bid.
"A little nervous, I guess," Herron said. "It's the Champions Tour. I won four times out on tour, but haven't been in that position, and hopefully I guess you learn from it even at age 51. It was a little rough. Worked on some swing changes and I think my old swing kind of came back a little bit. I was guiding it a little bit, but it was pretty windy today and just didn't get any momentum going."
An interesting aside, they both have in common memorable matches with Tiger Woods on their resumes. Herron defeated a 16-year-old Woods in the second round of match play at the 1992 U.S. Amateur at Muirfield Village. And Ames, in one of the most famous beatdowns of Tiger's career, lost to Woods, 9 and 8, at the WGC- Accenture Match Play Championship in 2006.
Doubtful that Herron will be as bruised by this loss as Ames was by Tiger, but no doubt it will hurt nonetheless.