Monday Superlatives
Steph Curry just did something that only one human has ever done before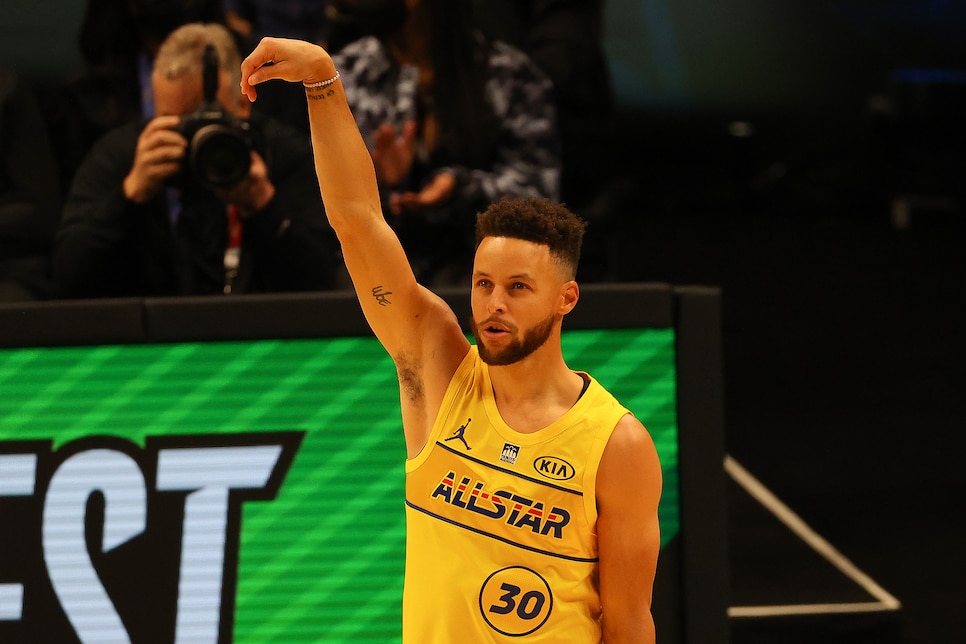 Sometime not long after Bryson DeChambeau finished his literal tour de force at Bay Hill, the NBA three-point contest was held in Atlanta. It was held on the same day as the actual All-Star game due to COVID, as was the dunk contest, and the news you'll mostly read today is about how Giannis had a perfect 16-16 shooting night from the field, Steph Curry hit eight threes, and Team LeBron laid waste to Team Durant on the strength of an incredibly lopsided draft.
The highlight for me, though, was the three-point shooting contest, a weird little corner of NBA history that I've spent some time exploring. Three years ago, I conducted a Reddit investigation to answer a simple question: Forgetting money balls and bonuses and other gimmicks, which player made the most shots out of 25, period? Through my research and the contribution of others, I found out that the answer was former Bulls role sharpshooter Craig Hodges. He was the only man who made 21/25 shots, and it happened in 1991. (You can read the Digest write-up of that history dig here.) Here's video:
That 21 mark remained untouched for the next two years, but last night, Steph Curry rose to the Hodges realm and hit 21 shots. What's really remarkable about Curry's feat is that he did it after missing the first two shots...or, it seems remarkable, until you remember that Hodges missed his last three. Watch Curry go off:
Now, there is a caveat, and it's a massive one. There are now two green Mountain Dew bonus balls placed six feet beyond the arc, of which Curry made 1-of-2. That means that in order to hit 21 shots like Hodges, he needed two extra attempts. It's tempting to take that information and conclude that Hodges' record should still be the untouchable benchmark. That said, you also have to take into account that Curry had to adjust his range twice to account for those balls, and after the first attempt, he missed his next "normal" three. Would he have missed if he didn't have to re-calibrate? Who knows, but even if you think he doesn't deserve pride of place with Hodges, he at least posted an impressive 1B historical round.
The win was Curry's second in the contest, which makes him the seventh multiple winner in the event (along with Larry Bird, Hodges, Mark Price Jeff Hornacek, Peja Stojakovic, and Jason Kopono). His 20/25 mark from the traditional locations puts him in a league with Kapono, Kyrie Irving, Hodges (again), Price, and himself among players who have finished one shot below Hodges' historical mark.
Want a cool dunk? Here's a cool dunk
Anfernee Simons tried to kiss the rim, got very close, and it turns out that getting very close to something kind of weird-sounding like that is actually awesome:
Sure, he bailed at the last second (now the rim knows how so many hopeful dudes have felt throughout time), but a near-kiss is still great, and way better than busting your mouth open in an attempt gone wrong.
Want a cool dunk followed by a hilarious tweet? Here's a cool dunk followed by a hilarious tweet
Here's Obi Toppin, dunking over Julius Randle and his own dad:
Great dunk, but this cultural crossover tweet was even better:
Hell yes, I'll watch Giannis go 16-for-16
Sure, it's an All-Star game, and sure, nobody plays defense, but mannnnnnnnn, 16-for-16 is still astounding. Even in the history of defense-deficient ASGs, as judged by the fact that the previous best "perfect mark" came from Hal Greer in 1968, who went 8-8. Giannis just DOUBLED that.
Now, granted, it takes some luck to post a mark like that, and while I encourage you to watch the full compilation of all 16 makes, I'd like to highlight two of the funniest shots of the night. Enjoy:
Best layup celebration ever: LeBron and Giannis
I could watch this all day:
I still haven't stopped laughing at Giannis tumbling over the barrier. That has to be the new standard for celebrating extremely minor achievements, perhaps even dethroning the G.O.A.T.:
It's the three-point bank shot of celebrations.