News
Stacy Lewis, up by three, eyes the most meaningful, if not the most memorable win of her career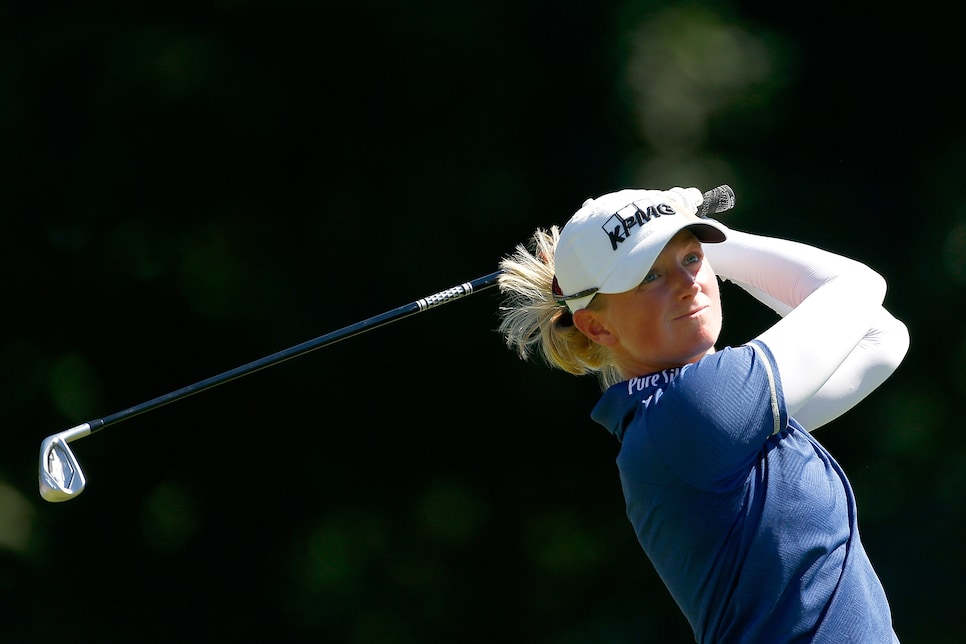 Jonathan Ferrey/Getty Images
That Stacy Lewis carries a three-stroke lead with one round to play to end a three-plus-year winless streak would be enough to make even the casual golf fan curious about what's in store on Sunday at the LPGA's Cambia Portland Classic.
That the 32-year-old is on the brink of all this the same week that her heart has been aching watching the devastating images from back home in the Houston area from Hurricane Harvey makes the story all the more dramatic.
Backing up a second-round 64 with a third-round 65 at Columbia Edgewater Country Club, Lewis pulled away from Moriya Juntanugarn, with In Gee Chun sitting four back and Brittany Altomare five behind.
Lewis will have the psychological hurdle of having finished runner-up 12 times since her 11th and last career LPGA win at the Walmart NW Arkansas Championship in June 2014. Yet such distractions pale compared to the lingering thought of what her family and friends have been experiencing in Texas.
Early in the week, stories surfaced of how Lewis' husband, Gerrod Chadwell, the women's golf coach at the University of Houston, was rescuing golf clubs and training equipment from the flooding facilities at the Golf Club of Houston. Thankfully their home has been spared any damage from the storm.
Still, Lewis was shocked at the stories and pictures she saw from home, and moved to help out in the way she best could. On Thursday, Lewis announced that she would donate her earnings in Portland to Hurricane Harvey relief efforts.
"I've been motivated for one, but I've just been extremely calm," Lewis said. "Anybody who has seen me play knows that's not normally me. There has just been a calmness about me this week. I haven't worried about anything and just played really solid."
Lewis felt that her game has been slowly improving this summer. "I know it's been a while since I won," she said. "Everybody talks about it. I really feel like the last few months I've been playing some good golf. I've just needed a couple good breaks here and there having good numbers into holes."
Once ranked No. 1 in the world, Lewis has since fallen to No. 18.
Trailing by three, Juntanugarn has the opportunity to take more risks during Sunday's final round. That said, the 23-year-old from Thailand, older sister of Ariya, has her own history brewing as she aims to claim her first career LPGA title.
"I was feeling great. You know, I have been hitting solid and [gave] myself a lot of really good chances for birdie," said Jutanugarn after her third-round 66. "Make some, miss some, but it's still pretty solid round."
With Jutanugarn's nerves likely to be working overtime, Lewis has the chance to simply play her game, not force anything and potentially walk away with, if not the most memorable, the most meaningful win of her career.
"You think you got it pretty tough, but there are people down there that have it way harder than we do out here," Lewis said. "Definitely puts things in perspective."