Equipment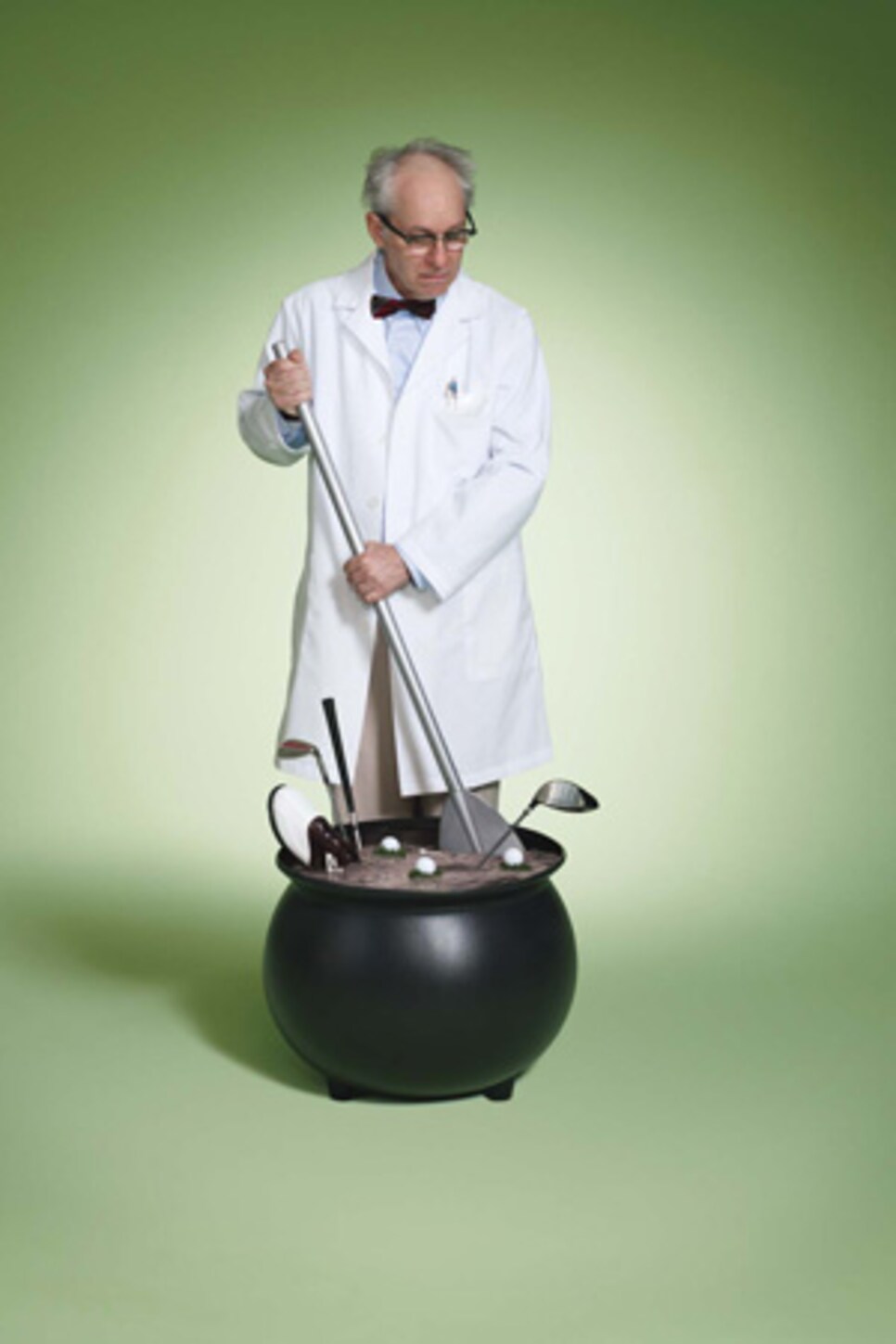 Golf's innovation process is fueled by two elements: ideas and materials. It's difficult to say which comes first. Do ideas on sketch pads inspire the search for the right material, or does the discovery of a new substance inspire a design opportunity? In practical terms, the answer is both.
Equipment engineers already know what they want to accomplish. It's just a matter of how and whether it costs too much. Often a new material provides hope of lowering a club's center of gravity or changing its weight distribution. But sometimes the price is prohibitive or the benefits are insignificant.
Nevertheless, that doesn't dissuade club designers from believing that a combination of new materials and design freedom can lead to a performance breakthrough.
"A new material can change what we think we're capable of doing, both in terms of design and the manufacturing process," says Alan Hocknell, senior vice president of research and development for Callaway. "It becomes a continuous experiment."
Engineers at Callaway were looking for a better way to apply carbon fiber in their driver designs. Carbon-fiber crowns aren't new, but Callaway's design department knew it was on to something when representatives from other industries became interested in the new material they were using.
"After we started working on it, Lamborghini called us," Hocknell says. "That's different for golf."
Callaway calls its new material "forged composite," and it's created by a turbostratic alignment of carbon fibers at the atomic level. The result is a lighter, stronger material than previous composites. What this means is that Callaway designers can better control the shape and thickness of the crown of the new Diablo Octane. Hocknell says the weight that was saved helped the company build a lighter and longer (46 inches) driver "while maintaining forgiveness at a lighter clubhead weight [195 grams]."
The use of multiple materials also has been a big part of Tour Edge's Exotics driver line for years, and it's no different with the new XCG-4. This driver features a carbon crown and carbon-sole inserts with tungsten sole pieces to lower the center of gravity and increase stability on off-center hits.
Titanium has been the material solution in drivers for years, but it might have more application in putters. Austie Rollinson, principal designer at Odyssey, says its Ti-Hot putters perform better because they're made primarily of titanium. The problem is the cost.
"If price weren't an issue, titanium would probably replace steel in putters," he says. "It's such a versatile material. We're able to get the center of gravity as low as we want. It's twice as stiff, but softer. And it's able to dampen vibration better."
Achieving feel in a cast stainless-steel putter (and keeping it affordable) is also a challenge. One solution is a thermoplastic-elastomer face insert. Several putter lines, including Ping's Scottsdale series, offer a variation of this material in an insert.
"We can achieve the mass properties we want where you'd be limited in an entirely stainless-steel putter," says John K. Solheim, vice president of engineering for Ping. "The material lets us achieve a softer feel but retain the ball speed of a steel face."
Golf-shoe manufacturers might be the most adventurous when it comes to using new materials. Models from Callaway (Hyperbolic SL) and Etonic(Stabilizer) use Outlast -- a material originally used by NASA -- inside the shoe. The material's purpose is to control temperature by storing excess heat and releasing it when it's needed.
Other companies are focusing on the outside of the shoe. The __Adidas__Tour360 4.0 Sport enhances water resiliency by applying a protective monomer coating in a vacuum chamber that bonds at the molecular level to the shoe's mesh upper. To give you an idea of the effectiveness, a tissue treated by this process will remain dry in water. Meanwhile, Nike is trying to save weight by mixing phylon (a type of foam rubber usually used in the midsole) and rubber in the outsole of its lightweight Air Rate shoe. The result is a shoe that weighs about 40 percent less than usual.
In the end, finding the right new material for a leap in golf equipment is a never-ending search. "Golf is a special application," says Scott Burnett, director of advanced product development for Adams. "Look at a driver for instance. Every other industry wants its materials light and strong. Golf wants light, strong and springy. That's why the materials we've been using are so good. That's why new ideas might provide the ultimate answers."