News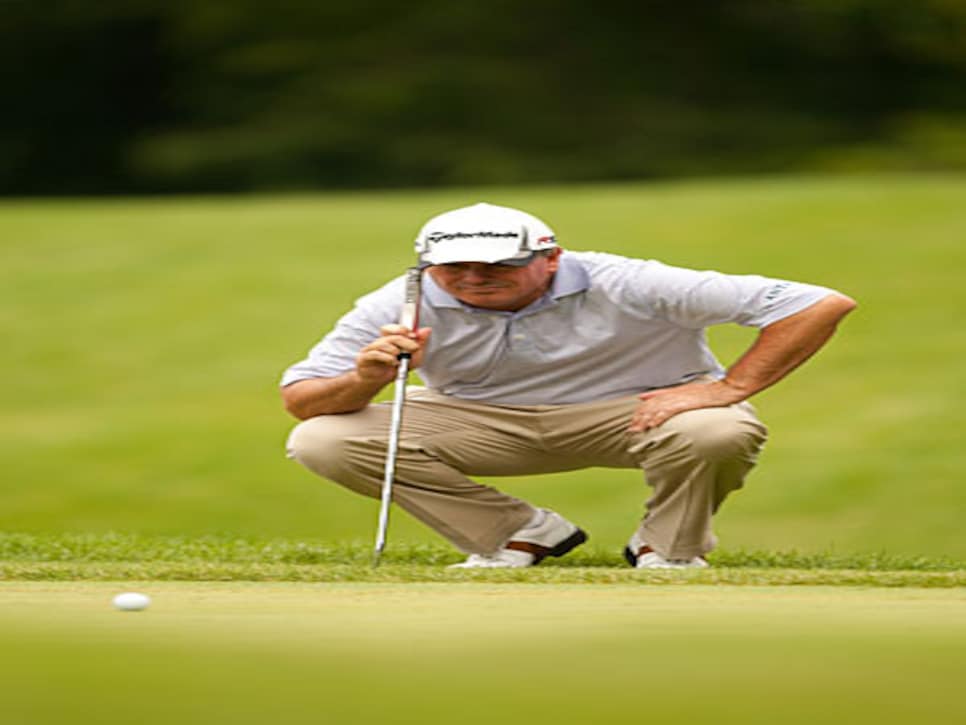 Goydos earned his way to St. Andrews with a runner-up at the John Deere Classic, highlighted by a first-round 59.
ST. ANDREWS, Scotland -- In the locker room in the basement of the Royal & Ancient clubhouse, Paul Goydos was jet lagged but still unequivocally Paul Goydos. "Let me show you this," he said Monday afternoon, opening his locker. The last man in the 139th Open Championship was fascinated by the Scottish way of engineering, where a coin is needed to pull the key out of its slot after opening the locker. Goydos blurted out, "This is trippy," while the attendant helped him figure it out.
Over the years they probably haven't heard that word much in this locker room, but "Trippy" is a 46-year-old with gray hair, rounded shoulders, a swing he describes as "individualized," and a cross-handed putting stroke where he aims right and catches it -- becoming one of only four players in history to join golf's 59 Club. Goydos did this last Thursday in the opening round of the John Deere Classic in Silvis, Ill., and while he didn't win the tournament, he did earn an exemption -- the final of the exemptions into St. Andrews.
"It's a perk," Goydos said. "I'm very excited about finishing second and playing good. The points get me in the first playoff event. My goal early in the year was to qualify (for the Open), but I didn't make it in Dallas. I made it off the money list last couple years, but I figure this is my last chance playing Open at St. Andrew and I was pushing it a little bit. If there was one event to play in this year, this is the one."
He was traveling with passport, got a seat on the John Deere charter, landed in Edinburgh at 10:30, and after a long bus ride arrived at the Old Course Hotel at 1:30. The rooms are 450 pounds a night and Goydos has a room down at the end of the building. "They'll be hitting tee shots on 17 right over my room," he said. "It comes out to $730 but it's part of the experience of St. Andrews, staying at the Old Course Hotel."
The former substitute teacher can afford it. He just made over half a million dollars at Quad Cities and that discounted fare he was booking for the return flight before leaving the TPC-Deere Run was business class on Air France through Paris. "Glen Day had a room," he said as Day changed his shoes. Day got in through the Dallas qualifier but Goydos didn't, but now they were at the same place at the same time. "I wouldn't have minded. I'm the happiest guy here."
Goydos is famous for his dark-cloud attitude, thus the "Sunshine" nickname. Remember the Bob Costas moment, when he was asked by the NBC studio host how he slept before the final round of The Players two years ago, and responded, "On my back." That sarcasm came though in the post-59 media wave that included interviews with Scott Van Pelt of ESPN, GQ Magazine and National Public Radio.
"I had somebody ask me, 'Do you think you would have shot this score one of the favorites coming into the event?'" he said. "I went like, 'what?' That's a double hypothetical. Is that a 'thetical?' How can you have a double hypothetical?"
The beauty in Goydos' 59 is that in this age of high-tech athletes in orange pants, big belt buckles, Spiderman poses and off-the-charts clubhead speed, how can this throwback go where Tiger Woods, Phil Mickelson and any other of the game's top players have never gone? Here's Goydos with his middle-aged body sitting next to Alvaro Quiros, the Spaniard who can fly bunkers 330 yards out overpower a golf course. Goydos averages barely over 270 yards per drive, ranking 175th on tour.
"Shooting 59 is a sense a one-time kind of deal," Goydos said. "It's a round where everything possibly goes right goes right. Being consistently good over a long period of time, all those other things are pretty good. I don't think anybody will look back on Paul Goydos' career and say he's a great player."
But they will say he made the most of his physical skills by using his head and getting the ball in the hole. There's a reason Corey Pavin picked him as an assistant captain for this year's Ryder Cup, and it wasn't looks or humor. (Well, partially the humor. Pavin said when he made the Goydos pick "because his lack of team experience," and that he was a good judge of talent as well as character.) This is Goydos' 17th year on tour. He was 137th in the world before the John Deere and was looking for his third career win before Steve Stricker lapped him. "I think the talent to shoot that score is in everybody," he said,
Maybe, but the lowest Tiger Woods has ever shot in competition was 61. Goydos was paired with Tiger at the Byron Nelson and shot 62 with a bogey at 18. Nick Price, the third member of their group, shot 63. They were 186 as a group -- but none could break 60 even though Goydos went out that day in 28 and Woods in 29.
Psychologically, Goydos summoned the inner peace at the John Deere that it takes to break the barrier. "I had a chance to shoot 59 at home," he said. "I was playing Dove Canyon, a par 71 and I was 11 under after an eagle at 14. That's when everything changed. I ended up shooting 60. I had a putt for birdie at 15 and I hit nowhere near as good a putt as I was hitting all day. I just thought it would be a cool thing to do. I've got 10 holes in one, three double eagles, two wins, and having a round under 60 would be kind of a cool thing. I got to 16, 17 and 18 (at the John Deere) and knew they were holes where I could make birdie, I said, 'let's not shy away. Let's not worry about it. Let's do it.'"
What does it say that an everyman like Goydos can shoot 59 -- while a superman like Woods enters the British Open struggling to break 70? This is the same guy who made 9 on the 14th hole and shot 78 with the lead during the final round of this year's AT&T Pebble Beach National Pro-Am, who went WD-MC-MC leading up to the John Deere Classic and hadn't broken par in six rounds. At Pebble Beach, he missed the cut with a drive at 18 that ended in the rocks. As he said, with typical Goydos self-deprecation, "I've been very good at playing poorly now for his last 10 tournaments or so."
Instead of shooting his age, the 5-foot-9 Goydos was proud to shoot his height. (That was his favorite line out of all the one-liners that came from pitching the equivalent of golf's perfect game.)
"Anatomically, he's never looked like a super model," says long-time friend Jamie Mulligan, now the director of golf at Virginia CC in Long Beach. Anatomically, Goydos looks like one of the guys in your foursome -- which is what he is on visits to his home club. "Goydo," as Mulligan calls him, stays sharp by playing games against amateurs.
"When he's home, he plays and he posts a score," says Mulligan. "He went from a plus-six to a plus-four and. Every time he plays, he's playing guys giving up 15-20 shots. He warms up, putts, and doesn't beat a lot of balls. When he's on the road, he practices a lot, but he's always prepared to play."
Goydos admitted the guys at Virginia expect him to post the 59 and the rest of his scores that added up to 24 under at the John Deere. "But they don't say that when I shoot 75," he said. They play $10 team games, $5 individuals, with automatic two-down presses. Every stroke counts and at the end of the day, Goydos said the most he loses is $400.
As we talked, players would come by and offer the type of congratulations accorded to the winner -- some that Goydos didn't even know. Wrapping up the interview, Scott Verplank entered the locker room. Verplank's best career round was 61 in the 2001 Canon Greater Hartford Open.
"Did Mensa call you?" Verplank said.
"You mean like Mensa toast?" Goydos returned. "You know, I shot my I.Q. too."
"I mean like Mensa," Verplank said with a big smile. "You're brilliant."