News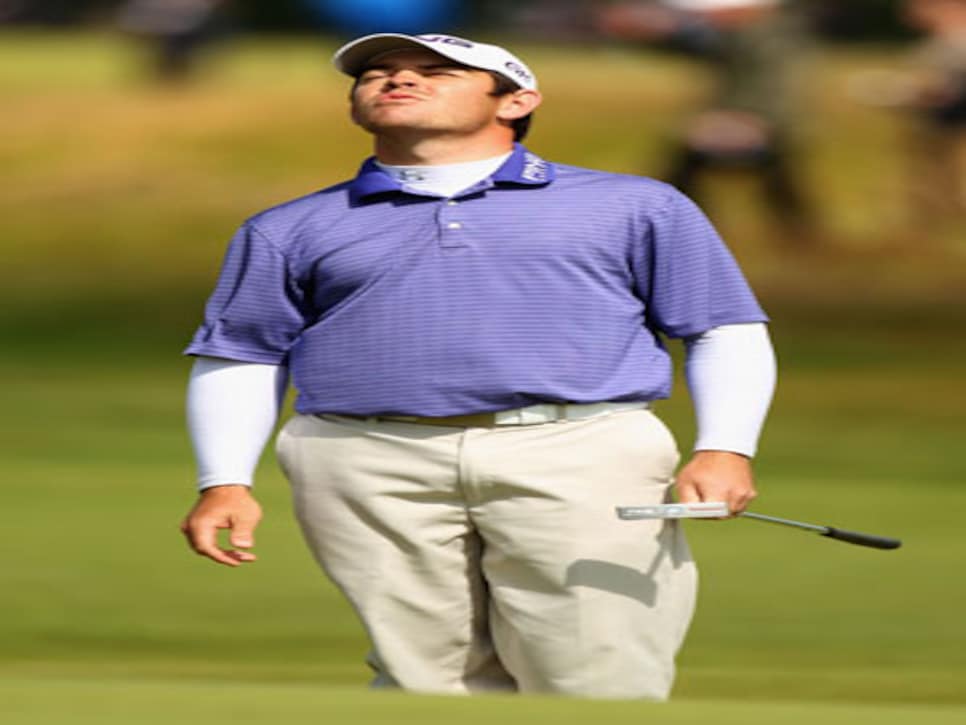 Ooshuizen reacts to a missed putt on 17, but almost everything else has gone right for him this week.
ST. ANDREWS, Scotland (AP) -- Fierce wind wreaked more havoc than any player Friday at the British Open, even causing a rare weather delay.
South Africa's Louis Oosthuizen surged to a five-stroke lead in the morning, then watched from the comfort of his hotel as first-round leader Rory McIlroy and plenty of others stumbled in the blustery conditions.
The flags flapped wildly, caps blew down the fairways and there were 80s all over the scoreboard, including one by McIlroy's name.
The 21-year-old hotshot from Northern Ireland went from the lowest score ever in a major championship to an 8-over 80. No other player has ever taken a bigger tumble after shooting 63 in one of golf's biggest events. It left him with an 11-shot deficit heading to the weekend.
Despite sunny skies mixed with puffy white clouds, officials decided the Old Course was unplayable because the wind was gusting to 41 mph, causing balls to wobble on some of the exposed greens, especially those along St. Andrews Bay.
Second-round play was suspended 1 hour, 5 minutes at midafternoon, shortly after Phil Mickelson finished his round in brutally tough conditions and Tiger Woods had teed off.
The last 10 groups failed to finish, meaning 30 players - including England's Steven Tiley, tied for third at 6 under - will have to come back at 6:30 a.m. local time Saturday to finish their rounds.
The last wind delay at the British Open was at Royal Birkdale in 1998, when gusts reached 40 mph, forcing a 38-minute stoppage during the second round. No one seemed more hurt by it than McIlroy, who had parred the first three holes. After the delay, he bogeyed No. 4 - and three of the next four holes, as well.
"It was just very, very difficult out there," McIlroy said. "I just let it get away from me a little bit."
During the break, players returned to their lounge near the first tee to wait for conditions to calm. Caddies sprawled on a grassy knoll, munching on sandwiches and bananas. Some fans claimed a patch of ground and caught a nap.
Oosthuizen (WUHST'-hy-zen), a 27-year-old from Mossel Bay whose given name is Lodewicus Theodorus, shot a 5-under 67 for a 12-under 132 at the midway point of the tournament. He was done before McIlroy teed off, hoping to put up another solid round after tying the major-championship record with a 63 on Thursday.
Mark Calcavecchia, trying to strike another blow for the senior circuit, was closest to Oosthuizen among those in the clubhouse. The 50-year-old American shot a 67 that left him at 137, with Lee Westwood and Paul Casey another shot behind.
Woods held on in wind that was gusting more than 30 mph even after play resumed. He bogeyed the first two holes, but a fortunate break at the par-5 fifth helped him pick up his first birdie of the day.
His second shot was sailing right, toward the treacherous rough, but the ball struck a golf cart loaded with television equipment and stopped in the short grass. Woods was able to get up and down from there, leaving him 4 under for the tournament as he approached the midway point of his round.
Woods nearly finished with a flourish, driving the green - the ball skidding about a foot wide of the flag - on the par-4 18th hole. He missed the 20-footer for eagle but tapped in for birdie at a 73 that kept him in contention for the weekend, though eight strokes behind Oosthuizen.
"I'm not exactly where I want to be," Woods said. "I'm not at 12-under par."
Woods is trying to win his third straight Open at St. Andrews, having romped to victories in 2000 and 2005. Before he putted out, Tom Watson made what was likely his final walk over Swilcan Bridge. The 60-year-old who nearly won last year at Turnberry was likely to miss the cut after shooting 75, but he paused to kiss the famous stone walkway and posed atop it long enough for everyone to get a picture.
"When I first played here, I didn't like it," Watson said. "But I learned to like it and, eventually, to love it."
The weather made it a typical British Open roller-coaster of a day. The early starters found blue skies when they arrived, but heavy rains rolled in shortly after the start of the round. The sun peeked through the clouds again, then more showers struck just before noon.
"I got up this morning and it wasn't looking real pretty at 4:30," said Calcavecchia, who played in the first group. "It was actually beautiful when we teed off. Then we saw a little bit of everything."
Oosthuizen wasn't worried about any of that, and he was already done when the wind started to blow around lunchtime.
"I'm very confident with the way I'm playing," he said. "It's probably the position anyone wants to be in playing a major on the weekend, and I think it's what we work to achieve, and I'm just very happy with the two rounds I put together."
There was nothing to indicate he might contend at golf's oldest major championship. He missed the cut this year at the Masters and the U.S. Open, and did the same at last week's Scottish Open.
This is only the second time he'll make the cut in nine major appearances. The other time, at the 2008 PGA Championship at Oakland Hills, he finished last among those playing on the weekend. But he did claim his first win on the European Tour this year, earning a spot at Augusta National.
With the wind at his back, Oosthuizen went with shorter clubs off the tee to keep the dreaded pot bunkers out of play. He got a bit wild on the back nine, starting out birdie-bogey-birdie-bogey-birdie before he settled down with a couple of pars and a 15-foot birdie at the final hole to leave him with a good feeling going to a weekend that will be like none he's ever experienced before.
Oosthuizen strung together three birdies in a row beginning at the par-5 fifth, where a driver and a 4-iron left him with a chip that he left 5 feet from the flag. Maybe if he's walking up the 18th fairway with the claret jug in his grasp come Sunday, someone will break out the vuvuzelas, those South African horns that made the World Cup sound as though it was under attack from swarming bees.
Until then, he said, leave 'em at home.
"On the golf course? No, not on the golf course," Oosthuizen said.
Westwood gave no indication that he's bothered by a ruptured muscle in his right calf. The world's No. 3 player, generally recognized as the best player without a major title, followed an opening 67 with a solid 71.
Casey managed a 69 despite a triple-bogey at No. 17, the famed "Road Hole." A drive into the thick rough left of the fairway led to big trouble; even aiming sideways, he needed two whacks to get out, then he came up short on the approach and two putted for a 7.
Calcavecchia? Nothing new about a senior holding lofty status at this event.
The American will try to finish what was started by 53-year-old Greg Norman (the 54-hole leader in 2008) and Watson (who had a potential winning putt on the 72nd hole last year at age 59). Both came up short of becoming the oldest major champion in golf history, a title that still belongs to Julius Boros, who was 48 when he captured the 1968 PGA.
"You see a guy like Tom Watson last year, almost winning when he was almost 60, and you realize that it doesn't really matter how old you are," said Calcavecchia, relishing his best round ever at St. Andrews. "The old guys can hang with the young guys."
Mickelson, who made only one birdie in his opening round of 73, went out with hopes of getting back into the mix - or at least to avoid going home. He didn't make much of a charge, finishing with a 71, but that was likely to be good enough to at least get him to the weekend.
"It's very difficult," Lefty said. "Every hole is a tough par in these conditions."
Perhaps the biggest surprise of the opening round was 1995 Open winner John Daly, who pulled off a stunning 66 while wearing the flashiest outfit on the course: lavender paisley pants, pink shirt, sky blue sweater and turquoise cap.
Daly didn't tone it down Friday, donning pink paisley pants, a lime green cap and a neon shirt as he got in six holes before play was halted. But he, too, was bedeviled by the wind and tumbled to a 76.