The Loop
Springing forward, Part I
In order to look forward, however, I want to take some time to look back. In September your intrepid reporter attempted to make some pre-season predictions regarding how various power conferences would fall out in the coming year. So how did I fair? A final assessment shouldn't be made until June when the season is complete, but a mid-year look will help us reset for the spring competition.
Predicted champion: Clemson Predicted player of the year: Webb Simpson, Wake Forest NCAA Regional bound: Clemson, Georgia Tech, Wake Forest, North Carolina, Duke, Florida State, N.C. State, Maryland 2006-07 Ranking (Number in parenthesis is the Golfstat Ranking as of Jan. 30):
Mid-Year assessment: Those who thought the young and talented Clemson squad would stand out among its conference brethren were shaking their heads as the Tigers looked a lot more young than they did talented. Even coach Larry Penley admits they underachieved with only two top-fives in five starts. Given Penley's skills as a motivator—not to mention the services of sophomore David May and freshman Kyle Stanley, my bet is he gets his lads in line come April and walks off with the ACC title as predicted. … I'm sticking with my regional picks, although Virginia Tech played better than expected in the fall and might be one addition to the list. Maryland remains on despite being ranked so high thanks to playing in the Mid-Atlantic region, where the Terps No. 2 ranking will get them a nod in the final year the NCAA committee uses regional allocations to fill out the post-season field. … Webb Simpson's standout summer turned into a fickle fall as his best finish before breaking a bone in his hand was a T-11 at the Ping Preview. Says here the Wake Forest junior will bounce back, but conference POY honors are likely out of his reach. New favorite: Stanley.
Predicted champion: Duke Predicted player of the year: Amanda Blumenherst, Duke NCAA Regional bound: Duke, Virginia, Wake Forest, North Carolina, Florida State, Maryland 2006-07 RANKING
Mid-Year assessment: Maybe the Blue Devils are more vulnerable this year than in seasons past, but I still think the Dukies will be holding their 12th straight ACC championship trophy in April. The tandem of Amanda Blumenherstand Jennie Lee is too strong to overcome. Freshman Alison Whitaker finally started to look comfortable at fall's end, leading me to think the team from Durham, N.C., is going to be just fine. … Regional picks all still look good, although N.C. State might crash the party as well. … I'm also sticking with Blumenherst for POY. Her fall stats (no wins, three top-10s in three starts) are off compared to a year ago, but they're still All-American caliber.
Predicted champion: Oklahoma State Predicted player of the year: Pablo Martin, Oklahoma State NCAA Regional bound: Oklahoma State, Texas A&M, Texas, Texas Tech, Missouri, Baylor, Nebraska 2006-07 RANKING
Mid-Year assessment: Even without Pablo Martin and Jonathan Moore in their line-up for half the fall, the Cowboys showed they have as good a shot of repeating as NCAA champions as any team defending the crown in the past two decades. While Texas A&M has proven to be a worthy competitor (and Texas has impressed with its Isleworth win), as far as I'm concerned it's still Oklahoma State's to lose. … Have to admit I'm surprised Missouri has struggled thus far. I figured U.S. Amateur runner-up John Kelly's impressive performance at Hazeltine National would boost his confidence and that of the rest of his teammates, who drove all night to see him in the semifinals and finals. Along with the Tigers, Nebraska needs to step things up to secure a postseason berth. Meanwhile, my apologizes to Colorado and Iowa State, both of whom played better than expected. The Cyclones, thanks to their position in the Central region, have a good shot at making regionals. … Pablo Martin is still the most talented player in the conference, and I think he's ready for another standout spring. Then the question becomes whether he returns to Stillwater for his senior year or not (talk is that he might move on to greener pastures). A good dark horse for POY: Kansas senior Gary Woodland.
Predicted champion: Oklahoma State Predicted player of the year: Ashley Knoll, Texas A&M NCAA Regional bound: Oklahoma State, Texas A&M, Missouri, Baylor, Nebraska 2006-07 RANKING
Mid-Year assessment: Until Oklahoma State won the Las Vegas Showdown in November, nobody in the conference seemed to want to step up. The Cowgirls got bad news last month, however, when Australian Kristie Smith was ruled ineligible to start school during the spring semester. Texas A&M has the depth to make this a tight race, but they need everybody not named Ashley Knoll to live up to their potential. Long story short: Okie State is still the right call. … As for regional selections, things are falling as predicted. One surprise is that Texas is even worse than expected—only one top 10 in four starts and that was a sixth place in Hawaii in a field that was only nine teams deep. It's hard to fathom how far the Longhorns have fallen in the last few seasons. Susan Watkins is a better coach than this. … Aggie fans should enjoy the next four months as Ashley Knoll winds down her college career. She's got as impressive a game as anyone in the country.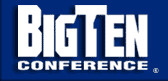 Predicted champion: Michigan State Predicted player of the year: Bronson La'Cassie, Minnesota NCAA Regional bound: Michigan State, Minnesota, Indiana, Purdue, Northwestern, Illinois 2006-07 RANKING
Mid-Year assessment: Here's my first conference champion that I want a mulligan on. It's not that Michigan State can't win. It's just that Purdue, Minnesota, Wisconsin and Northwestern provide too many realistic alternatives. I like the Wildcats as I think they have the most reliably deep squad of the foursome. … I also need to amend my regional picks and give proper due to Wisconsin. No one figured the Badgers would win their first two tournaments let alone finish no worse than fifth in any fall event. The bubble might burst in the spring but I think they'll hang on. Also need to include Penn State now in the regional mix, thanks to a strong ranking in the Mid-Atlantic region. Coach  Coach Greg Nye is up set that the regional allocation system will go by the wayside next year, but his team is the prime example of why the NCAA golf committee is making the change. … Sadly the highest ranked individual player in the Big Ten, according to the Golfstat ranking, is Wisconsin's Dan Woltman at No. 75. I'll stick with Minnesota senior Bronson La'Cassie but I'd like to see a little more effort.
Predicted champion: Purdue Predicted player of the year: Maria Hernandez, Purdue NCAA Regional bound: Purdue, Ohio State, Michigan State, Michigan, Northwestern 2006-07 RANKING
Mid-Year assessment: Michigan State was impressive in the fall, but Purdue still has too much strength at the top of its line-up not to remain the favorite. The Lady Boilermakers also add two more players to the roster—Canada's Maude Aime Leblanc and Austria's Stefanie Enstrasser—and expect Maria Hernandez and Christel Boeljon to step up in the spring. … Still a pretty solid line of demarcation between top five teams and the bottom six. No changes on what teams are regional bound. … Hernandez' runner-up finish in Hawaii to close the fall will be motivation for more success this spring. Keep her as your POY front-runner.

Predicted champion: SMU Predicted player of the year: Colt Knost, SMU NCAA Regional bound: SMU, Tulsa, Houston 2006-07 RANKING
Mid-Year assessment: Of any conference in the country, this one might be the tighest between top teams. It's hard to separate SMU and Tulsa, the former having one win and four top-fives, the latter two wins and three top-10s. The Mustangs have brought in reinforcements, with eligible after transferring from Clemson and Frank Wrenn__Scott Barton__ and Ben Tewes coming to Dallas after playing (or not playing as the case might be) for Oklahoma State in the fall. I'll give the nod to SMU in a playoff. … Looks like Houston is going to have some work to do to get to regionals, while Central Florida and UAB might sneak in instead. I give the edge, now, to the Golden Knights. … If Colt Knost's spring is even half as good as his fall (three wins, five top-10s), the senior will have some hardware to pick up come April.
Predicted champion: SMU Predicted player of the year: Lacey Jones, SMU NCAA Regional bound: SMU, Tulsa 2006-07 RANKING
Mid-Year assessment: The transition for new Tulsa coach Trelle McCombs has been tougher than expected, giving SMU a decisive edge for conference supremacy. … The Golden Hurricane's struggles also now make an NCAA regional berth look difficult at best to achieve. Surprise Memphis might get a look, but my guess is only one team will come from Conference USA this year. … Impressive runner-up at Mercedes-Benz Championship in October and victory at the Kent Youel in November keep SMU junior Lacey Jones the odds-on favorite for POY.