The Loop
Spieth is 'strong between the ears, strong in the stomach, strong in the heart'
Talent and maturity are the hallmarks of Jordan Spieth's game and both were on display in his round of 64 to open the Masters on Thursday.
CBS' Peter Kostis provided an excellent summation of both as Spieth considered his second shot from the left side of fairway, with a hook lie, at the par-5 13th hole.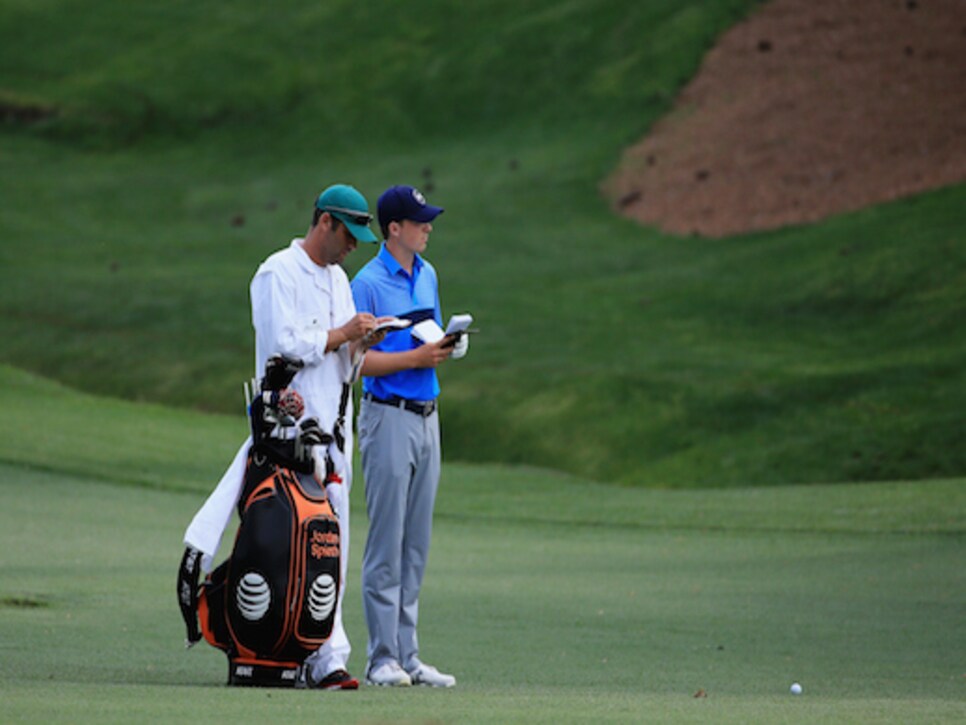 Spieth and caddie Michael Geller ponder second shot at 13 (Getty Images)
"He has 244 yards. I suspect this is going to be a layup," Kostis said. "If he curves it enough to put it on the green it's going to be coming in low and hot and anything can happen."
Spieth indeed opted for the lay up. "Veteran move here," Kostis said. "I really like this. Pick and choose where you elect to take your sword out of your sheath. This is not one of those places you want to fight."
He wedged his third shot close to the hole and made a birdie, the second of three in a row.
"Twenty-one years old, that's what his body is, but, I'll tell you, what his golf brain is a lot older than that. He plays like a veteran. You look at him and you wonder why is he so good. I think it's because he has no weaknesses. He's strong between the ears, strong in the stomach, strong in the heart."
His third straight birdie came after a poor drive right of the fairway on the 14th hole. He punched his second shot beneath tree branches and the ball hit the pin and stopped within tap-in range.
It produced these Twitter reactions, the first from a friend and fellow tour player: