The Loop
Sorry, Tiger Woods, Tim Finchem isn't inclined to give you special treatment
The No. 125 ranked player in the FedEx Cup points standing right now is Charlie Beljan. That's worth noting because somewhere in the secret PGA Tour commissioner's handbook there is probably a clause that says you're not allowed to outwardly root for Tiger Woods more than you would for Charlie Beljan.
Or something like that. The point is that as the FedEx Cup Playoffs draw nearer, Tim Finchem faces the very real prospect of the tour's prized playoff series being contested without the tour's most marketable player. Currently 215th in the FedEx Cup standings with just 45 points, Woods likely needs a win either this week at Firestone or next week in the PGA Championship to qualify for the Barclays, the first leg of the playoffs, in three weeks at Ridgewood Country Club.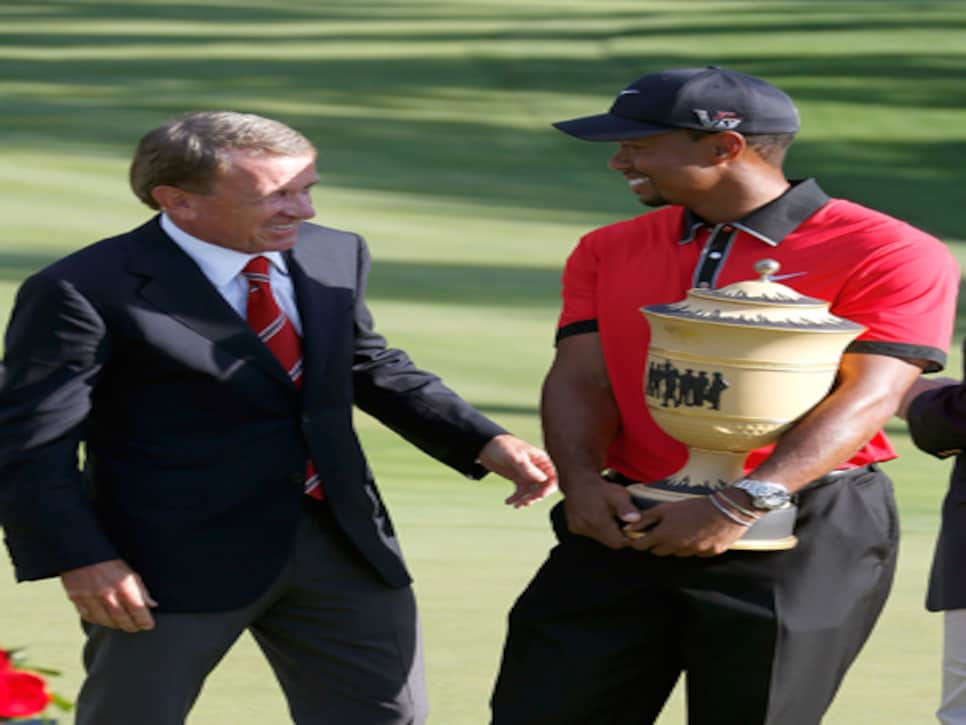 Barring a dramatic Woods resurgence, it would be the third time in the eight-year history of the FedEx Cup that the 14-time major champion would be absent from the entirety of the playoffs. In one of those years, 2008, Woods was unable to play after undergoing reconstructive knee surgery. But in 2011 and again this year, he returned to competition in mid-summer after missing an extended period due to injury, and thus had a limited window to earn points.
Would the tour ever consider a medical exemption into the playoffs for elite players like Woods?
Finchem mulled that question over for only a brief moment on Tuesday.
"Ah, no," Finchem said at a press conference to promote the Barclays. "And the reason I say that is the competition is set up, it's not just a playoff event. It's a yearlong competition. Then you would say, I would have to start fiddling with field sizes. So it kind of muddies up the comparative nature of the competition."
"He's got a couple tournaments coming up where he's won on both golf courses and one on which he's won a lot of times (eight)," Finchem said. "So I'm not one of those who are pessimistic about his immediate or long term future in the sport."