Takeaways
A charging Hideki Matsuyama adds to Russell Henley's closing nerves
Hideki Matsuyama celebrates his putt on the 18th green during the third round of the Sony Open.
Cliff Hawkins
Hideki Matsuyama's historic triumph at the Masters feels like it happened about a million years ago, and that's not all his fault—it's a function of a wild year in golf, the time-elongating nature of the pandemic and a few other elements he can't control.
Part of it, though, is down to him. Like many first-time major winners, he went through a down period (by his high standards) and didn't re-appear on the top page of the leader boards until very late in the summer. As Phil Mickelson and Jon Rahm and Collin Morikawa captured majors, Xander Schauffele won a gold medal, and Team USA obliterated Europe at the Ryder Cup, it was easy to forget the man who won the year's most impactful event for global golf.
Well, golf fans, it's time to welcome him back into your hearts, and the forefront of your conscious mind. Matsuyama took home a title at the Zozo Championship in the silence of the fall, and after a brilliant 63 Saturday at the Sony Open, he has just one man to beat to stand in the winner's circle again.
Nobody else could match Matsuyama's 63 on Saturday at Waialae Country Club, which came with zero bogeys, enough precision approaches to make his birdies on the front a breeze, and a series of bombs on the back nine—including a 37-footer on 13—punctuated by the final 13-footer to reach the day's best number.
Putting is by far the weakest part of Matsuyama's game, and even in a year when he won the Masters, he finished a dismal 175th in strokes gained/putting for the 2020-21 season. His numbers aren't great this year, either, but they're about to surge; with 6.475 SG/putting advantage on the field, he's second at the Sony through three days, trailing only Brian Harman. He's also been magnificent off the tee, and the only aspect of his game that's been close to "average" are his approaches. That stat profile is terrifying for everyone else in the field, because for so long, the only thing keeping Japan's greatest golfer in the stratosphere is that one nagging weakness.
How did he change it around this week? Unfortunately, that's where the language barrier makes things difficult for us. Asked after Saturday's round if the course or anything else he has changed on the greens has made a difference, Matsuyama said, "That's a good question, but I don't have an answer for it."
Fair enough. Let's put it this way: If he keeps this up, he's not the one who will need an answer ... that problem falls to everyone else.
Russell Henley has another chance to thrive under pressure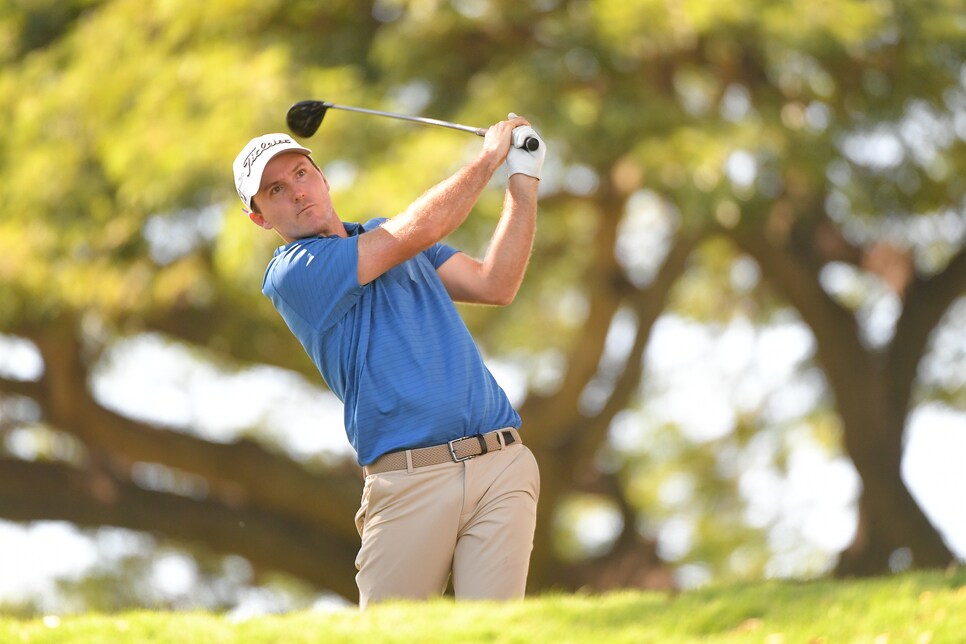 Russell Henley tees off on the second hole during the third round of the Sony Open.
Ben Jared
As our own Chris Powers wrote Friday, Russell Henley's track record with closing 36-hole leads has not been stellar lately. He's 0 for his last 5, dating back to 2013, and most recently he carried a three-shot lead into the final round of the '21 Wyndham Championship. That went poorly—a Sunday 71 saw him drop a shot below a wild playoff eventually won by Kevin Kisner.
Part one of holding any 36-hole lead is staying ahead on Saturday, and Henley accomplished that with a solid 67 that kept him two shots ahead of Matsuyama. It was more of a competent round than a great one, and he may need to do even better on Sunday. But for now, he can be happy with the first half of the job done. Like his closest competitor, Henley has been putting lights out this week, and if there's a piece of comfort he can take while he tries to sleep tonight, it's that he's in the top 12 in each of the three major SG categories on the week (driving, approach, putting) and is quite clearly playing the best of anyone in the field.
You can be forgiven if you watched Saturday's action and at some point thought to yourself, "Who is Adam Svensson?"
The bare facts: He's 28, he's Canadian and he was a stud in college at a small school called Barry University in Florida. Things went a little slowly after that, and he couldn't keep his PGA Tour card in his first go-round in 2019. But he was a monster on the Korn Ferry Tour last year, winning twice, and now he seems ready to make an impact.
Of course, Svensson is still only the second most famous professional golfer named "Adam" from Canada, and it may be a while before that changes. But the really good news for Svensson this week is that his approach game is third-best in the whole field, and the almighty approach correlates best to winning on the big circuit.
Svensson sits in a tie for third at 14 under, four shots back of Henley, and Sunday presents an unprecedented situation for him, as he's never been closer than T-15 in the past. The stage may seem a little large for him, but then again, winning is winning, and though it's never been on quite this level, he showed as early as college and as recently as last year on the Korn Ferry Tour that he can close the deal when it matters. If Matsuyama and Henley falter, we could be looking at the greatest day of this young Canadian's life.
Also, a bit of hot info from the caddie circuit: He's using Bryson's old looper!
I cannot get enough of this. Just so smooth, satisfying and hypnotic: