Sony Open
Hayden Buckley holds his first 54-hole lead, but a final-round shootout seems inevitable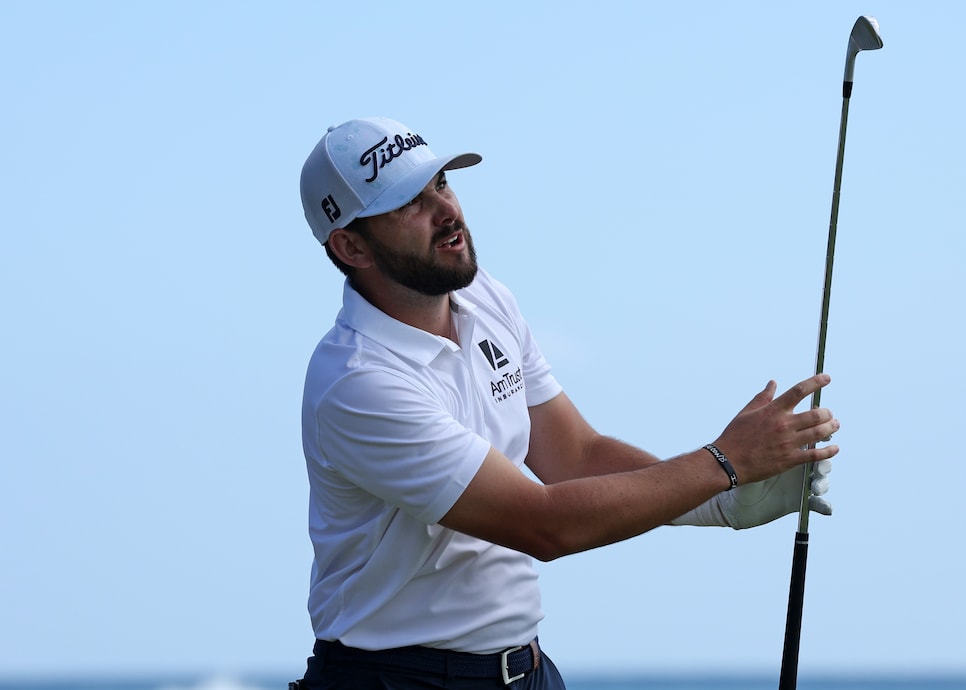 Hayden Buckley reacts to his shot on the 17th tee during the third round of the Sony Open.
Harry How
HONOLULU — Hayden Buckley didn't pick up a club for six weeks after he completed the RSM Classic in Sea Island, Ga., in late November. He did pick up a bride, however, getting married in early December to his girlfriend Feleysa, and the couple then moved to Jupiter, Fla., where they are renting a house.
If he continues to exhibit midseason form, he might pick up a big check on Sunday at the Sony Open in Hawaii.
With two eagles on the inward nine at Waialae Country Club, Buckley surged to a three-stroke lead with his second straight six-under 64 and posted 15-under 195, a career low. The second-year PGA Tour player holds his first 54-hole lead, breaking free from a logjam in which eight players owned a share of the top at one juncture.
Third-year tour member Ben Taylor, 34-year-old rookie David Lipsky and second-round leader Chris Kirk, twice runner-up at Waialae, were the nearest pursuers at 197. Taylor and Lipsky, who were paired with Buckley on Saturday and will be again in the final round, shot 65 and 66, respectively. Kirk rebounded from an opening double bogey after pumping his first drive out of bounds to card 68.
Andrew Putnam, after a 62, was joined at 198 by Si Woo Kim, who carded 64. Twenty-four players are bunched together within six shots—the margin by which Collin Morikawa led at last week's Sentry Tournament of Champions before Jon Rahm orchestrated a stunning rally.
A shootout looms. Kirk has four career wins, but his last came in 2015 at Colonial. Taylor was third in the Cadence Houston Open in the penultimate event of the fall; Buckley finished T-5 at the Zozo Championship; and Lipsky had a T-10 at Mayakoba, so the top four have something to draw on for the final round.
"If I had won three weeks ago maybe, but it's been a little while," said Kirk, 37, when asked if he might have the upper hand. "I definitely know what it takes, but also know it's not easy to do. But I definitely like where I'm at. I like the way my golf game feels. Obviously, am very comfortable and love this place, so I'm excited for the opportunity against these guys that haven't won."
Buckley, 26, who trailed Kirk by two shots beginning the day, made his move starting at the eighth when he covered a three-hole stretch in four under par capped by an eagle at the short par-4 10th when he holed out a wedge from 133 yards. His only bogey came at 11 when he couldn't save par out of the front bunker, but the Mississippi native closed in style when he blistered a 5-iron from 222 yards at the par-5 18th that stopped two feet away to set up his second eagle.
"Today, seemed like a pretty slow round besides two eagles," said Buckley, who finished T-12 last year here after taking a month off to rest a foot injury, "but we did exactly what we were trying to do and got away with two shots, had two big eagles."