The Loop
Some guy's wife won't let him play Kapalua, so his friend set up a GoFundMe page for him
Chris Chaney is a golf blogger and the man behind the clever Twitter handle @Wrong_Fairway. Apparently, he's also a good friend to have.
Chris was recently chatting with one of his buddies, Dave, about an upcoming trip to Hawaii with his wife. Sounds pretty awesome, right? Except for the fact that Dave's wife wasn't going to let Dave play Kapalua's Plantation Course, the site of the PGA Tour's Hyundai Tournament of Champions, which has a $295 green fee.
So Chris set up a GoFundMe page for Dave. What a guy. He even chipped in the first $5 for this noble cause. Here's a look at the page: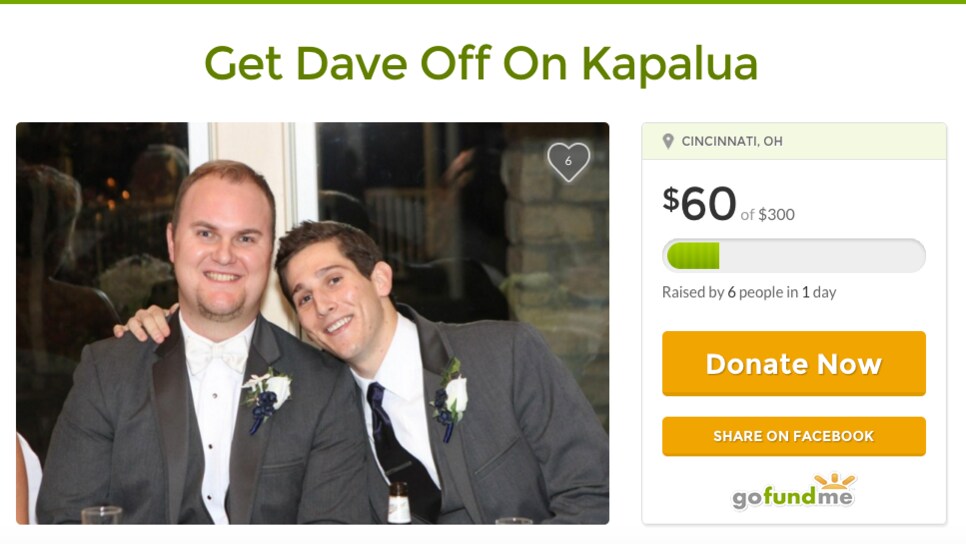 The description reads, "Dave is going to Hawaii with his wife in July. His wife won't let him play Kapalua. We're here to help." Aww.
This is not the first time a golfer has relied on GoFundMe. In October, U.S. Mid-Am champ Sammy Schmitz raised $25,000 to fund his trip to this year's Masters.
Dave isn't looking for nearly that much. And 50 bucks after one day is a pretty decent start. We wish you the best, Dave.