The Loop
I was in Scottsdale in January. I played The Pinnacle Course at Troon North (Tom Weiskopf design). I remember the course was good, a 6 on my scale of 1-10. I didn't love being surrounded by houses, but most of all I didn't like the price, $245 during the week and $295 on the weekend (includes a cart). Welcome to Arizona, where golf isn't cheap. If I'm paying close to $300 for 18 holes, a lot of them need to be memorable. I want to get home and at least look on my Digest ranking of America's 100 Greatest and hope I made progress in filling out the peg-board. A travel company like Golfpac (which got a great review from my recent Ambush subjects) can help you get package deals.  You tell them a price and preference and they develop a plan for you/your group.
A few submissions to the new feature in the magazine, Travel Trouble, have asked about Arizona golf. This is one I received from Steve Jones of Fairfax, VA.
__"I am headed to Scottsdale for a couple of days over Easter weekend and was wondering what courses you would recommend that offer pretty good rates. I'm playing the Stadium course as we are there for a conference and realize that alone is $260 a round. Your thoughts would be welcomed, as I'm sure there are few diamonds in the rough that don't necessarily stretch the wallet to the extreme. Thanks and I saw you had El Tamarindo in this months mag, I honeymooned in that area Nov. 2006 and was able to play twice.  What an incredible experience and extremely tough course." __
Steve, I checked around and asked some colleagues for good deals and not too far from the airport.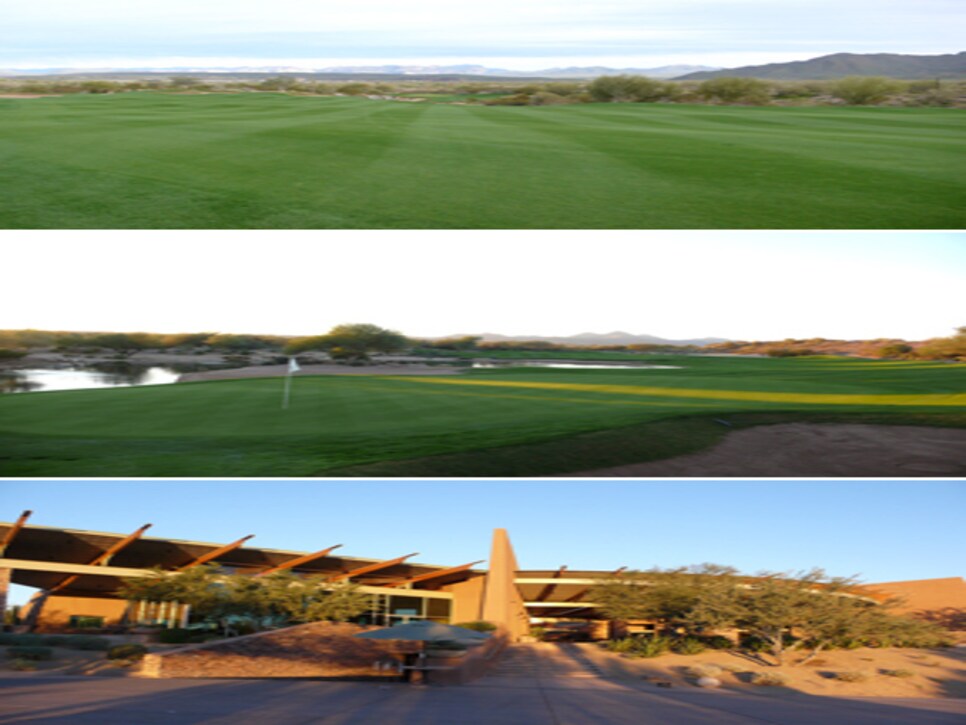 I played 18 of the 27 holes at the Phoenician--the Desert and the Canyon ($200 all week, includes cart).  The Desert nine is closer to the base of Camelback Mountain than the Canyon and Oasis. I liked it better than Canyon and I hear the Oasis is the hardest nine. I've been told the Arizona Grand Golf Course (formerly The Phantom) is "visually impressive," ASU Karsten Course is close to the airport and "a good venue". A fellow editor told me, "I like the Raven at South Mountain a lot."  Whirlwind at Wild Horse Pass was mentioned. Another editor said, "We-Ko-Pa is excellent."
"We-Ko-Pa, We-Ko-Pa, We-Ko-Pa"...I've been hearing it mentioned every time golf and Arizona is discussed. I went out there over the weekend and I played the Cholla course. I was "ambushing" so I didn't have time to play the new 18, the Saguaro course (Core/Crenshaw), which opened in 2006. The Cholla is fantastic.  Designed by Scott Miller, and opened in 2001, it's a must the next time you're in town.  You will not be disappointed. Their current rate is all day, 7 days a week, $210 for out of state and $120 for Arizona residents, which includes a cart. Owned by the Fort McDowell Yavapai Nation, there isn't a single house or a slab of commercial real estate disrupting your views of good golf holes or the surrounding mountains. The sun was going down towards the end of the round and the sunset was more like a light show. I liked every hole. The clubhouse is as good a design as the golf course. It's 25 minutes from Scottsdale, about the same from the airport, next door to Fountain Hills. It's three par 5s from the Radisson Resort and Casino if you care to "wash some quarters"—a term my mom uses to describe playing slot machines.
If the Pinnacle at Troon North can get you for $295 on a weekend, $210 at We-Ko-Pa is like stealing something.  That's 340 extra quarters for your trip to the cleaners and it's memorable golf.
Captions (from top to bottom): The par-5 8th hole at We-Ko-Pa's Cholla Course; The par-4 18th hole of the Cholla; The Clubhouse at We-Ko-Pa.