News
Solheim Cup moving to even-numbered years starting in 2024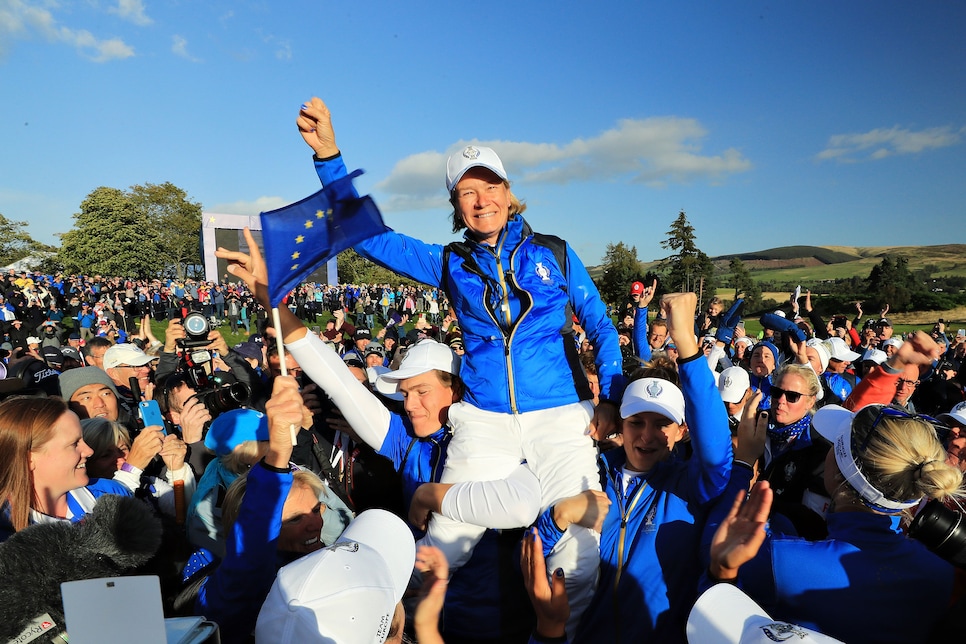 Of the many scheduling changes that occurred in 2020 due to the coronavirus pandemic, one big one was the Ryder Cup being postponed to 2021. In turn, the PGA of America and European Tour announced a shift in the Ryder Cup's overall schedule moving forward; the biennial matches would be played in odd-numbered years instead of the even years it had been held since 2002. It was a move that was not only a big deal for PGA Tour players trying to make the teams, but also for the LPGA—because odd years have been when the tour has held the biennial Solheim Cup.
In 2021, both the Solheim Cup and Ryder Cup will be played in the United States, at Inverness Club in Toledo, Ohio, and Whistling Straits outside of Milwaukee, Wis., respectively. And in 2023, the Solheim Cup will be played in Spain, a week before the Ryder Cup will be held in Italy.
From then on, however, the LPGA Tour announced on Monday that it will hold the Solheim Cup in even-numbered years, citing the Ryder Cup's shift as the reason for its change.
"With the world sporting schedule changing so much due to current difficulties, we felt it was in the best interest of the Solheim Cup to return to an off-year rotation with the Ryder Cup," Dennis Baggett, Executive Director of the Solheim Cup, said. "When the competition returns to the United States in 2024, I have no doubt fans will have an incredible opportunity to celebrate the best women golfers from the United States and Europe as they represent their home countries."
The Solheim Cup was originally played in even-numbered years starting with its inception in 1990 until 2002. But when Sept. 11 caused the Ryder Cup to postpone and shift its schedule, the Solheim Cup moved to odd-numbered years. That created a unique instance where the Solheim Cup was played in consecutive years (2002 and 2003) similar to what will happen in 2023 and 2024.
In the first week of September 2021, Catriona Matthew's European Team will defend the cup against Team USA captained by Pat Hurst.