The Loop
So you want to try a weird putting style like Bryson DeChambeau...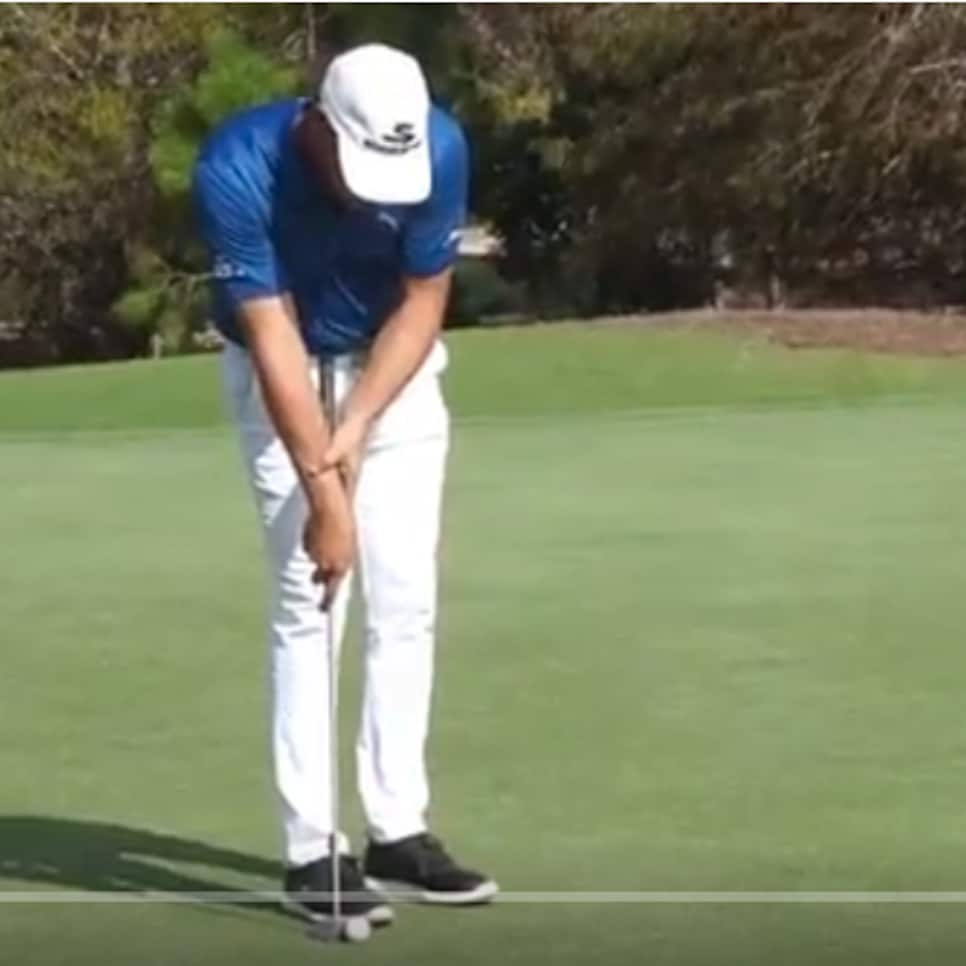 Bryson DeChambeau has never been afraid of doing things differently.
DeChambeau played the unofficial Franklin Templeton Shootout using a sidesaddle approach different than anything seen on tour since late in the Sam Snead administration. Using a homemade putter he tricked together himself with a leftover wedge shaft, DeChambeau stood facing his target instead of the ball, and held the putter in line with his right arm--with his left hand bracing the end of the grip against his right forearm.
It looked like a mixture of bowling, curling and lawn darts, but it did the trick, at least in spurts. DeChambeau and partner Lexi Thompson shot 10-under in their opening scramble round and 5-under to close in modified alternate shot.
"That's what so fun about him," says top California teacher Brady Riggs, who is based at Woodley Lakes Golf Course in Van Nuys. "He's willing to go against whatever convention there is. He sees it as a chance to succeed in a way nobody else is. There's no reason why he can't be successful with it."
DeChambeau looked comfortable with the technique, which he said he adopted in order to improve his mid-range putting. And he wasn't afraid of the sideways looks he might get from galleries or other players for trying something different.
You shouldn't be either, says Riggs. "If you have a long-term issue where you aren't seeing success, you have to address it," says Riggs, who works with Brandon Hagy on the PGA Tour. "Players go left-hand low, use the Kuchar grip or use a different size grip. There are so many alternative styles that doing something different has become normal. There's no reason to sit there and suffer conventionally."
DeChambeau's method has potential because it sets the player up so that both eyes are facing the target, and it encourages a true pendulum stroke--directly at the target. "If you were designing putting from the beginning, it would be a logical way to do it," says Riggs. "It seems like that's what he's going for with all of his clubs. I think it's awesome."
If you decide to try something different--whether it's DeChambeau's side-saddle move or one of the other alternative styles, you can take a few simple steps to give it the fairest shake. "First, you have to give it an honest try," says Riggs. "Practice with it, and do it for a few rounds before you decide. You can't judge anything by a few holes, bad or good."
You'll probably be interested in hitting lots of putts on the practice green to get the feel for the new style, but testing it under pressure is the real measuring stick. "Play games during your practice," says Riggs. "Bet a friend for lunch--anything to get it competitive as quickly as possible. A lot of stuff works on the practice green. But what's going to happen when you're standing over a putt you really need to make?"