The Loop
So you want to go to the Ryder Cup? Good luck actually seeing anything
GLENEAGLES, Scotland -- If you had a ticket to the Friday four-ball session at the Ryder Cup, you naturally had an interest in checking out the marquee pairing of the morning: Rory McIlroy and Sergio Garcia versus Phil Mickelson and Keegan Bradley. Trouble is, so did the other 45,000 spectators predicted to be in attendance at Gleneagles.
It is the Ryder Cup's dirty little secret. While hard to rival the atmosphere at the biennial event -- making it a bucket-list item for any golf fan to attend -- what's even harder is to see any actual golf when you're in attendance. Do the math. Four matches with 45,000 people. Carry the ones, and that's a whole lot of heads to have to look around.
Still, I decided to give it a shot, committing to follow Game No. 4 and give you a spectator's glimpse of the match.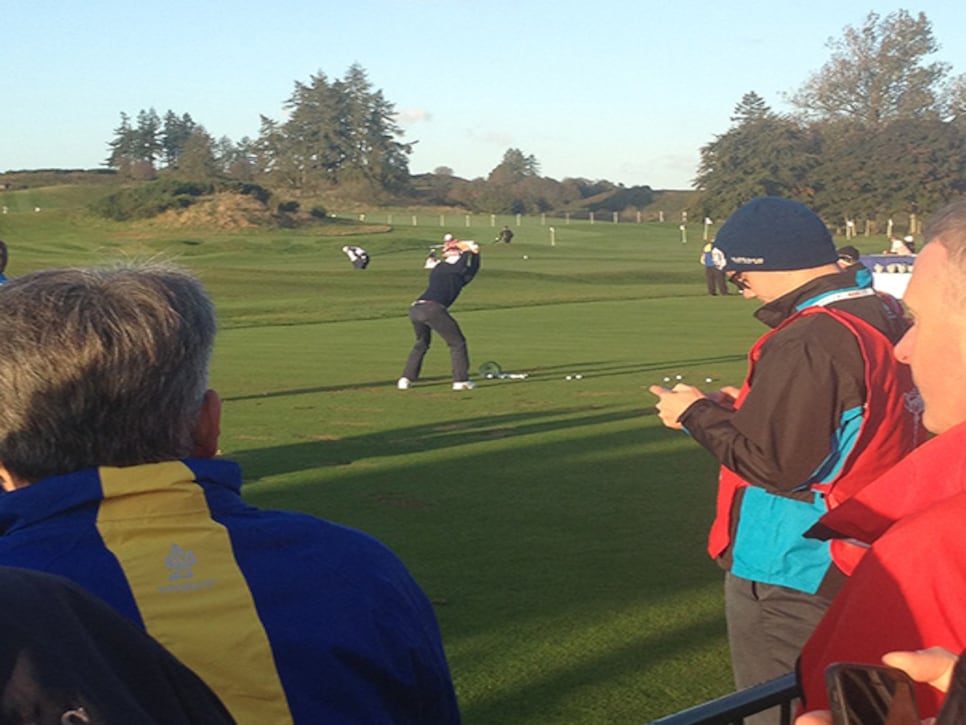 Wow, maybe I've got this all wrong. Maybe having Scotsman Stephen Gallacher in the preceding match will mean that the crowds will all flock to him and leave the match with players that have a combined 10 major championships all alone. I mean, I've got a nice spot right in front on the range. Awesome!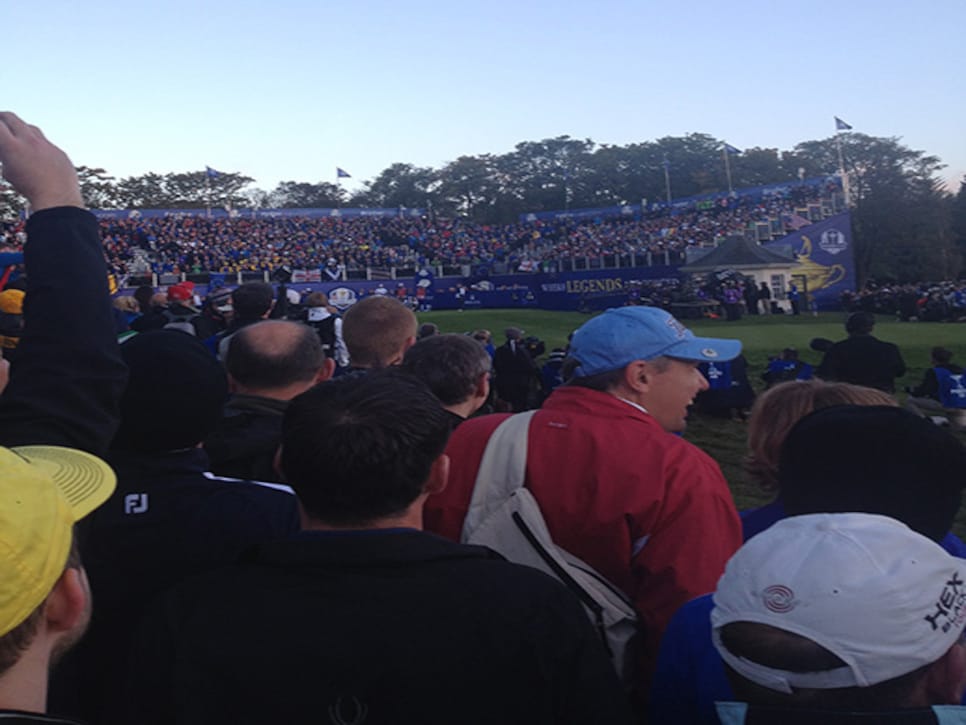 __ __OK, maybe not. This angle from the right of the tee box isn't promising. I'll have to give the other side a shot.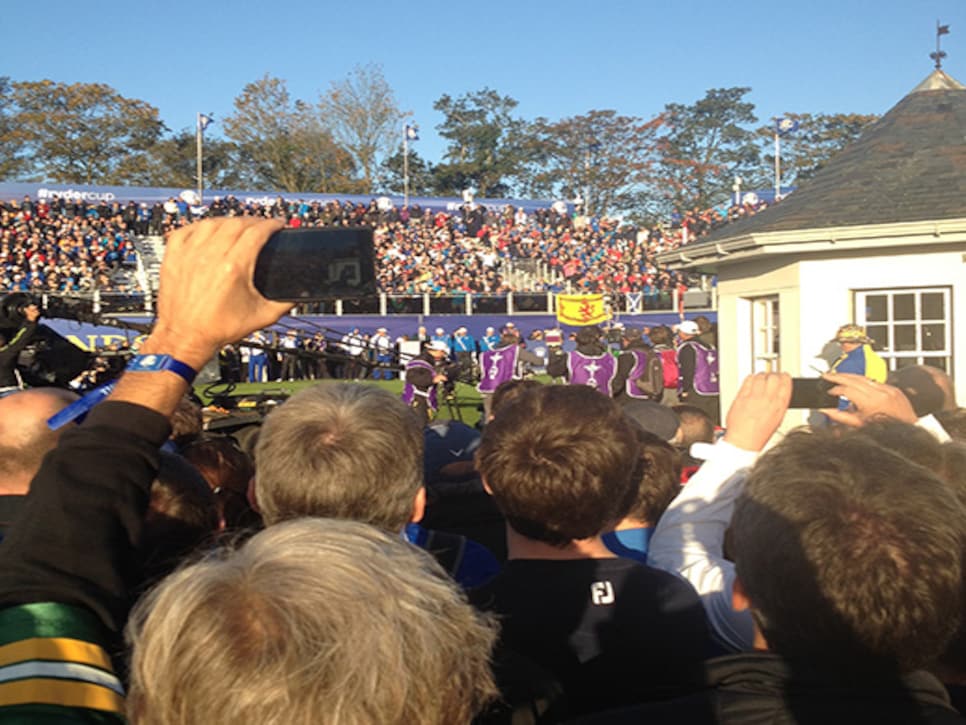 OK, that's no good either. But the match is underway, so I trudge along.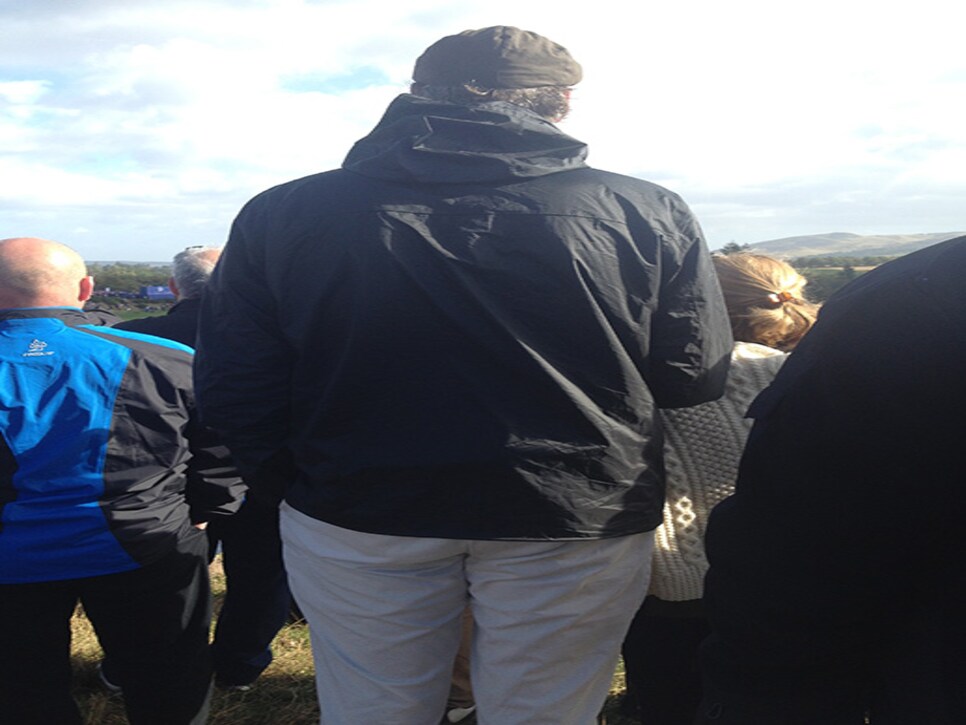 __ __Arriving beside the fairway on the second hole, I run into Jim Anderson, a nice 32-year-old from Reston, Va. Jim stands 6-feet-5. He also stands right in front of me. As the morning rolls on, I start to think that Jim has come over to Scotland with a dozen or so brothers and cousins who are all equally tall and all standing right in front of me.
OK, the way the PGA Centenary Course is laid out, you have to cross a street to get from the second to the third hole. Hopefully, that will be enough of a hassle to thin the herd. That and the fact that there's this concession that will be calling a lot of people's names.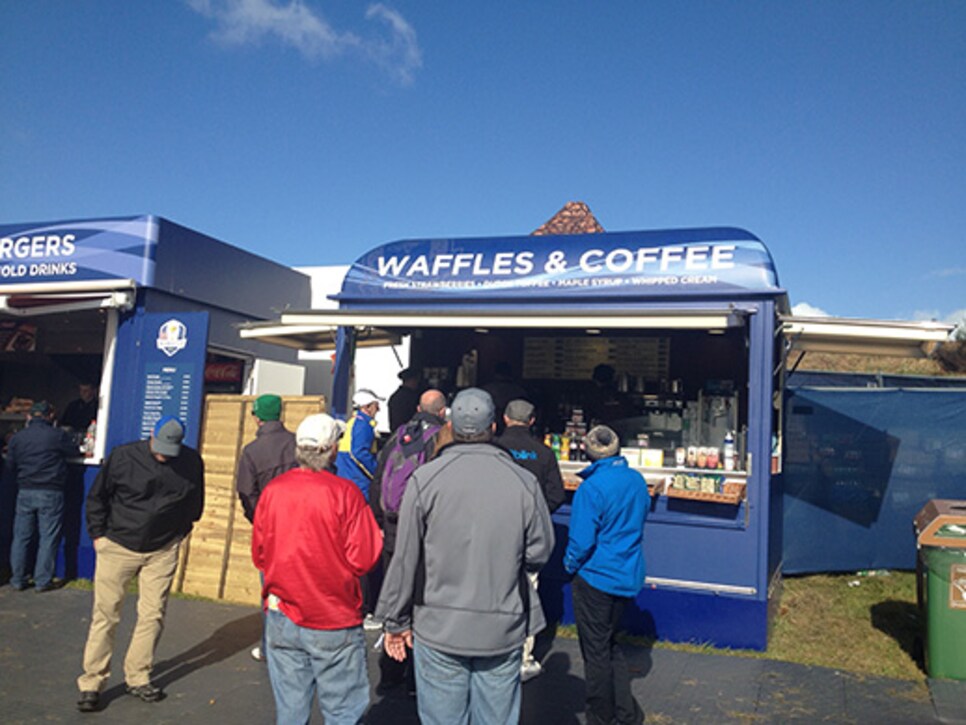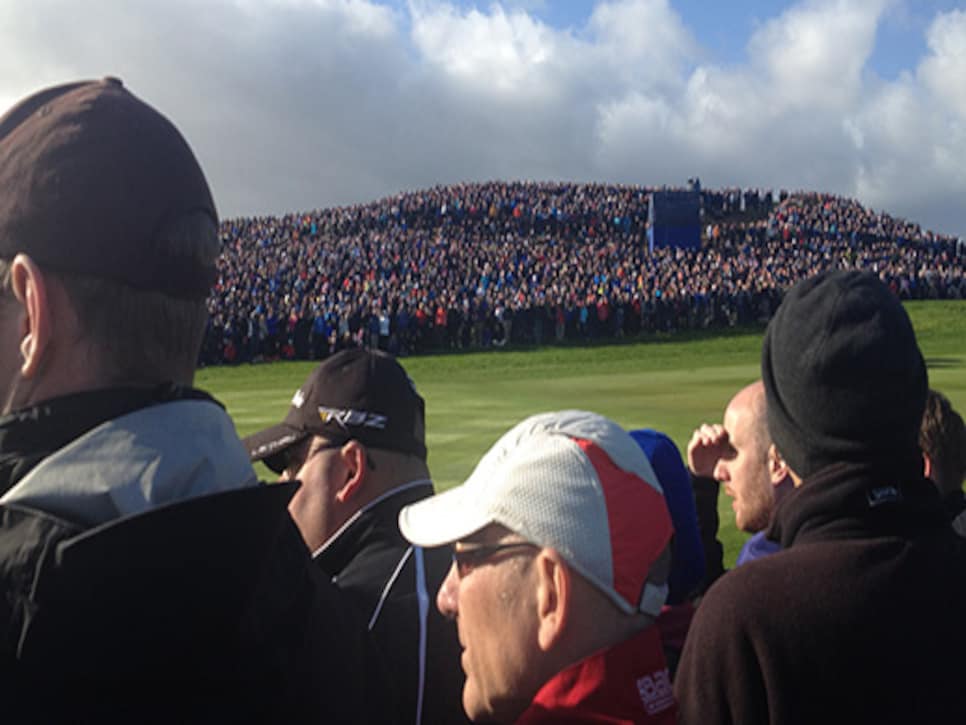 Drat, the road doesn't do much as you can see from the massive crowd ahead. I decide then to skip the third and fourth holes and move on ahead to the fifth. It's early in the match and nothing is going to happen of any consequence on the fourth hole, right?
OK, so Sergio holes a bunker shot on the fourth hole. No big deal. I heard it quite clearly, which is just as good right?
Slowly, I learn the secret to having any chance of getting a view of anything: you've got to find high points on the course, camp out there and be willing to wait as a group goes by. It allowed me to see a little action on the eighth hole ...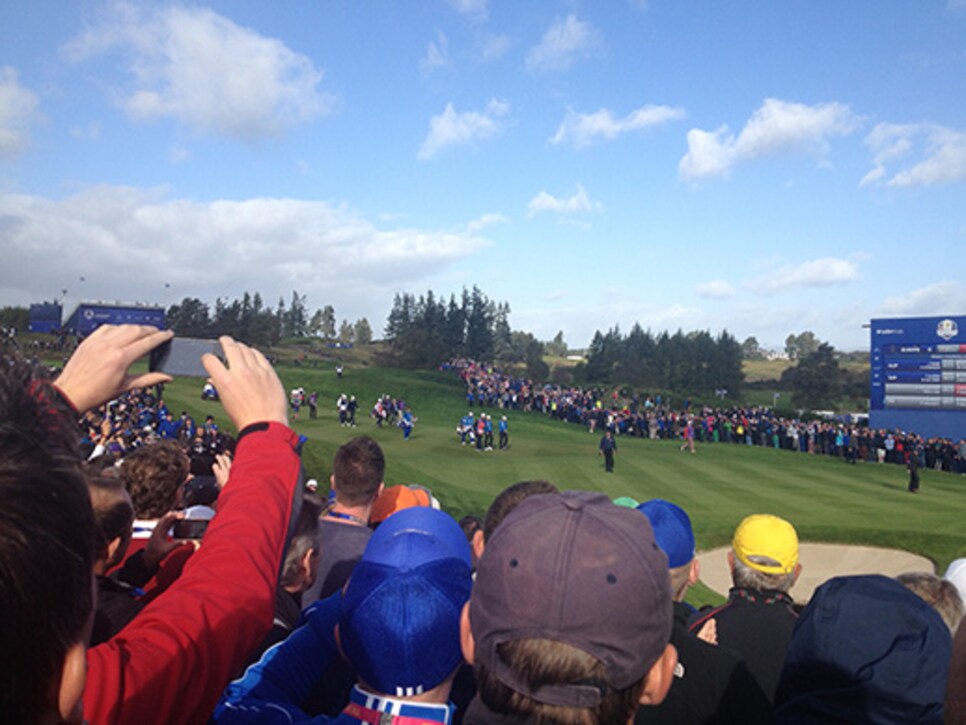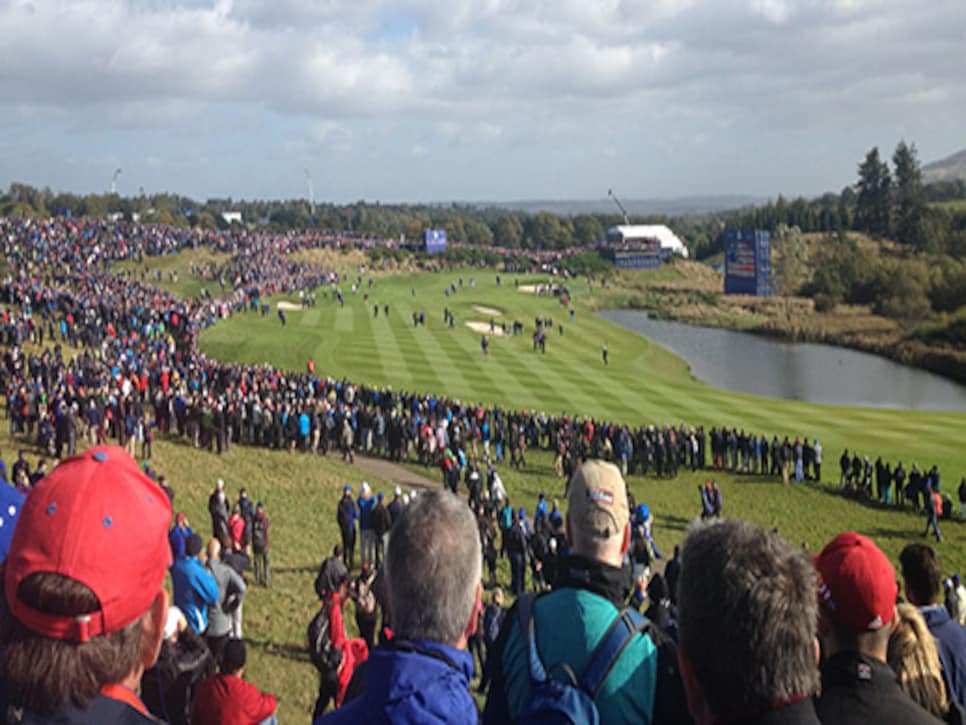 I'll admit, I was frustrated and a little cold frankly (it was really windy out there). So as the pairing made the turn, I decided to search for a place I knew I would have a clear view of the match and some hot chocolate.