The Loop
So what happens now, Tiger?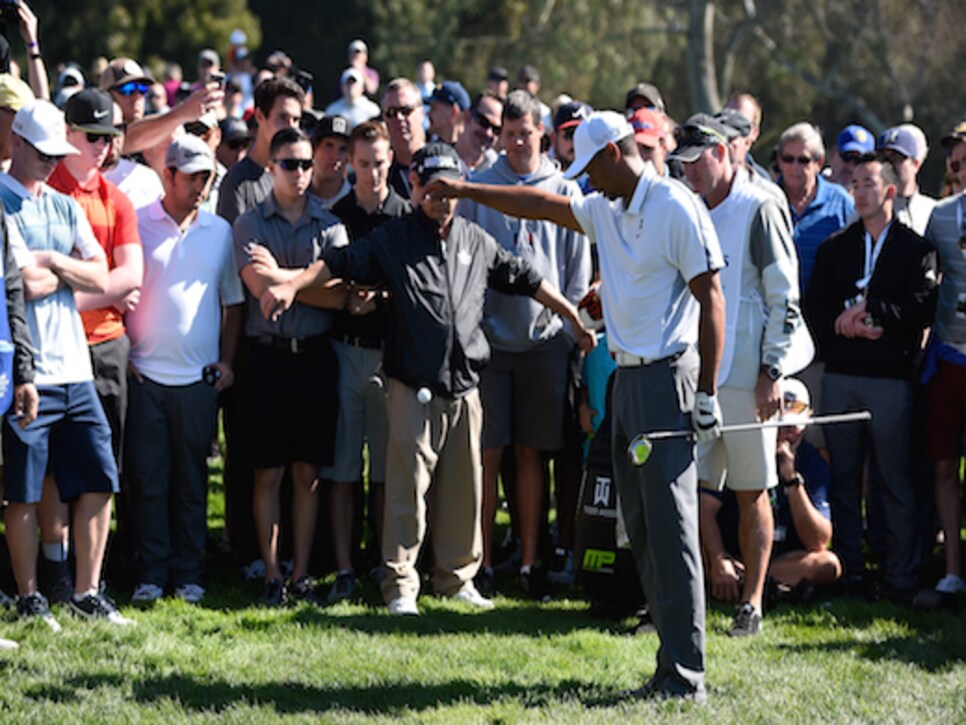 Everybody has an opinion about what Tiger Woods should be doing during his self-described timeout from golf. Five minutes on Twitter with the #tigerwoods hashtag will show you everything from the obvious (feel better) to the loony (quit golf and take up skiing).
But informed opinons are in short supply--both because Woods is notoriously private and unpredictable, and because what we've seen of him on the golf course over the last two months is literally unprecedented from a top-level player.
We asked a handful of instructors with some special expertise and insight to weigh in on what would be the most productive use of Tiger's time in the next few weeks.
Wayne DeFrancesco's credentials on this subject are almost unique. He's a well-respected instructor who has helped Kevin Streelman win on the PGA Tour, and he has had a presence on both Golf Digest's national and state best teacher lists since 2000. DeFrancesco is also one of the top players among teaching pros over the last 30 years, qualifying to play in five PGA Championships, earning U.S. Open local qualifying medalist honors five times and winning the 2001 National Club Professional Championship.
DeFrancesco hasn't taught Tiger, but he's also very familiar with what Woods is going through physically. He had a more elaborate version of the same back surgery Woods had last spring, getting microdiscectomy on two sides of two different discs in December. It was DeFrancesco's fourth major back surgery since 1983.
For DeFrancesco, the answer is simple.
"The length of his career and the amount of physical work he's put in are unprecedented in golf history. At age 39, he's done the work of a 55 year old. Is it surprising that he's experiencing a muscle and joint breakdown? Tiger needs time to get his body back under him as close to 100 percent as he can, and that might take longer than he wanted to believe at first," says DeFrancesco, who is based at Lakewood Country Club in Rockville, MD. "His leave of absence should be for most of this year. My neurosurgeon told me that the nerves affected by compression will regenerate over time once freed of obstructions, but that you have to give it time without putting too much stress on it too early. The word for Tiger is patience. "
Once he's healthy, then the process of repairing his swing can start. "I would try to get him off TrackMan and back to just looking at his swing on video, trying to make it look the way he wants it to look instead of trying to manufacture numbers that somebody has decided are 'optimum," says DeFrancesco. "I don't see his short game as a long term problem, no matter what Brandel Chamblee says about it being the yips and the end of the world. I think that's ridiculous. Once he takes serious time away gets back to feeling whole, his game will come back to him."
That concept of "wholeness" was a common theme from both instructors and mental game experts. Fixing the mechanical issues with both his short and long games is just one part of the puzzle.
Pia Nilsson and Lynn Marriott are both Golf Digest 50 Best teachers, and their Vision54 coaching and performance program has helped players win six major championships and more than 100 tournaments on every major tour. "In every player, there's a physical piece, a technical piece, a mental piece, a social piece and an emotional piece," says Marriott. "When any of the others are off, it manifests itself as a problem with technique."
"It's all integrated," adds Nilsson. "Of course there can be some truth to what he's saying about being in between movement patterns, but it's not that simple. You have to have both the technical skill and be able to create the performance when you need it. Watch him and there's so much tension, he's obviously not in his performance state."
Instead of grinding away on short game practice during his time off, Woods needs to try to create situations that are closer to competition and rebuild his ability to respond. "If he's just practicing chipping, he's not practicing getting to the state he wants to be in," says Marriott. "It creates a disconnect in the brain. He needs to identify what's happening when his mental state changes in competition--change in grip pressure, change in shoulder tension--and get coaching on how to get back to his performance state. When players have been virtuosos from such a young age and lose it, sometimes it's hard to get back. He has to get at it, and want to get at it--but there's no question it's in there."
Even if he is able to put in the work, how much Tiger will be able to resemble his old self physically and mentally is the big open question. "I think Tiger always played golf for the pure joy of winning--to mercilessly destroy a competitor," says top Georgia teacher Brandon Stooksbury, who is based at the Idle Hour G. & C.C. in Macon. "There were guys out there with better technique, but Tiger won because he wanted to win, and because he actually got better under pressure. He couldn't wait to get there. It seems like he's lost that joy, and that pure desire. His body is broken, and he can't do what he used to be able to do. That doesn't mean he can't learn something different, but that mountain is so high now, at age 39. I'm not sure he can get there."
Woods isn't sharing what approach he will use, but top Maryland teacher Bernie Najar says it should be simple and start at home. "He's overloaded. He has too many choices in his head right now," says Najar, who is based at Caves Valley Golf Club in Owings Mills. "He should take his kids out to the practice green and just fool around with them. Teach them how to chip it around to little targets. Feed off that positive energy and get some positive feedback. That needs to be his little playground for awhile."