The Loop
So Far So Good (My Top 10) . . .
I've played 30 golf courses in the last five months. I've been to South Carolina twice, Florida twice, Arizona twice, Georgia, Hawaii, Palm Springs and Las Vegas. Some of the courses I played multiple times for roughly 648 holes since November.
I went back through the courses I've played and compiled a ranking of my top 10 public/resort courses that you can play. I'll update the list periodically.
Counting them down from 10 to 1:
10) Plantation at Sea Island, Ga. (Rees Jones redid an original Walter Travis in 1998).  The back nine is why it's on the list. It gets overshadowed by its big brother, Seaside, but it's a good golf course in great condition. Most memorable hole: 10th (429-yard par 4), which is in between the Lodge and the Atlantic Ocean.
9) Mountain at LaQuinta Resort and Club, Palm Springs, Calif. (Pete Dye). I was blown away to be playing in and around the Santa Rosa Mountains. There are parts of the course on the front and the back where you feel dwarfed by massive amounts of rock. It's stunning scenery and you feel like you're on a movie set--any minute the mountains/backdrop could fall over. Most memorable hole: 4th (494-yard par 5), that's when I was bending shots around a section of a mountain and I knew it was different than any other place I've ever played before.
8) Retreat at Sea Island, Ga. (Davis Love III and his brother, Mark). It's long and strong and although you are surrounded by houses, they're set back amongst the trees that line the fairways. Most memorable hole: 17th (537-yard par 5), I like hard par 5's late in the round--especially if the match is still going at that point. It takes three great shots to have a chance at 4 and can expose a game that isn't pressure-proof.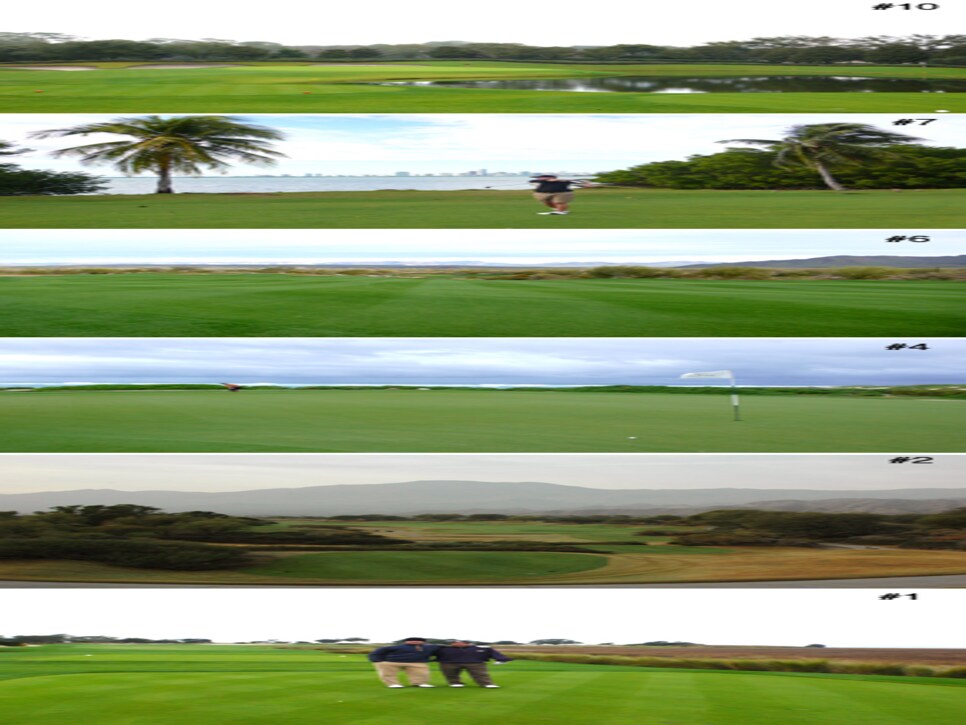 6) We-Ko-Pa's Cholla course in Fountain Hills, Ariz. (Scott Miller design). There are no houses, breathtaking views, as the sun goes down it turns every surrounding mountain structure different colors and you feel like you've been dropped into a painting. It's in immaculate shape and I can't remember a bad hole. Most memorable hole: 8th (587-yard par 5), this hole will identify any flaws in your skill to manage your game. Which is probably why I walked away with a 6.
5) Desert at Primm Valley, Calif. (Tom Fazio). It's 45 miles from "the Strip" in Las Vegas and just past the California border. The greens are hard and fast and it has a substantial display of good holes. It's classic Fazio with easy-on-the-eyes tee shots. If nowhere had an address this is where all the mail would be sent. The course lends itself to scenery similar to the Mountain course at LaQuinta--where you feel as though the surrounding mountains might be fake. Most memorable hole: 13th (520-yard par 5), it's the first of back-to-back par 5's and as you get to the green take a 360-degree look at where you are--and then take a few pictures.
__4) __Palmer Course at Turtle Bay Resort, Oahu, Hawaii. (Arnold Palmer). Every year it hosts an LPGA and a Champions Tour event. It starts out slow and continues to build in degree of difficulty. The wind is always a factor but it's in good shape and when you're done--you're in Hawaii. Most memorable hole: 17th (452-yard par 4), the fairway is littered with 10 bunkers. As you walk up to the green you're reminded you're in one of the most desirable zip codes in the country. This is where the turf meets the surf--another great spot for a photo.
3) Blue Monster at Doral, Miami, Fla. (Dick Wilson). It has three of the hardest holes on the PGA Tour. It's a great test and after you're done you feel like you've accomplished more than just a round of golf (more like pulling a train with your teeth). Most memorable hole: 18th (414-yard par 4), it's an obvious choice but it IS the 18th hole at Doral. You wait all round to get to it and like Tiger Woods, they not only live up to the hype--they exceed it.
2) Stadium at PGA West in Palm Springs, Calif. (Pete Dye). Another case of feeling like you've done more than play a round of golf when you walk off the 18th of the this Dye masterpiece. You might curse him when you're done, but you'll still respect him. Playing the Stadium should be a huge priority if you're in the Palm Springs area. This track, and especially the last three holes, will let you know the status of your game. Most memorable hole: 16th (521-yard par 5), the view at the end of the day from the back tee box, the 600-yard plaque, is spiritual. Pull your ball left of the green and you'll be walking down 32 steps to hit your bunker shot. Get it up-and-down from there and you might be the next Digest cover subject.
1) Seaside at Sea Island, Ga. (In 1999 Tom Fazio redid the original version by Colt and Alison). As I walked up to the fourth tee box I knew this was a special golf course. I'm a sucker for Fazio anyway, and what he did with Seaside is some of his best work. It's a great layout and a great trip around a fun track. You wish this 18 was somehow 36. The fact that it's at the top of this list should be a good indicator that a trip to Sea Island (all three of the resort's courses are in this top 10) would be well worth it. Most memorable hole: Although I loved playing the 15th (545-yard par 5) I have to give the vote to the 4th (421-yard par 4). As you try to chart your route to the green you can't believe you're supposed to reach it in two shots.
I'm off to Ambush again this week. Who, when and where are details I'll need to keep to myself.
Captions (from top to bottom): 15th hole at Plantation; 18th hole at Crandon Park; 8th hole at Cholla; 17th hole at Turtle Bay; 16th hole at Stadium; My best friend from high school, Todd Curran (right) and I, on the 5th tee box at Seaside.