The Loop
Snoop Dogg discusses Tiger Woods, the saga of Miss America's stolen golf clubs, and the (other) important decision many Americans are facing
Welcome to another edition of The Grind, where many Americans – especially those in our neck of the woods – have a difficult and important decision to make: Is it time to put your golf clubs away for the season? On one hand, it's nice to keep hope alive of random bursts of good weather. But on the other, stashing your clubs out of sight will help you move on and get over the inevitable winter golf withdrawal faster. It's a challenging choice, but it's also one that can be swayed by your most recent round. Maybe, oh, I don't know, you won your company's annual golf tournament and you're happy to end the season on a high note. Boom!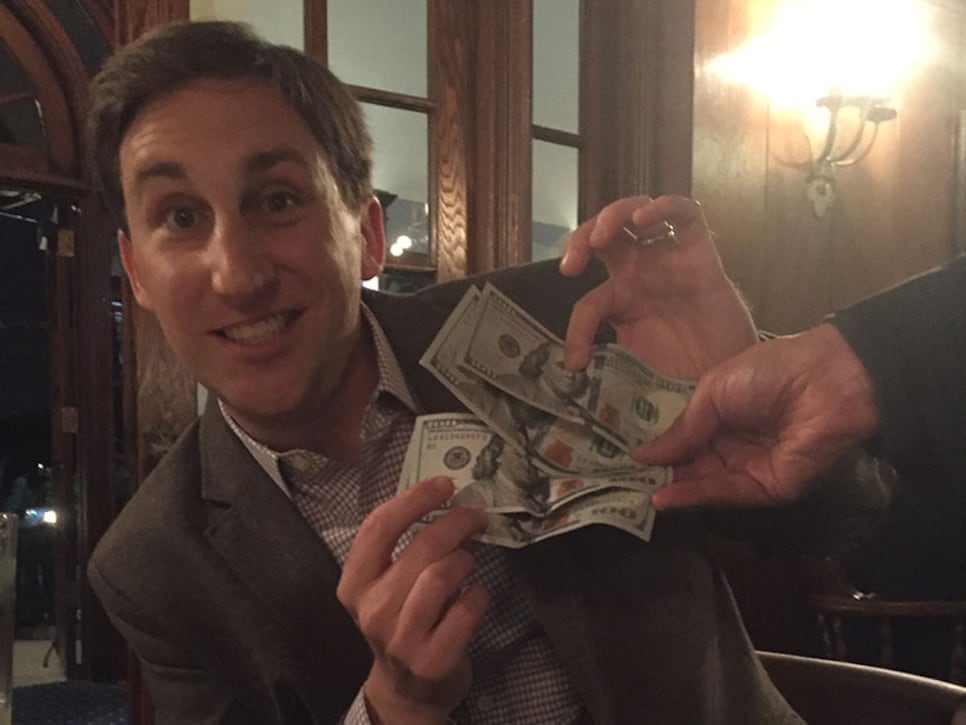 But if that's not the case, make this personal vote carefully, because it will affect the next four months of your life. Godspeed, fellow climate-challenged golfers. We can get through this together. And in the meantime, we can always talk about other people playing golf. Let's do it.
Rod Pampling: At 47, the Aussie won for the first time on the PGA Tour in more than a decade. More crazy is the fact Pampling wouldn't have even been in the field if not for a clerical error made by the tour. Once he got to Vegas, though, Pampling won in style. He nearly shot 59 in the opening round of the Shriners Hospitals For Children Open and he closed it out with a birdie on the final hole to hold off Brooks Koepka.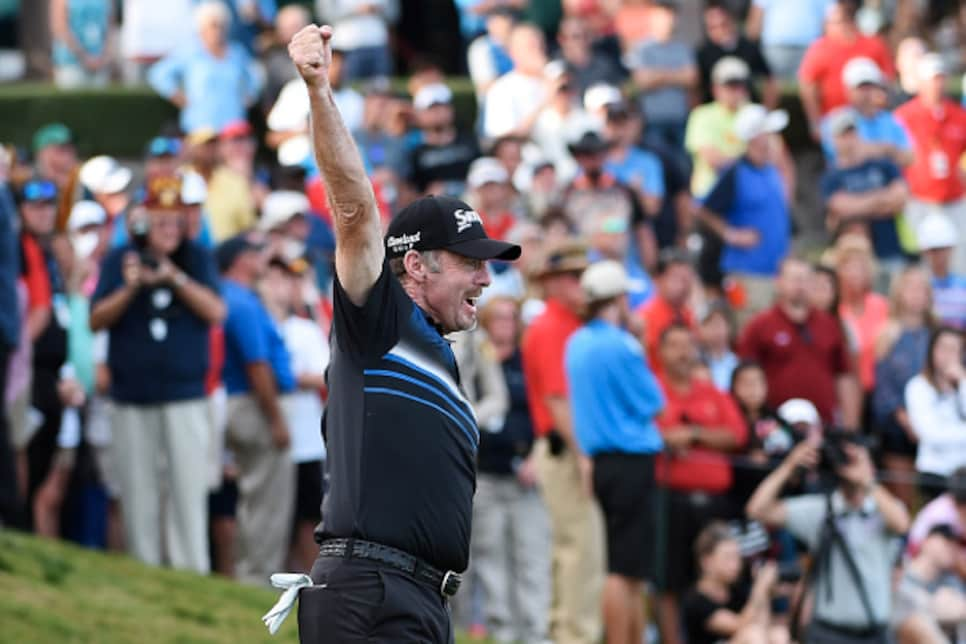 Are you seeing this, Tiger Woods? ROD PAMPLING!
Tommy Morrissey: Even more inspiring than Pampling's performance was the display put on by this one-armed five-year-old. Morrissey wowed PGA Tour pros Graeme McDowell, Billy Horschel and James Hahn:
And then he kicked off the tournament with this incredible opening tee shot:
Chicago Cubs: Sports curses are cool, but after 108 years, Cubs fans had suffered enough. What changed the fortune of this ill-fated franchise? Golf. A big group of Cubs played Pebble Beach in August – a team-bonding field trip set up by pitcher Jon Lester – and they never looked back, finishing the regular season on a 37-17 run before winning the World Series.
If other teams are smart, they'll follow the Cubs' example and take advantage of any off days in the Bay Area next season.
Eating bugs: Not just any bugs. LIVE bugs. That's what Adam Scott and Rafa Cabrera Bello did, and thanks to the Internet, there's proof. (WARNING: If you have a weak stomach, look away.)
Snoop Dogg's golf analysis: TMZ caught up to ambushed the rap star on the street and asked him about Tiger Woods announcing his latest comeback. Here's what he had to say.
Excuse me, Snoop? Golf is "GARBAGE" without Tiger? Did you watch the British Open? Did you watch the Ryder Cup? We give you credit though for comparing Tiger to Shake 'n Bake chicken. That's original. It also led us to digging up these "fly" photos of the two friends from 2004.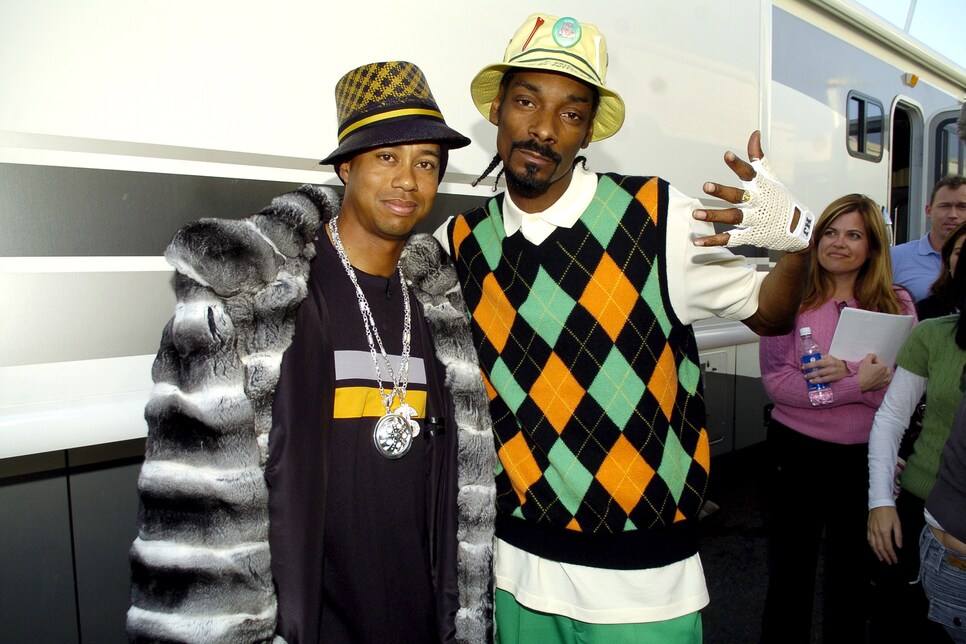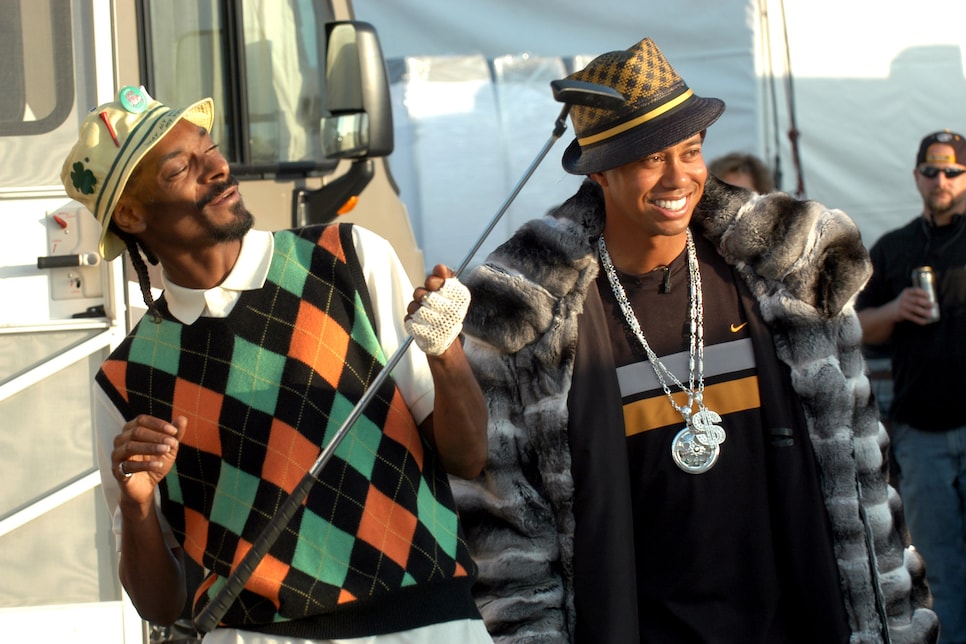 How were we not aware of these before?!
Miss America getting robbed: What is this country coming to when one of its national treasures, Miss freaking America 2015, gets her golf clubs stolen out of her car?
Just awful, although how about that reaction from Kira Kazantsev? She's too nice. Fortunately, the saga ended well, with Callaway sending Kira a new set of clubs.
And since Kira lives in L.A., she can spend some time getting used to the new sticks. After all, another pro-am season will be here before you know it.
The PGA Tour heads to Mexico for the OHL Classic at Mayakoba. Graeme McDowell won this event last year and he looks super excited to be returning:
Or maybe he's just playing it cool.
Random tournament fact: Jim Furyk is making his season and tournament debut this week. Welcome to Mexico, Senior Cincuenta y Ocho!
RANDOM PROP BETS OF THE WEEK
-- Rod Pampling will still be winning on the PGA Tour another decade from now: 1 MILLION-to-1 odds
-- I will ever voluntarily eat live bugs: 10 MILLION-to-1 odds
-- Snoop Dogg will not be watching wall-to-wall coverage of the OHL Classic: LOCK
Take a look at this Texas driving range where you can hit golf balls at targets of the Presidential candidates: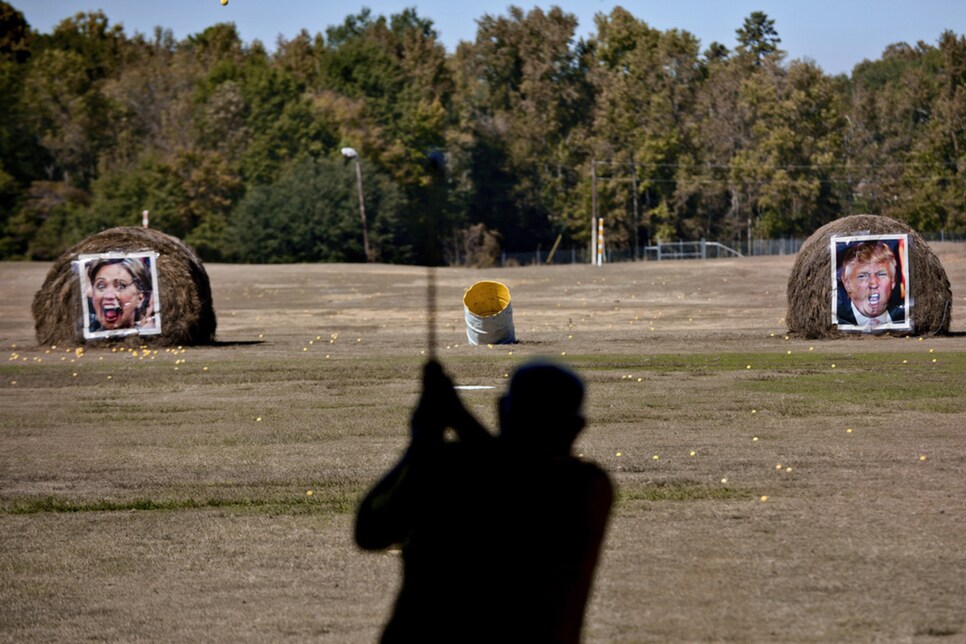 (Les Hassell/News-Journal via AP)
Now that would be a great way to increase voter turnout.
VIRAL VIDEO OF THE WEEK (FRUSTRATED GOLFER DIVISION)
Check out Laura Davies, missing the cut at an LET event after finishing her second round with a double bogey, and saying goodbye to her putter for good.
VIRAL VIDEO OF THE WEEK (FRIGHTENED GOLFER DIVISION)
Smylie Kaufman fell hard for the old fake-snake-in-the-golf-bag trick:
Not that we blame him. Just two weeks before, Smylie was in Malaysia when this happened:
THIS WEEK IN DUSTIN JOHNSON-PAULINA GRETZKY DANIEL BERGER-TORI SLATER PUBLIC DISPLAYS OF AFFECTION
How could it be anything other than Snoop Dogg breaking down Tiger Woods' impact on golf?
"He was the flavor. He was the seasoning salt. It's just like some Shake 'n Bake chicken now. You understand me?"
Sorry, what did you say, Snoop? We're still too distracted by that old photo shoot with you and Tiger.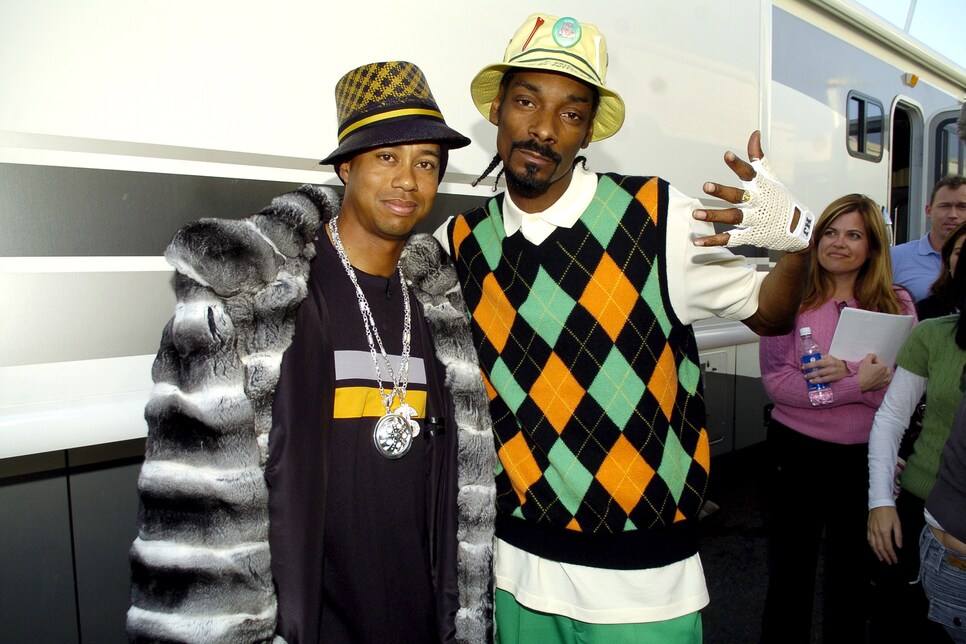 THIS WEEK IN PAIGE SPIRANAC BEING PAIGE SPIRANAC
First, Paige showed off her swing at the awesome-looking Links at Petco Park:
And then she showed off a new outfit:
Yeah. . . but is that really a sweater-weather sweater? Questionable. . .
THIS WEEK IN BELEN MOZO MAKING US FEEL BAD WITH HER TRAINING
Impressive stuff, Belen. Although, we hate to break it to you, but you're not quite getting to vertical with those single leg lifts. It's OK. You'll get there.
Thorbjorn Olesen won the Turkish Airlines Open by three shots for his fourth career European Tour victory. His nickname? "Thunderbear." That's pretty good. . . . Shanshan Feng won the Toto Japan Classic for her sixth career LPGA Tour title. Her nickname? "Jenny Money." That's even better. . . . U.S. soccer star Carli Lloyd married golf pro Jim Hollins last week. That means free golf lessons for life once she retires. Smart move, Carli. . . . The European Tour reminded its players to yell "Fore!" if they hit wild tee shots towards the galleries and warned of discipline if they don't. Good for the European Tour. That's Golf 101. . . . Jay Monahan is taking over for Tim Finchem as the PGA Tour's next commissioner. We await his "Fore!" policy. . . . And finally, two-time reigning NBA MVP Stephen Curry recently shot 68. Congrats, Steph!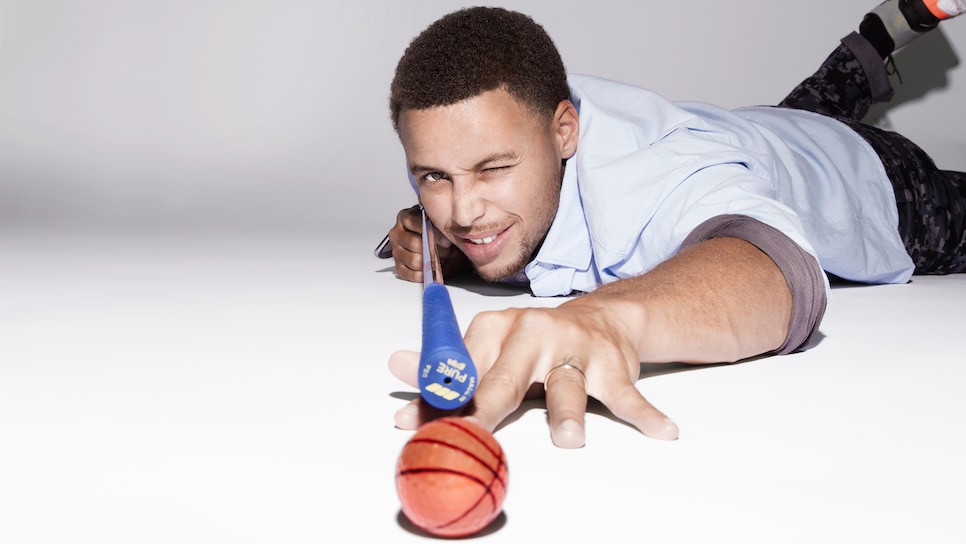 Oh yeah, the celebrity golfer also broke the NBA record for most three-pointers in game with 13. Congrats on that, too.
RANDOM QUESTIONS TO PONDER
Will Steph Curry make more 3-pointers or birdies in his life?
What would it take to get Snoop Dogg in the TV booth at the Masters?
Can the new PGA Tour commish please make this happen?