Play
Sneaking in a Little Golf... in Metro New York
New York City's five boroughs—Manhattan, the Bronx, Queens, Brooklyn and Staten Island—are home to 8.5 million people and 13 municipal golf courses. Those courses see more than 600,000 rounds played per year, but while tee times are at a premium, the prices are good (especially if you're with a resident), and where else can you tee off on the oldest muni in the U.S. or float by the Statue of Liberty on your way to the first tee?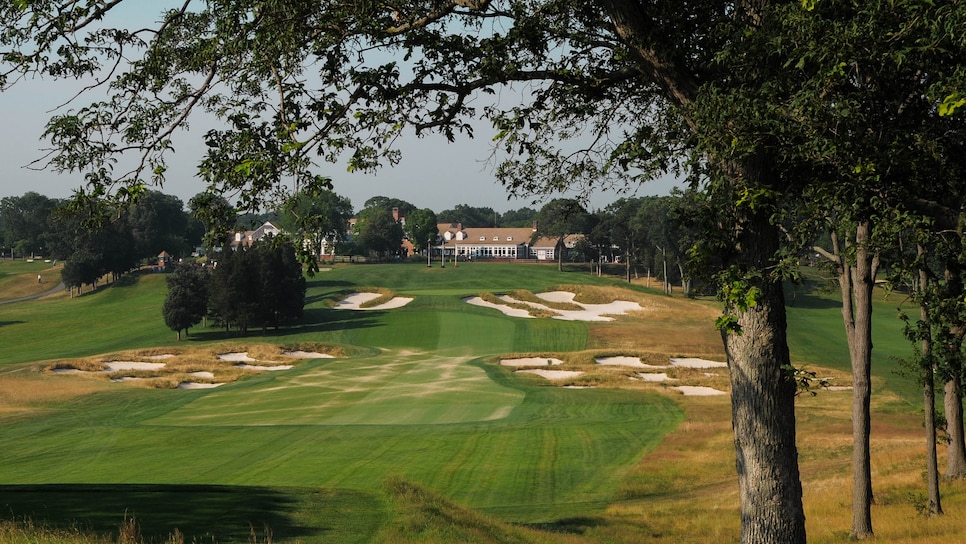 Bethpage State Park – Black Course
Visiting New York City is a bucket-list topper for sure, and its proximity to one of the most challenging, prestigious public courses in the U.S. makes it even more so. Bethpage Black is the "toothy beast" that, really, only very good golfers should attempt (the warning sign on the first tee isn't there for grins); the mid-1930s Tillinghast design, which holds the No. 38 spot on Golf Digest's ranking of America's 100 Greatest Courses, is walking only (take a caddie) and incredibly well-conditioned for a state park course that gets so much play. Black was the site of the 2002 and 2009 U.S. Opens, and is gearing up to host the 2019 PGA Championship and 2024 Ryder Cup, so now is a great time to give it a go.  A more approachable option for many players is Bethpage Red (aka Baby Black), also designed by Tillinghast; it's the second best of the four layouts at Bethpage State Park. Either way, your tee ball had better be long and land in the fairway. parks.ny.gov/golf/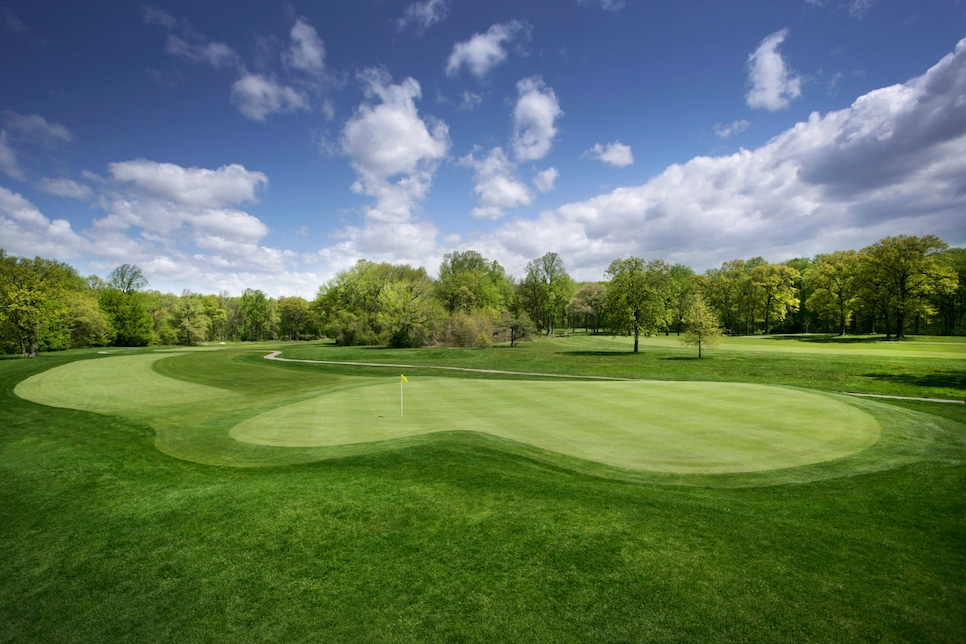 Pelham Bay and Split Rock Golf Courses
Wild turkey, deer, coyotes and pheasant occasionally visit the fairways at Pelham Bay/Split Rock, a scenic 36-hole complex in the Bronx. Pelham Bay, built in 1901, is shorter, at 6,480 yards, and more open and forgiving than the tighter, tree-lined Split Rock (6,682 yards), which was built in 1935 on the premise that a muni can measure up to a private course. And under optimal conditions, this one does. The 15th, 16th and 17th holes are very challenging—the trio is known as "Little Amen Corner" for the long par 3 and two very testy doglegs. No. 17 is the second most difficult hole on the course, a 448-yard par 4 where par is something to post about. The greens are what set Split Rock apart, however, from most public access courses. You'll find almost every type of contoured green to test your putting mettle, from knobs and mounds to a double plateau. pelhamsplitrock.com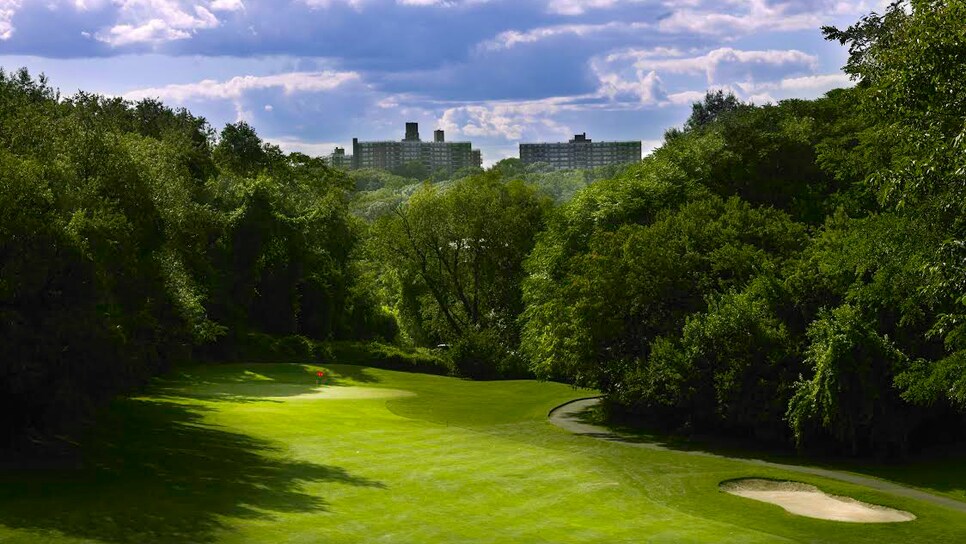 Van Cortlandt Park Golf Course
For a slice of New York history, you can't beat "Vanny."  Built in 1885 as a 9-hole course and expanded 10 years later, it's the oldest public golf course in the U.S.—and arguably the easiest to get to by public transportation: The No. 1 train leaves you just a short walk away. Van Courtland sits on 75 lush, leafy acres within a Bronx park of the same name. Wide and forgiving, the par-70 layout is known for its long par 5s; the longest is the 2nd hole, at 620 yards from the tips. Nos. 15 -18 are known as the "hill holes" because they were built on a former ski run and may leave you a little out of breath. The course has been spiffed up recently with the addition of seven new greens, new tee boxes, additional cart paths, improved bunkers and drainage. Traffic within the course can get backed up at peak times, so it pays to have a sound strategy: Arrive early, and avoid weekends. golfnyc.com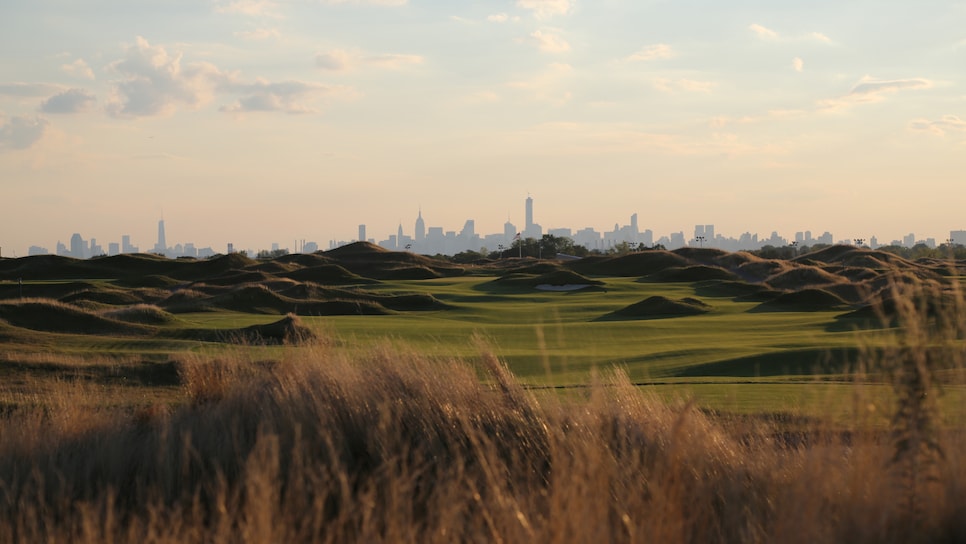 Trump Golf Links at Ferry Point
One man's garbage dump can be another's masterpiece. What was once landfill at the base of the Whitestone Bridge is now a Jack Nicklaus beauty thanks to a city-funded redevelopment project. Although critics call it too expensive (the country-club-quality layout charges upwards of $175 on weekends, and that's for residents of the city), avid golfers say it's worth the splurge. For starters, the visuals at Ferry Point are hard to beat: incredible views of the Manhattan skyline and the bridge grace almost every hole; the nearly treeless fairways are edged with yards and yards of flowing native grasses and dunes; and teeing grounds rise as high as 55 feet. It's not a particularly difficult design, as long as you keep the ball in play. Best of all, this little bit of the British Isles is only 12 miles from Midtown. trumpferrypoint.com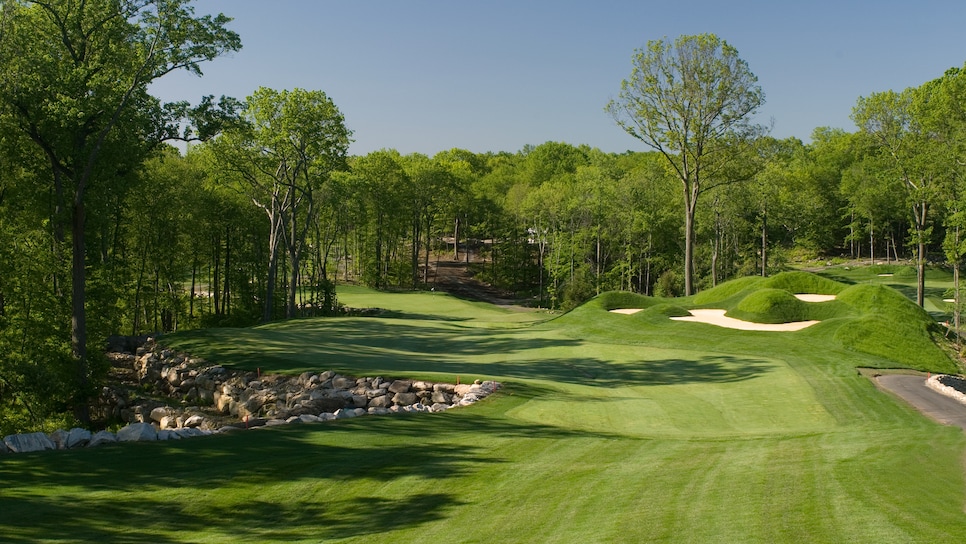 Pound Ridge Golf
This is Pete Dye at his prettiest—and toughest. Pound Ridge, which sits 40 miles northeast of Manhattan, mixes perfectly manicured fairways and greens with a long, demanding, undulated layout. It's a visually intimidating course with a number of blind tee shots, huge bunker complexes and some long carries, and Instagrammable beauty at every turn. In typical fashion, Dye wedged a lot of trouble into this 175-acre site with woods, wetlands, water hazards, rocks and boulders coming into play. (His advice? Bring extra balls.) There is little to no room for error on most tee and approach shots, but that's what makes it a must-play (and with five sets of tees ranging from 5,151 to 7,165 yards, you have options). The property features some of the highest points in the area, offering expansive views of the surrounding Westchester countryside—an area known for its private courses. One hazard you might not face is goose droppings, thanks to Dovie, the resident Border Collie who's been working the fairways since the course opened in 2008. poundridgegolf.com
Looking to sneak in a little golf? Rent with Avis and they'll chip in $25 toward your next round. Visit Avis.com/golfnow for more details.