The Loop
Sneak peek of Bandon Preserve
Not to dive into personal business, but I have a serious girlfriend who has a 3-year-old daughter (turning 13 later this week). Her name is Izzy, and if you follow my pictures on Instagram (@mginella), you'd know she's ... well ... theatrical. So much so, after she gets dressed in the morning, she likes to be "intwodoosed." Usually to no one but her mother, I'll introduce her. Playing the part, I ham it up, lower my voice, and do my best to set the stage, so to speak. Izzy prances out in a pair of sparkly shoes, a matching dress, and to my emphatic applause, bows. (Yes, I'm in twubble.)*
*Today, and on this blog, colleague Ron Whitten is introducing the fifth course at Bandon Dunes. (Out prances Bandon Preserve.) From the looks of it, designers Bill Coore and Ben Crenshaw should take a bow.
It won't officially open until the spring of 2012, but this might whet your appetite about the newest addition to the Bandon Dunes Resort.
The 13-hole par-3 Bandon Preserve layout, designed by Bill Coore and Ben Crenshaw, is intended as a low-impact alternative to an afternoon second 18 on one of the resort's four regulation courses, but it may prove to be a refreshing morning workout prior to tackling Bandon Dunes, Pacific Dunes, Bandon Trails or Old Macdonald.
The Preserve is no pushover pitch & putt. Its collection of one-shot holes play atop, along and between spines of ocean sand dunes, some fully exposed to Pacific winds, others eerily calm in pockets beneath ridgelines. Yardages haven't been established yet, but it looks like a course where distance will mean less than feel. It's all fescue turf, same as everything at Bandon, and by next spring, we predict it'll be firm and fast and full of surprising bounces and fearsome rolls down slopes. We'll be calling it a challenging pitch-bump-bounce-kick-roll-run & putt.
Bear in mind, these photos depict a course that's still growing in, with faux flagsticks poked in the ground simply to placate the photographer.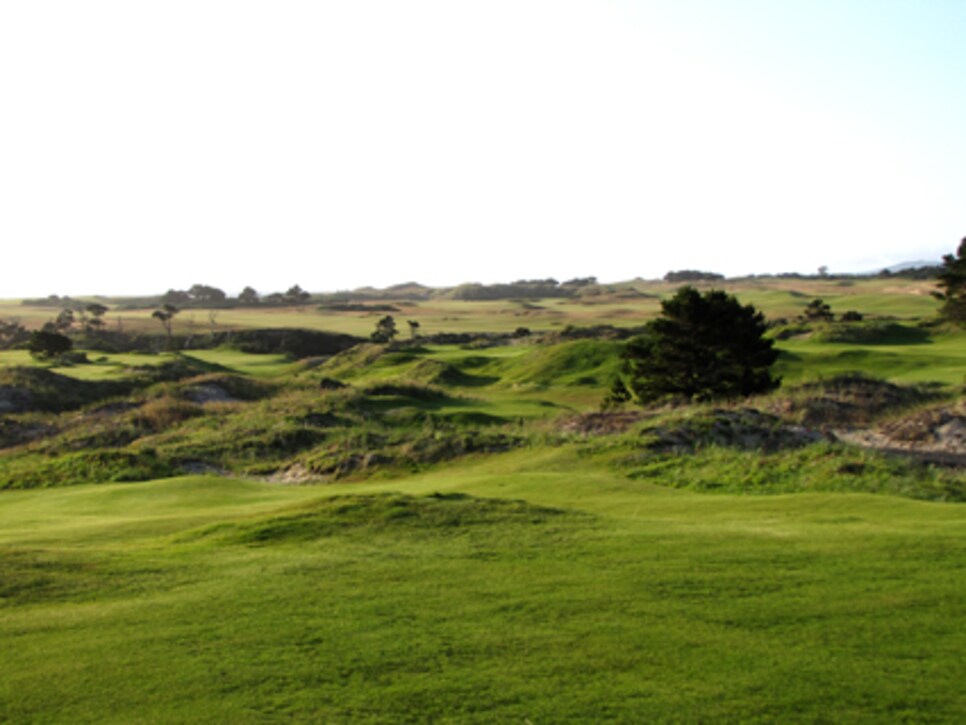 The Bandon Preserve course sits on rugged dunes to the inland side of the original Bandon Dunes course. A deep gorge separates the two courses. [#image: /photos/55ad7474b01eefe207f6ac69]|||Bandon Preserve rough|||
Much of Bandon Preserve course is fescue turf, but patches of existing natural dunes grasses were -- yes -- preserved. [#image: /photos/55ad7474add713143b425aac]|||Bandon Preserve No. 2|||
The second hole at Bandon Preserve, with the deep gorge to the right from tee to green, will likely play into the teeth of wind off the ocean. [#image: /photos/55ad7474b01eefe207f6ac6f]|||Bandon Preserve No. 8|||
Playing in the opposite direction as the second, Bandon Preserve's eighth hole has a punchbowl green with plenty of run-up approach to accommodate downwind bounce shots. [#image: /photos/55ad7475b01eefe207f6ac80]|||Bandon Preserve No. 11|||
The 11th, playing over a corner of the deep gorge, is probably the most intimidating of the 13 holes at Bandon Preserve. [#image: /photos/55ad7475b01eefe207f6ac82]|||Bandon Preserve No. 12|||
Check out the bunkering and green contouring on Bandon Preserve's 12th hole; the turf was not fully established when this snapshot was taken. [#image: /photos/55ad7474b01eefe207f6ac72]|||Bandon Preserve No. 13|||
Bandon Preserve's 13th, its home hole, is tucked down in a hollow to the west of the Bandon Trails clubhouse.
Sources tell me a round at Bandon Preserve will be $100. The replay rate, or the rate if you pair it with any of the 18-hole courses in the same day, will be $50.*