The Loop
Small, tricky greens await players at U.S. Senior Open
TOLEDO, Ohio -- The greens at Inverness Club aren't the smallest in golf, but expansive they're not. Tricky, they are.
While a lot has been made of how a different routing is in effect for the 32nd U.S. Senior Open -- holes 3-7 are being swapped with holes 12-16 to improve gallery movement as the club tries to put on its best face for the USGA to attract another U.S. Open -- Inverness' putting surfaces will have more to say about who does well this week.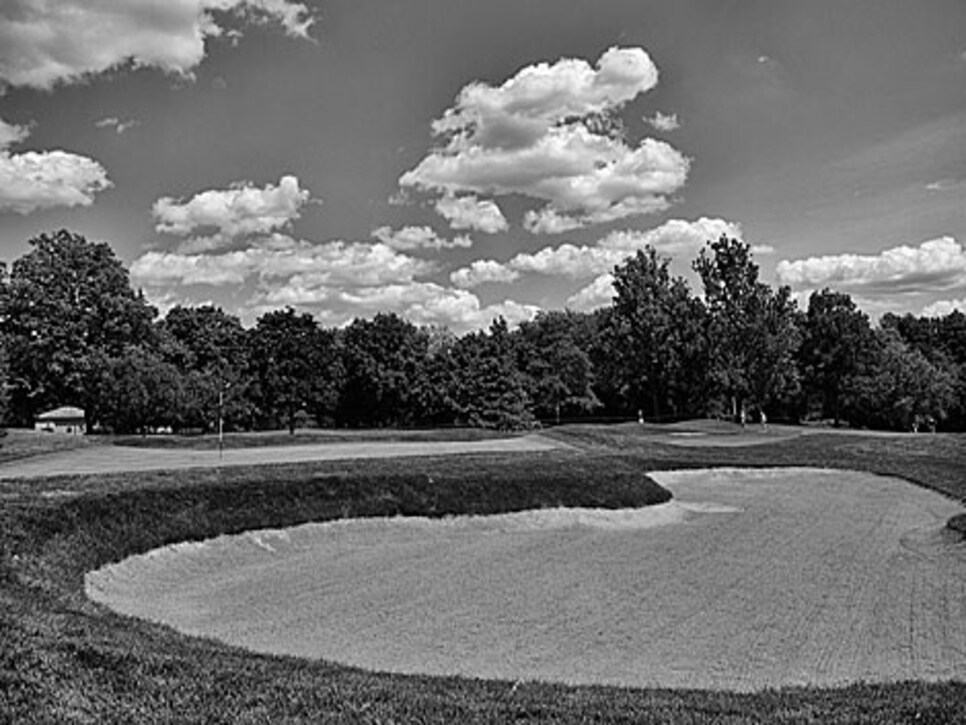 Inverness' well-guarded eighth green.
Inverness' greens average only 5,500 square feet, about 1,000 square feet less than a typical tournament course. Hitting them won't be easy; solving them will be harder. "The greens are probably the toughest greens you'll find anywhere, as difficult as Augusta, maybe even harder at times because Augusta has some flat areas," defending U.S. Senior Open champion and two-time Masters champion Bernhard Langer. "Here, there are very few. It's almost impossible to find a straight putt. Every putt breaks once, twice, sometimes three or four times, so it's very severe."
Harbour Town (where the greens average 3,700 square feet), the Stadium course at TPC Sawgrass and Riviera CC (each about 4,500 square feet) are three venues with smaller greens, but the Bentgrass/Poa anua surfaces at Inverness are more dastardly. "They're way trickier than Harbour Town," said Tom Lehman. "Harbour Town has much more flat surfaces. These just have beautiful rolls within the green."
About three inches of rain late last week has Inverness softer than the USGA would prefer, which means that as of Wednesday the greens weren't yet up to the targeted 11-11.5 Stimpmeter reading. But any faster than that goal, and some "really interesting hole locations" wouldn't be possible, according to Jeff Hall, USGA managing director of rules and competitions.
But the moisture also has Inverness playing much longer than it did for the 2003 U.S. Senior Open. The winner that year, Bruce Lietzke, hit a 5-iron into the par-5 eighth hole during the final round. In a practice round Tuesday, with his tee shot not getting hardly any roll, he used driver, 3-iron and 9-iron. "You're hitting 3- or 4-irons into a lot of these greens [on par 4s]," observed John Cook.
Inverness has 101 bunkers, many of those guarding greens, and the tallest of the graduated rough is 4 inches. "The guy that hits the most greens this week will probably be your champion or be very close," Cook said. "You're not going to have a ton of long putts, but if you miss these greens, you'd better be making some four- and five-footers. If you do miss greens, there's a lot of slope and they're small."
The revamped championship routing, creating a par 37-34 -71 of 7,143 yards (although the USGA won't ever play it to that full length), means that the incoming nine will be extremely difficult. "This is a mean back nine now," said Lietzke. "The last seven holes have got length, penalties, water, diabolical greens. Somebody has got to come up with a name [for that stretch]."
Bob Tway has one word: tough. "Nos. 12, 13, 14, 15, 16, 17 are maybe the hardest stretch of holes that I played," said Tway, who won the 1986 PGA Championship at Inverness. "There is no let-up."
There are four par 4s of at least 445 yards on the "new" back nine. "You need to hit the fairway because if you're not in the fairway you can't even dream of thinking, 'I'm going to put my second shot in the right spot,'" Langer said. "We're going to have a lot of four- to 10-foot putts, whether it's for par or bogey or maybe birdie. You're going to have to make a bunch of those, many of them breaking putts."
And it would help, of course, not to have to putt, to hole out as Tway did from a bunker on the 72nd hole in 1986 to beat Greg Norman. Shortly after Tway's dramatic victory, Golf Digest brought him back to that bunker to shoot an instruction feature by re-creating the explosion shot. He tried 20 times without making one.
"Since then, I don't really remember getting in there and doing it," Tway said Wednesday. "I don't feel a need to get in there and try to hit it. I just remember what happened that day [when I won]. That, by far, is the highlight of my golf career, no doubt about it."