The Loop
Slumping Smylie Kaufman gets putting tip from Jordan Spieth, sees better days ahead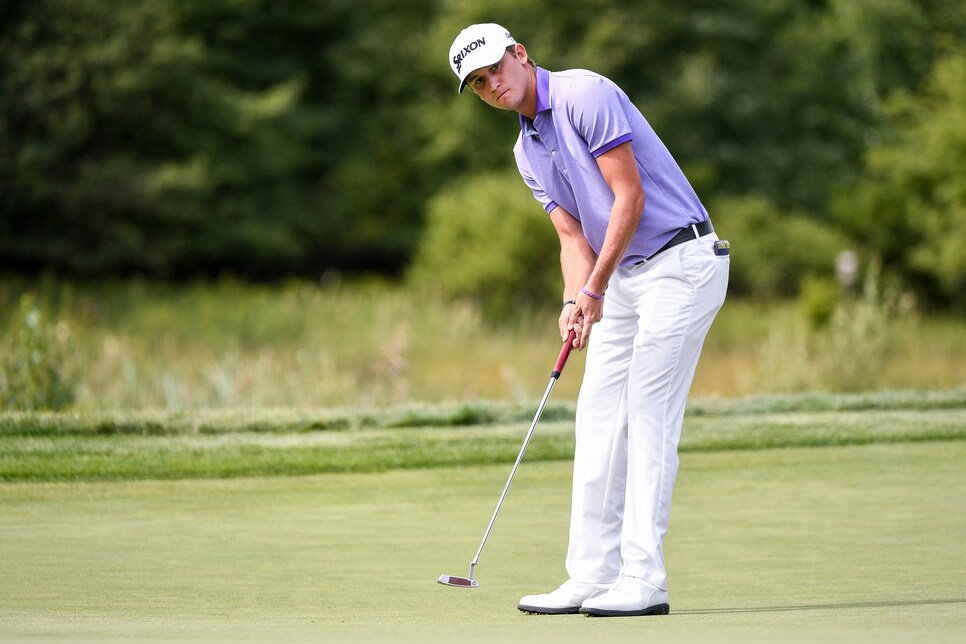 PEBBLE BEACH, Calif. – Carter Smylie Kaufman was living up to his middle name as he emerged from the scoring room Friday at Spyglass Hill Golf Course. He had just carded an even-par 72 in the second round of the AT&T Pebble Beach Pro-Am that included a triple-bogey eight on the par-5 first hole, and yet he wore a wide grin as inquisitors approached.
After birdies on four of his first six holes and making the turn at three-under par, Kaufman had flared a drive into the right rough, headed for the outside turn of the dogleg and toward a few hundred people likely drawn to his playing partner, four-time Pebble Beach winner Phil Mickelson. The ball missed the masses and was swallowed by the mushy turf, never to be seen again. Kaufman had to trudge back to the tee, his rally from an opening 79 derailed.
He shrugged. He smiled. It's been that kind of season so far for one of golf's many promising youngsters, and yet he was hardly deflated.
"It stinks. I'm making a move, and typically I get a good look for birdie on a par five. Instead, I lose a ball on a swing that wasn't all that bad. Potential four-shot swing there," said the 25-year-old Alabama native. "I know my scores don't really show it, but I'm actually pretty happy with my game. My swing feels really solid, but it's like one step forward and two steps back."
Coming into the week Kaufman ranked 183rd in the FedEx Cup standings, and an imminent missed cut would be his fourth in seven starts this season. Since his last top-10 finish, a T-10 at the Quicken Loans National last June, Kaufman hasn't corralled a weekend tee time in eight of his last 12 events in tournaments with a cut. He also lost a start when he had to withdraw from the Farmer's Insurance Open with rib pain caused by dehydration.
This stretch of vexation has put in jeopardy his return to the Masters Tournament in April. In his debut last year, Kaufman began the final round just one behind leader and defending champion Jordan Spieth, but his closing 81 dropped him from a bid to become the fourth first-time Masters contestant to win a green jacket to T-29 and out of an automatic invitation that goes to the top 12 finishers.
He wasn't nervous. He did not succumb to final-round Masters pressure as some headlines suggest. He simply endured a difficult day on the famously tricky greens at Augusta National Golf Club.
"Every day is a learning experience. I played fine that day. There is an extra level of focus you've got to get to in the final round of a major and for some reason I just couldn't stick to my routine and I got a little sideways on the putting greens. Once you get off on those greens, they get scary looking. I was comfortable for the most part. I made a couple of mistakes."
One of his few highlights that day was dropping an 11-foot birdie putt on the par-3 12th hole, but chances are few remember because Spieth was embroiled in an epic meltdown that cost him a second consecutive green jacket.
"Yeah, I like to remind him that I picked up five shots on him on that hole," Kaufman said of the needling that he delivers to his good friend over his triple-bogey. "Of course, then he just comes back with another smart comment, which is probably fair."
After skipping this week's Genesis Open at Riviera Country Club, Kaufman intends to play every event for which he is qualified except Puerto Rico. "I need to get off poa annua [greens]. I'm so close to playing really well, and I'm looking forward to getting to Florida and playing on some familiar grasses. I feel like I'm going to play well here soon. I like where I'm going."
Spieth is partly responsible for that. One of the game's best putters, the talented Texan perpetuated one of golf's most honorable traditions – aiding a fellow competitor. Prior to their round at Spyglass Hill Friday morning, Spieth detected a flaw in his friend's putting stroke. His tip was timely.
"I knew last week he putted horribly, and I went over and noticed he was taking it outside and in," said Spieth, who teed off with Dustin Johnson in the group behind Kaufman and Mickelson. "You can't putt taking the putter back to the outside. If anything, you can go a little inside, and after he adjusted I told him, believe it or not, that's straight back. I saw him make a few putts ahead of us, and I was excited for him. I hope that helps him get untracked."
"I hadn't rolled it that well in a long time," Kaufman said, smiling, naturally.
Given his position in the world rankings (122nd) and in the FedEx Cup, nothing short of a victory in the coming weeks is likely to punch Kaufman's return ticket to Augusta. As desperately as he is to return, he evinced a calmness about the challenge.
"I've never really worked as hard as I have been here lately. I'm pushing hard," he said. "But if it doesn't happen, then it doesn't happen. I know that golf course is perfect for me the way it sets up. If I'm driving well and ironing it on the correct place on the greens, I can get in a groove. But first I have to get there."