The Loop
Sirak: Woods firing of Williams doesn't answer questions
As if any further evidence was required to make the point, Tiger Woods is officially a mess. The oft-rumored breakup of Woods and his longtime caddie Steve Williams became a reality Wednesday when Woods said on his website he had shown the looper the door. It is yet another blow to stability in what has been more than 20 months of chaos in Woods' personal and professional life.
"I want to express my deepest gratitude to Stevie for all his help, but I think it's time for a change," Woods posted. "Stevie is an outstanding caddie and a friend and has been instrumental in many of my accomplishments. I wish him great success in the future."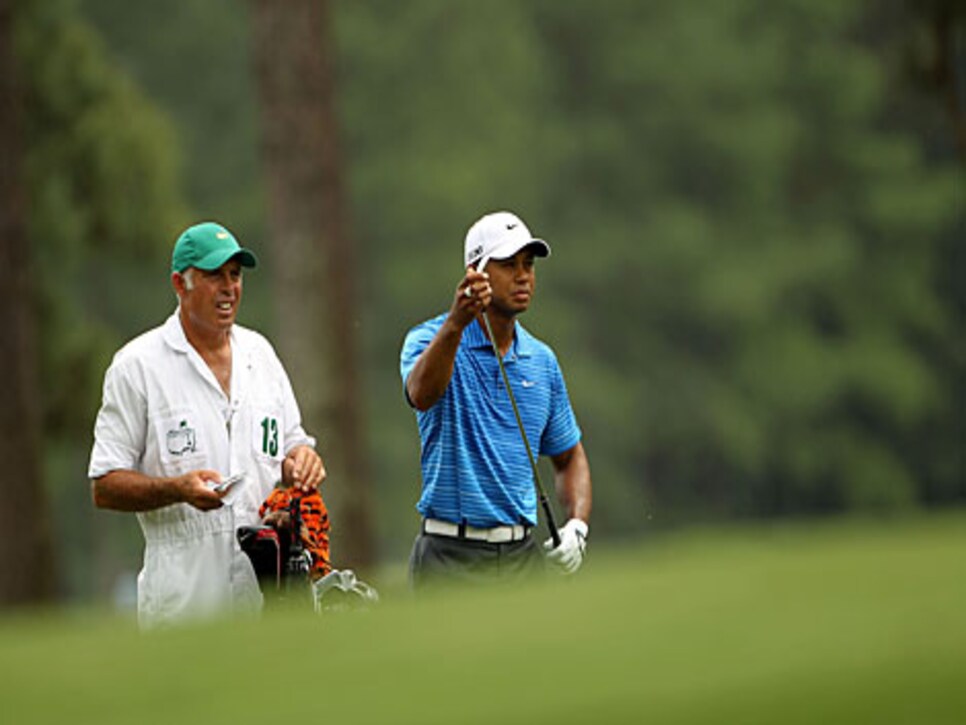 Since Woods ended up in a Florida emergency room in the early hours of Nov. 27, 2009, he has divorced from Elin Nordegren, split with swing coach Hank Haney, fired Williams and went separate ways with the only managing agency he has had in his career, IMG, although not with his manager, Mark Steinberg. Woods has also lost seven lucrative endorsement deals since the scandal broke. And replaced them with one of far lesser quality.
But perhaps most troubling as the 35-year-old Woods tries to put his life back together is the fact that not only has he not won a golf tournament in nearly two years, now it is not even clear when he will play again. Beset by injuries to his left knee -- which has been operated on four times -- and his left Achilles, Woods, has played only nine holes of competitive golf since the Masters.
There remains no timetable for Woods' return to competition, although he has said he plans to play in Notah Begay's charity event at the end of August. Woods has won all but one of his 14 career major championship with Williams, who has been on the bag since Bay Hill in 1999, winning 72 times worldwide.
The sometimes surly New Zealander was always more than a caddie for Woods, acting as an enforcer with fans and cameramen and serving as one of the many -- and most effective -- barriers between Woods and the rest of the world. They appeared to be close and, given the events of the last 20 months, have been through a lot together.
Rumors of a split between the two moved to a front burner last year, after Woods returned to competition following the five-month self-imposed seclusion in the wake of his sex scandal. The body language between Woods and Williams was dreadful at last year's U.S. Open at Pebble Beach -- the two often walking 40 yards apart and rarely talking. Still, the move seemed to catch Williams by surprise.
"Needless to say this came as a shock," Williams said on his website. "Given the circumstances of the past 18 months working through Tiger's scandal, a new coach and with it a major swing change and Tiger battling through injuries, I am very disappointed to end our very successful partnership at this time."
Questions about the future of the relationship between Woods and Williams once again took center stage when Williams showed up the Saturday before this year's U.S Open at Congressional working for Adam Scott. But rather than assume Williams and Woods were parting, many read into the move that Woods would be out of competition for some time -- perhaps the rest of the season.
Williams has worked three events for Scott, including the British Open, and it seems likely he will continue in that role. Woods did not say who would replace Williams or when he would return to golf. The only other full-time caddies Woods has used since turning pro in 1996 was Mike "Fluff" Cowan. While working for Woods could potentially be a lucrative job, it would also mean having a very demanding person as boss.
There are two ways to look at the sweeping changes going on with Woods. The first is that he is rubbing the slate clean and starting all over again. After years of stability within his team, except for some childhood and college friends who work for him and Nike, which has been Woods equipment company from the beginning, Steinberg is the last cog remaining from the formidable machine that once dominated golf.
The other way to look at all this is that Woods continues to place the blame for his current state of affairs on those other than himself. If that is the case, then the firing Wednesday of Williams was not a step forward for Woods, but rather another slide back that again raises questions about whether he will ever return as a golfer anywhere near what he was when he was the best on the world -- and one of the best of all time. The question marks continue to grow in number while the answers remain elusive.
(Photo: Jamie Squire/Getty Images)