Sirak: Americans have too much firepower to lose
MELBOURNE -- How loaded is the United States Presidents Cup team? Its worst rated player in the Official World Golf Rankings is No. 50 Tiger Woods. Not a bad guy to have as the last man on your bench. This team is just too good to lose.
Look for the Americans to claim their seventh victory (against just one loss) this week at Royal Melbourne. Ten of the 12 players on the U.S. roster are among the top 22 in the OWGR, while only four on the International side can say that.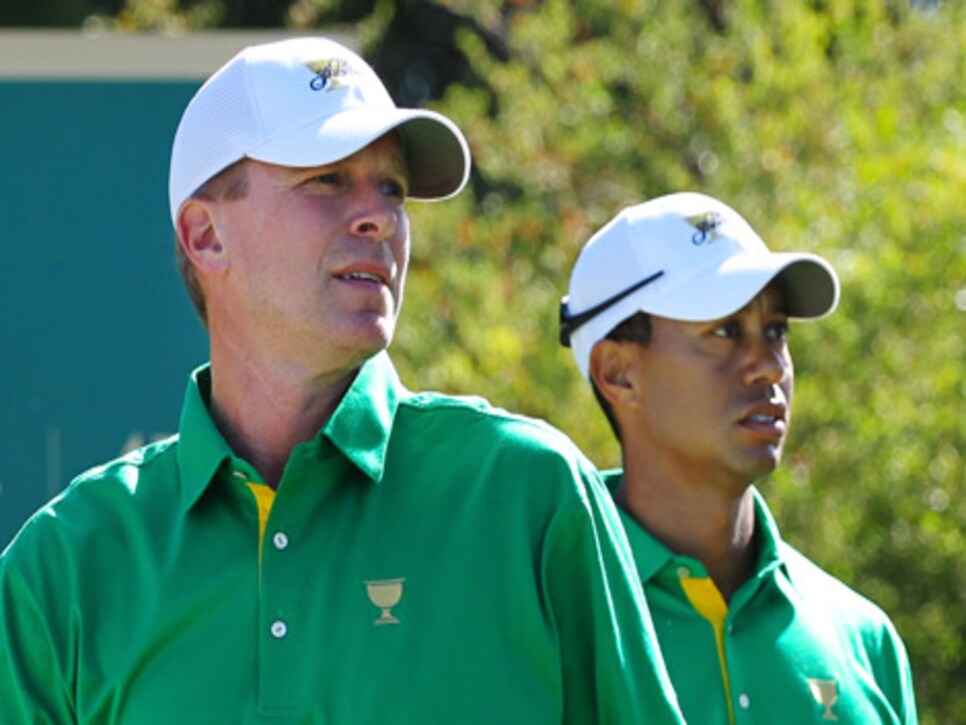 Tiger Woods and Steve Stricker were a formidable pairing in the last Presidents Cup, and are likely to be together again. Photo by Getty Images.
Another thing the U.S. side has going for it is captain Fred Couples. So far, he's doing all the right things. He encouraged his guys to play in either Singapore or Sydney last week so they'd be used to the time difference -- and all but Webb Simpson and Steve Stricker, who has health issues, did.
Freddy also had the Americans practice on Tuesday in green shirts with gold trim -- the colors of Australia -- in a cagey effort to win some support from the home crowds expected to number 30,000 each of the four days of competition that begins Thursday.
The shirts will be auctioned off -- they hope to raise more than $25,000 -- and the money will be given to the Australian Rules Football League to use in is relief efforts for victims of the floods here last year. Who knew Captain Couples could be so shrewd?
And add this to the list of reasons the Yanks will be victorious: They are on a Presidents Cup roll. Since the 17-17 tie in South Africa in 2003 -- an outcome the rules prevent from ever happening again -- the United States has won in three consecutive romps: 181/2 to 15 1/2 and 19 1/2 to 14 1/2 twice.
The only thing the International side has going for it is that its lone victory in the eight President Cup came here at Royal Melbourne in 1998. This is a strategic second-shot course where proper angles into the greens are essential. The fact there are five Aussies on the International side will help.
But Couples may neutralize even that advantage. "I was here in '98, we were not a factor," Couples said Tuesday, referring to the lone American loss which was a 20¿ to 11¿ drubbing.  The clear implication was that Freddy was going to let his troops know how bad that felt.
And then there is the Tiger factor. While a controversial choice when Couples made him a captains pick well before he needed to make a decision, the third-place finish by Woods last week in the Australian Open was a sign he is close to recovering a semblance of his old, dominating form.
There is also the curiously interesting fact that Woods has become a better team player as his individual dominance has dropped off. He was 5-0 in the 2009 Presidents Cup, two months after Y.E. Yang became the first guy to chase him down from behind in the final round of a major championship. Last year at the Ryder Cup in Wales, with Woods a shadow of himself, he won three of his four matches.
"As far as Tiger, I believe in all 12 of my guys," Freddy said, using the curious Couples' logic. "He had a great week last week. I'm glad he played well. I'm glad Nick Watney played well." What Freddy is saying here is that while this is a team competition, seeing the strong effort by Woods in Sydney -- three rounds in the 60s -- has made the captain sleep better the last few nights.
"Phil Mickelson told me this is the 18th team he has played on in either the Presidents Cup or the Ryder Cup," Couples said. "And he said he is still excited." That combination of experience and talent -- yes, there are six President Cup rookies on the U.S. side, but the experience of guys like Mickelson, Woods, Stricker and Jim Furyk will off-set that -- will make the Americans hard to beat.
Expect this to be a much closer competition than the last three blowouts, but expect the ultimate outcome to be the same. One of the hopes when this event was created in 1994 was to make the golfing world a smaller place. That mission has been accomplished, and part of that result is that more Americans players are more comfortable travelling great distances to compete. That wasn't the case when the U.S. team lost here in 1998. That won't happen again, not this week.