The Loop
Siderowf: These Junior Golfers are Even More Inspirational Off the Course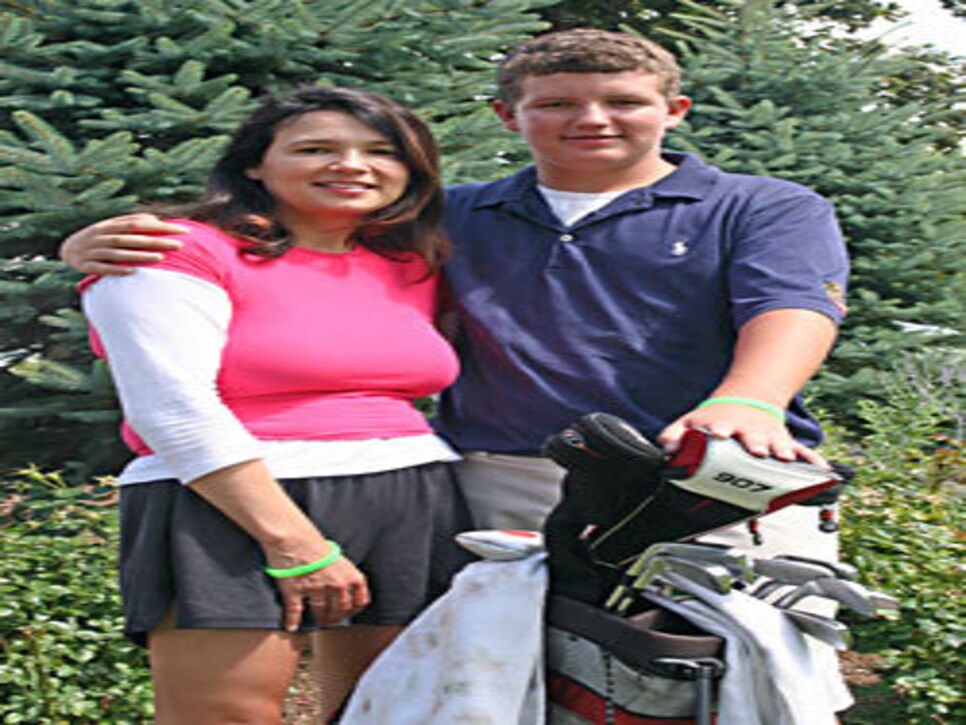 Zach Herr  (right, with his mother) lives and breathes golf. When he isn't playing in competition, he's either taking a lesson or practicing. So when his mom, Cyndie, was diagnosed with colon cancer two years ago, Zach turned to golf as a way of helping her. I can do an outing and raise money for cancer research, Zach thought.
This past June 9, 100 golfers paid $400 each to play in the first annual Zach Attacks Cancer Golf Tournament. The proceeds, $60,000, will be presented to the Fox Chase Cancer Center in Bucks County, Pa., later this month. The day was such a success that June 9 has already been set aside for next year's event.
What is remarkable about Zach's effort is that he was only 12 years old when his mom got sick. As he explains, "I never knew anyone who had cancer, nor did I really understand what it was. Now that I know how painful and destructive it can be, I want to help."
Zach's first step was to withdraw $3,000 from his lawn mowing savings. He used it to secure Jericho National Golf Club, his home course in New Hope, Pa., for the fund-raiser.
Zach, a scratch golfer who competes in junior golf at the highest level, will turn 14 at the end of this month. Last week he played in the American Junior Golf Association's Northwestern Mutual Financial Network-Blumberg Group Junior Classic at Richter Park in Danbury, Conn., where he tied for 36th in the field of more than 100 players.
It was a family trip. Zach's sister, Erica, tied for 19th in the girls tournament.
Cyndie is grateful to be feeling well after successfully completing her treatments, and Zach's dad, Eric, is a role model for his son. Because as Zach points out, "My dad works hard, spends time with his family, knows how to be serious and likes to laugh."
Some would argue that Zach is the role model.
There are other role models among top-tier junior golfers. With first names like Smylie and Luckie, you can assume the Kaufman brothers must be doing something good. In fact, they are also actively involved in raising money to help cancer patients. They were motivated by a cluster of cancer cases in their Birmingham, Ala., neighborhood.
In 2006, four youngsters, under the age of seven, were stricken with the disease. Smylie, then 13, and Luckie, 11, wanted to help in any way they could. Smylie relates, "We knew these kids were sick in the hospital, and my brother and I were out doing sports everyday. We wanted these kids to have a good childhood, too."
Since then, they've stepped up their fund-raising activities. The Alabama Power Foundation donated $1,500 for laptops to be used by young cancer patients to help with their homework. At last year's 100-hole marathon, 20 junior golfers entered and played for designated patients who came to the course to cheer on their player.
It's been a good summer for Smylie. This June, he won the AJGA Junior at Steelwood presented by AT&T, and for his volunteer work, he received the 2008 President's Youth Leadership Award given jointly by the United States Golf Association and the American Junior Golf Association. Currently, he and Luckie are working to get more junior golfers statewide to sign on as 100-hole marathoners. The American Cancer Society is the beneficiary of the money they raise, which the brothers estimate at more than $60,000.
Clearly, driving a golf ball isn't the only thing driving these talented young golfers.