The Loop
Si Woo Kim could win the Players thanks to his serious driver-off-the-deck skills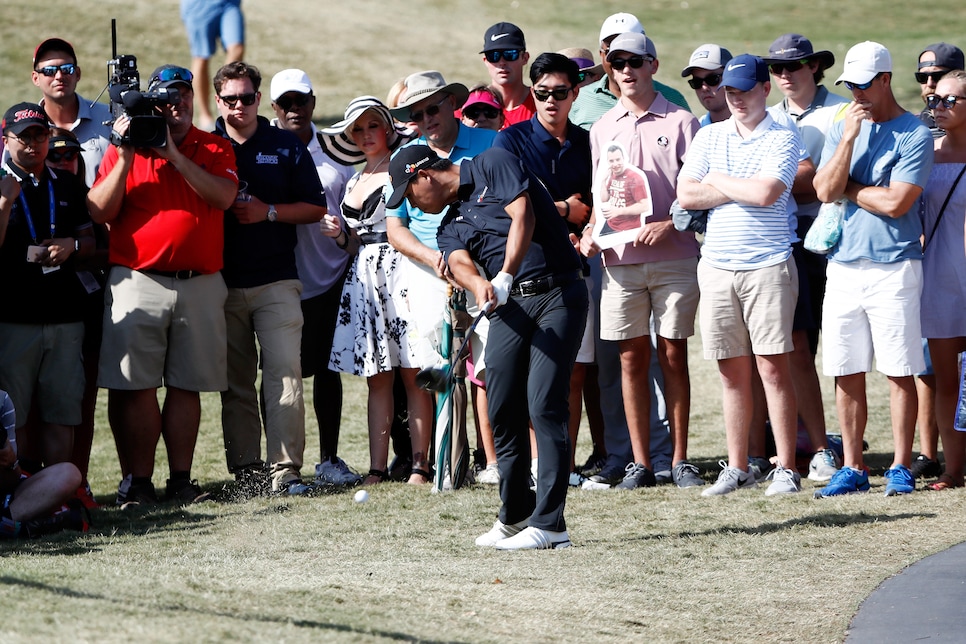 PONTE VEDRA BEACH, Fla. -- Si Woo Kim looked a bit puzzled when asked why he hit a driver off the deck out of the rough during his third round at the Players. But seriously, why did he hit a driver off the deck out of the rough?
"I hit it a lot of times, really, on par 5s, hit a driver with no tee and I'm really comfortable with that," Kim responded. "The lie was good and it was a hurting wind, uphill everything was comfortable, just hit it. I hit it good."
Yes he did. Kim's shot from more than 260 yards away on the difficult par-4 14th found the front of the green. And he knew it was pure as soon as he hit it. Check out this confident swing -- and his immediate club twirl.
"Yeah, man, what a shot is right," you can hear NBC's Johnny Miller say in response to both partner Dan Hicks. "Long putt, but that was a heck of a shot."
A long putt, indeed -- 82 feet, eight inches to be exact -- but Kim two-putted for par. He bogeyed 16, but birdied 17 to shoot 68 and get to seven under par, two shots behind co-leaders J.B. Holmes and Kyle Stanley.
A much different type of shot with a driver also played a key role in Kim's third round. On the short, par-4 12th, Kim's tee shot went well right, but it ricocheted off a tree and onto the green and he two-putted for birdie. Useful.
If you're looking for a quick brush-up on Kim ahead of Sunday's final round, here are a few facts. He's 21, he won the 2016 Wyndham Championship, and he has a chance to break Adam Scott's record for youngest Players winner by nearly two years. Oh yeah, we now know he also has some serious driver-off-the-deck skills.