Shriners Children's Open
Tom Kim contending again, Aaron Rai is on a roll and Adam Hadwin draws an ace in Vegas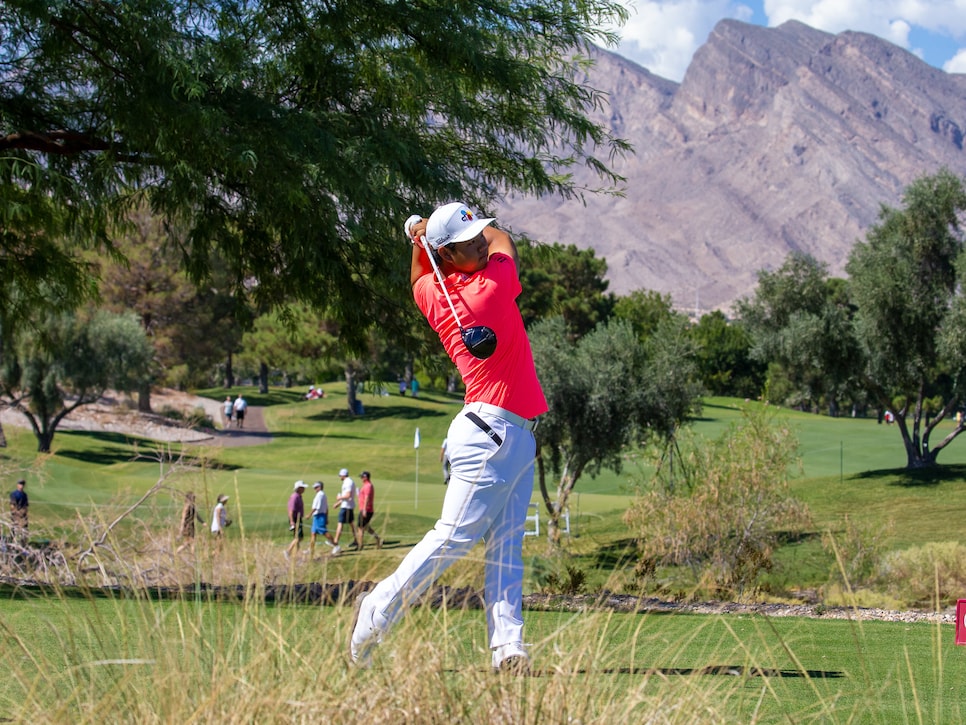 Tom Kim tees off on the second hole during the third round of the Shriners Children's Open.
Matthew Bolt/Icon Sportswire
Tom Kim hasn't exhibited the same animated intensity at the Shriners Children's Open that he showed two weeks ago at the Presidents Cup. But the tournament in Las Vegas isn't over yet.
While Patrick Cantlay was lighting up TPC Summerlin on Saturday for an 11-under 60, tying the course record, Kim was posting a relatively quiet but impressive to catch Cantlay at 19-under 194 to set up a showdown in the desert. And it just happens to be a repeat of sorts from the Presidents Cup.
The two men are three shots clear of the field; Matthew NeSmith and second-round leader Mito Pereira are at 16 under while defending champion Sungjae Im is another stroke back with S.H. Kim.
Tom Kim stuck his approach from 153 yards to inside three feet on the par-4 home hole for his ninth birdie of the day to forge the tie with Cantlay and cap his own bogey-free round. In fact, he's been bogey free for the week.
"I've played really solid today," said Kim, 20, who won the Wyndham Championship just three starts before beginning the new season in Las Vegas. "I took care of what I really needed to take care of on this golf course and just needing a good round to give myself a chance on Sunday really because I'm really happy with myself just keeping it tight."
He'll be even happier if he can convert the opportunity into a victory. But you won't see him celebrating as wildly as he did when he made some big putts against the American team during Saturday's double session of the Presidents Cup at Quail Hollow, part of a performance that gave the International team a slight chance of an upset.
"No, this is a little different," he said. "That's match play and you can have fun with it, but a lot of golf left to be played."
But just as he did at Quail Hollow, when he welcomed the chance to sink a winning putt on the 18th hole—and came through—in his afternoon four-ball match with countryman Si Woo Kim against Cantlay, of all people, and Xander Schauffele, he just wants the opportunity for another winner on Sunday at TPC Summerlin.
"I would love it, yeah. It would be great," he said.
Here are a few other takeaways from the third round.
After converting just seven birdies through the first two rounds at TPC Summerlin, Aaron Rai notched nine during a bogey-free 62, the low round of his brief PGA Tour career. Rai cited a better performance on the greens and then noted that he gave himself plenty of opportunities—without ever referencing the fact that he hit all 18 greens in regulation.
"Yeah, everything kind of fired well today," the 27-year-old Englishman said.
Of course, he knew exactly why his fortunes had changed. Well, he sort of had an idea. Well, actually … oh, forget it. He didn't know why things clicked on Saturday with a round that lifted him 31 places on the leaderboard into a tie for seventh.
"I wish I knew what it was," said Rai, who has converted 12 birdies in his last 24 holes and hasn't made a bogey in his last 32. "But that is golf sometimes. Luckily finished off very well yesterday on the last five or six holes to make the cut and just got it going today really. Such fine margins in this game. Yesterday afternoon could have gone quite differently, and I would have been packing my bags yesterday afternoon, and now we're here after a good round today."
It took Adam Hadwin nearly seven years to record his first hole-in-one on the PGA Tour. It took him just over four months to get his second one.
Hadwin aced the 151-yard par-3 14th hole at TPC Summerlin, the 41st ace in tournament history and the ninth on the 14th hole. It marked the third year in a row that a hole-in-one was recorded at the event.
Hadwin hit a pitching wedge that landed several feet short of the hole, bounced a few times and then rolled like a putt straight into the cup.
"It's a good pin on the back right. I had to take some off a pitching wedge, and just kind of held it up there nicely," Hadwin explained. "It took off on a perfect line. Obviously when it lands, you never quite know, but it was on a perfect line, and I think it was going to be close regardless. So it's a bonus to drop in."
The ace was almost a carbon copy of the one he scored on the 16th hole at Muirfield Village Golf Club during the second round of the Memorial Tournament in Dublin, Ohio. That one, with a 7-iron from 194 yards, hit just short of the hole placed on the right side of the green and rolled in perfectly.