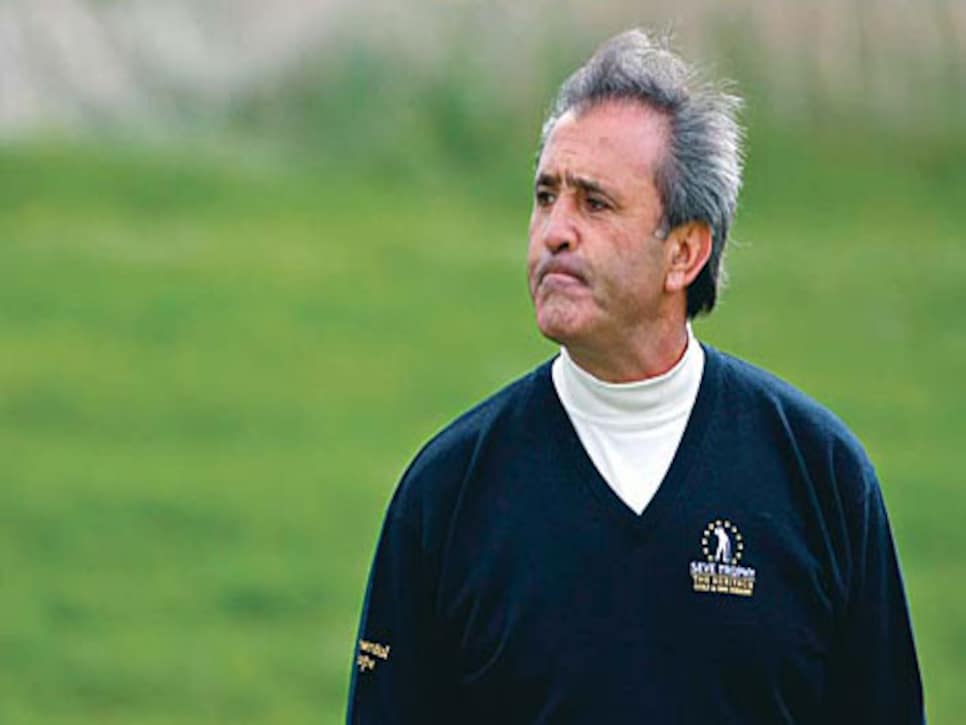 Ballesteros in 2007 at the Seve Trophy competition.
Way before there were obvious reasons, Seve Ballesteros would make me sad.
This was in the 1980s, when the Spaniard's genius and his way of managing it was the most compelling thing in golf. It didn't seem right that he reached his peak in his 20s and was overtaken by the less artistic (but better organized) Greg Norman and Nick Faldo.
But the bigger downer was seeing that even in his finest hours—at Augusta and St. Andrews and Lytham, and at Ryder Cups where he played his most liberated golf—a guardedness and melancholy would inhabit Ballesteros by the time he arrived at the winner's press conference.
Most champions confess to an "Is that all there is?" sensation. But they quickly learn that winning can't be everything, that what builds and sustains a successful career is dedication to improvement and acceptance of wherever that leads. It's playing for the right reasons.
Great as he was, Ballesteros played for the wrong reasons. Victory and its supposed spoils—the praise of the peers and public, the vanquishing of his critics—were his fixations. Finding those increasingly empty eventually made his all-or-nothing approach essentially a no-win.
"Seve was truly special, had more shots than anybody, but he didn't really enjoy playing," says Lee Trevino, a longtime friend. "He always cared too much about what other people thought. Biggest thing, he never learned how to lose. It just ate him up until he couldn't play at all. Yeah, the game made him. And the game destroyed him."
What I recall most from one-on-one interviews with Ballesteros are his mindfulness of the growing toll of his obsession, and his acute sense that the clock was running out. Even in English, he had a knack for a good sound bite—"I was Tiger Woods before Tiger Woods"—but his considerable insight was best expressed in quiet moments. He could admit that where Woods had made good career decisions, he had made bad ones. The one he rued the most was the first: turning pro "too young, too young" at 16. He recognized himself as a prisoner of arrested development.
' thing, he never learned how to lose...Yeah, the game made him. And the game destroyed him.'
It most stunted his ability to improve. Ballesteros treated his gift as a fixed entity, magically formed on the sands of Pedrena, not to be tampered with. When it finally stopped being enough—his crooked driver betraying him at the U.S. Open in particular—he worked furiously to change his swing, but with the impatience of someone unable to find a diamond he had dropped. Just as he distrusted the specialists who tried to help him with his troublesome back, he distrusted swing coaches—and saw dozens of both. Once, asked to put his flawed impact conditions under the scrutiny of a launch monitor, he countered with bravado: "My hands are my computer." The truth is, Ballesteros didn't really know how to get better, and was essentially finished at age 35.
By his last British Open, at Hoylake in 2006, all that was left was will, pride and character. With the eldest of his three children, then-15-year-old Baldomero, carrying his bag, Ballesteros shot rounds of 74-77 that were heroic for dignified self-control. "You don't have to teach," he said of his example. "They watch you. It's like looking in the mirror." He had learned how to lose, but at great cost. "He was afraid to show emotion at Hoylake," said Vicente Fernandez, long a Ballesteros confidant. "Afterward, alone, he cried like a baby."
Since then, the obvious reasons have really kicked in. Ballesteros' final competition took place in May 2007, in his first Champions Tour event. His last stroke in a closing 73 was a 14-foot birdie putt. Earlier that year, the woman to whom he had become close since his 2004 divorce was killed in a car accident. Ballesteros was later hospitalized, spawning rumors of a suicide attempt, which he denied. At the 2007 British Open at Carnoustie, he gave a restrained, endearing but heartbreaking retirement speech. In October 2008, at 51, he collapsed at the Madrid airport, stricken with a malignant brain tumor that required three surgeries within 11 days.
"These last few years, he has been very depressed," said Fernandez. "I think the tumor caused some of his behavior, but you know, he's also had a difficult life." Composing himself, Fernandez added, "I feel so sad."