News
Sergio Garcia's long, tortured Masters history could still include a win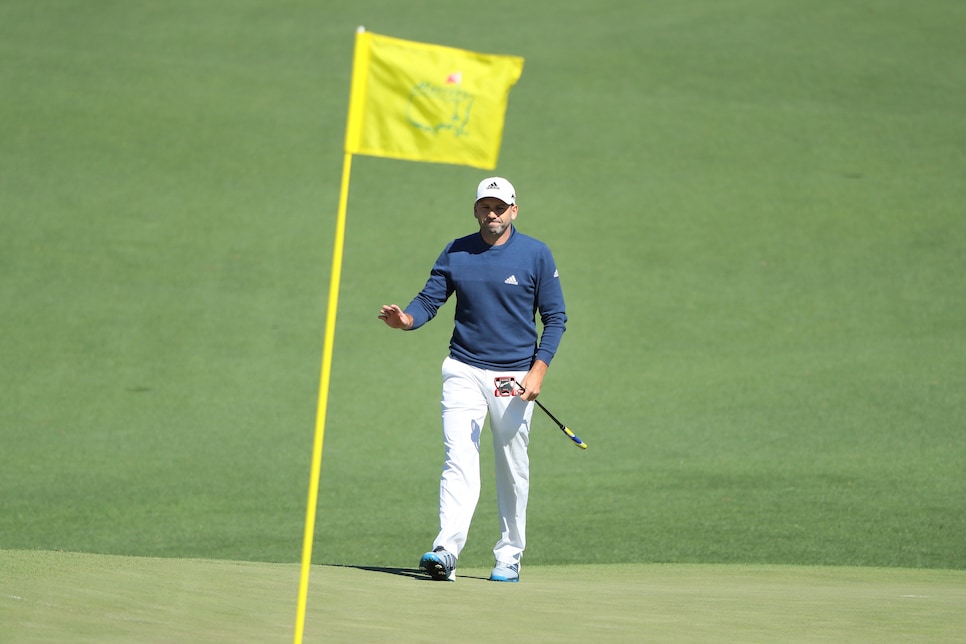 AUGUSTA, Ga. — It's not really going to happen is it? Now, after all this time? Is Sergio Garcia about to break one of professional golf's longest streaks of futility and finally win a major championship at his 74th attempt?
The signs are good, well a couple at least.
One year ago Danny Willett arrived at Augusta National having won the Dubai Desert Classic two months earlier. Guess who won in the same United Arab Emirate this year?
Willett -- like Jack Nicklaus in 1986 -- also had the number 89 on his caddie bib last year. Guess who has that number this time?
Then there is the sentimental notion that, should Sergio somehow negotiate the next two rounds better than anyone else in the field at this 81st Masters, he will don the famous green jacket on would have been the late, great Seve Ballesteros' 60th birthday. Ballesteros was the first Spaniard to win the Masters back in 1980, a feat he repeated three years later.
So here we are. Garcia is four-under par at the halfway point, having added a five-birdie, three-bogey 69 to his opening 71. Right in contention, he has played with his usual assurance from tee-to-green - hitting 85 percent of fairways and 70 percent of greens - his only moment of doubt coming at the tenth hole. A wild tee-shot led to a provisional ball and a bogey that could easily have been a lot worse.
Otherwise, Garcia's ball-striking strength has predictably come to the fore in the blustery conditions that have prevailed over the first two days. The last two holes were typical. A beautiful approach to three-feet at the 17th bequeathed a birdie. And an almost-as-good shot to the last left him five-feet or so behind the pin. But the putt was pushed wide.
Ah, the putting - ever the unpredictable part of the Garcia game - has, so far at least, been pretty reliable. After 22 top-tens in major championships and four runners-up finishes, this might just be his time. At last.
"I hit good shots right from the start and birdied the first three holes," he said. "And I made some nice putts too. I felt like I played great and hit the ball better than yesterday. I did make a couple of mistakes but that will happen the way the course is playing. I stayed positive though."
All of which sounds good. He seems to be looking forward to what lies ahead, rather than playing with a dread that only leads to the worst possible eventuality.
Then again, we are talking about an often-tortured soul when it comes to the game's four most important events. Many times, petulance has been his middle name.
Back in 2009, Sergio has this to say about the intricacies and fabled foibles of Augusta National: "I don't like it to tell you the truth. I don't think it is fair. It is too tricky. Even when it is a dry day, you can be in the middle of the fairway and get mud on your ball."
Asked how he would change the course, he said: "I don't care. They can do whatever, It is not my problem. I just come here, play golf and go home."
Two years earlier, the signs of such immaturity became clearer. During the third round of a WGC event at Doral, Garcia spat into the bottom of the cup on the 13th green after three-putting for bogey.
Then, four months later, following a lip-out from eight feet or so on the 72nd green that would have won him the Open Championship at Carnoustie, Sergio was just as petulant in the wake of his play-off loss to Padraig Harrington.
"I should write a book on how to not miss a shot in the playoff and shoot one over," he moaned. "It is tough mainly because I don't feel like I did anything wrong. I didn't miss a shot in the playoff and hit unbelievable putts, but they just didn't want to go in.
It's the way it is, I guess. It's not news in my life. I'm playing against a lot of guys out there. More than the field."
Oh, but it got worse. Much worse. In 2012, again here at Augusta, Garcia's mental well-being seems to reach a new low.
"I'm not good enough and today I know it," he whined. "I've been trying for 13 years and I don't feel capable of winning. I don't know what happened to me. Maybe it's something psychological. After 13 years, my chances are over. I'm not good enough for the majors. That's it."
"Everything I say, I say it because I feel it," he said. "If I didn't mean it, I couldn't stand here and lie like a lot of the guys do. If I felt like I could win, I would do it. Unfortunately at the moment, unless I get really lucky in one of the weeks, I can't really play much better than I played this week. And I'm going to finish 13th or 15th. What does that show you?"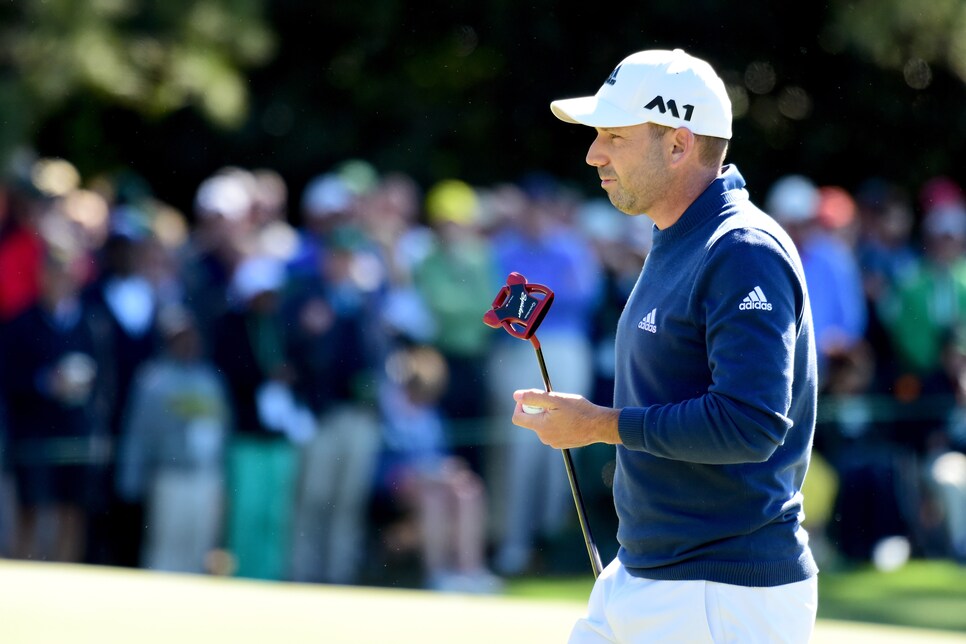 There have been other times of heavy angst. Like 2010, when a depressed Garcia told then European Ryder Cup skipper Colin Montgomerie not to pick him for the matches at Celtic Manor.
Or 2013, when, during a European Tour dinner at Wentworth, he made what were widely seen as racially-insensitive remarks about his long-term nemesis, Tiger Woods. Asked about meeting with Woods at the upcoming U.S. Open, Garcia responded, "We'll have him round every night. We will serve fried chicken."
To his credit, Garcia issued a statement later that night apologizing. Another apology followed the next day, in which he admitted his comments were "totally stupid and out of place."
Happily, 2017 is clearly a better place for the now 37-year old former man-child. Perhaps because of the happy relationship he has formed with former Golf Channel employee, Angela Atkins - the pair are to be married later this year - Garcia is clearly more contented than ever before.
"Getting married definitely helps," he confirms. "When things are going well and you are happy off the course it is easy to concentrate on the course."
Speaking of which, apart from the win in Dubai, Garcia's play has been steady and consistent, closely resembling the obvious stability of his life off the course. How much that will influence his performance over the next two days when the pressure to succeed will inevitably increase remains to be seen. But the signs are good, not just this week but over the last few months.
One last question: Are we about to witness what would be the most memorable victory in a career that surely merits at least one Grand Slam title? It would be a heckuva story.