The Loop
Sergio Garcia says he's "not going to go in a cave. . . and die" if he doesn't win a major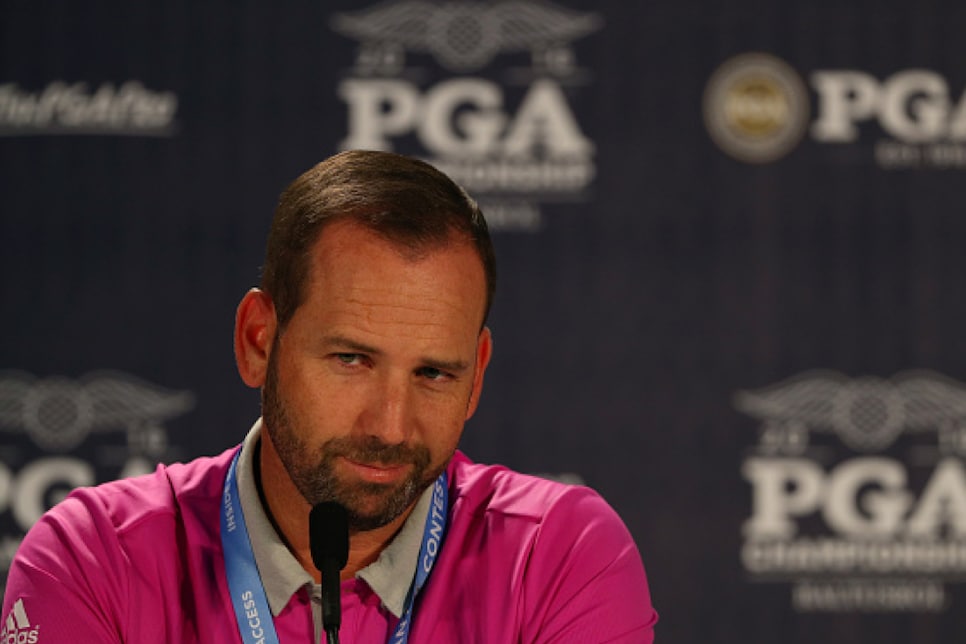 SPRINGFIELD, N.J. -- It's been 17 years since a 19-year-old Sergio Garcia vaulted into stardom with a runner-up finish to Tiger Woods at the 1999 PGA Championship. A lot has changed in that time, but not the fact that Garcia is still without a major title. And that the Spaniard still can't show up at one of golf's four biggest events without being asked about that gaping hole on his resume.
Those questions haven't subsided this week at the 2016 PGA Championship, especially considering what's transpired in the past 12 months. Beginning with Jason Day at last year's PGA, the last four majors have been won by first-time major champs.
"I would love to make it five in a row," Garcia said on Wednesday. "Obviously it would be very nice. But we'll see. It's a long week. And like I said before, my goal is to play well, to give myself another shot at winning a tournament, winning a major, and then see what I can come up with."
Danny Willett won the Masters as the 12th-ranked player in the world ranking. Dustin Johnson and Henrik Stenson claimed the U.S. and British Opens each ranked No. 6. Garcia, who finished T-5 at both Opens, enters this week No. 10 and one of just two players (along with Rickie Fowler) in the top 10 without a major to his credit. But Garcia, 36, doesn't seem too worried.
"When I saw [Stenson] Monday at my event in Switzerland, he said, 'You know, I'm 40. You're 36, you still have probably 16 more before you get there,'" said Garcia, who has 22 career top-10s in majors. "And look at Phil, he's 47 and he almost won."
Actually, Mickelson is 46, but point taken. He's a decade older than Garcia and claimed earlier this week that he's playing the best golf of his life. Garcia doesn't claim to be doing that, but he certainly appeared loose on Wednesday -- in part, perhaps, because of a week in NYC that included seeing the Broadway sensation "Hamilton." That musical lived up to the hype for Garcia, but does it bother him that he hasn't lived up to the hype he created at Medinah in 1999? Is he torn up by the fact that the whole major title still hasn't happened?
"No, not anymore . . . maybe five or 10 years ago, it would have," he admitted. "But not anymore. I understand how difficult it is to win every week. I always said it; it doesn't matter if it's a major. It doesn't matter where it is. It doesn't matter if it's in the U.S., in Asia, in Europe, in Africa. It is tough to win."
Sure. It is. But what about all those close calls?
"Hopefully it will happen. If it doesn't happen, it's not going to change my life. I'm not going to go in a cave and you know kind of stay there until I die because I didn't win a major or anything like that. It's not that serious."
"But it would be -- I'm not going to lie; it would be nice to get at least one. But it's not the end of the world."
No, it's not. But a win this week would mean the end of all those questions. Finally.