The Loop
Despite several key absences, Senior PGA Championship still stands out
TOWN AND COUNTRY, Mo. -- The Senior PGA Championship will always stand out in 50-and-over golf because it is by far the oldest of the senior majors, having begun in 1937 at Augusta National GC.
This year, though, for the 74th renewal, a portion of the older set has chosen to compete about 700 miles from Bellerive CC, in the Crowne Plaza Invitational at Colonial in Fort Worth, where they are past champions. Tom Lehman -- who has won the Champions Tour's Charles Schwab Cup the past two seasons -- David Frost, Corey Pavin and Keith Clearwater are teeing it up at Colonial CC in the PGA Tour stop this week.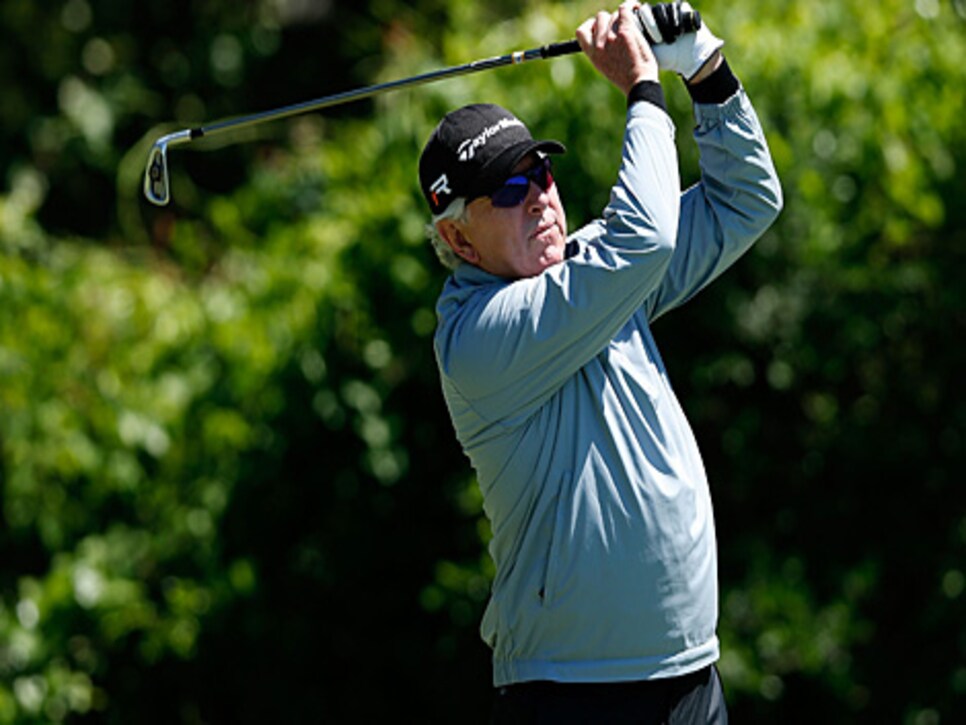 Hale Irwin is a sentimental choice to win this week. (Photo: Getty Images)
Combined with the absences of Fred Couples, who withdrew Monday citing his back, and John Cook, who will speak at mentor Ken Venturi's Thursday service, four of the top 15 players on the 2013 Champions Tour money list won't be playing outside St. Louis. Another missing player is Nick Price, victorious in the 1992 PGA Championship at Bellerive, who is still on the mend from arm surgery.
Those golfers who are at Bellerive will encounter a course with which they are familiar -- although one that was adjusted by architect Rees Jones following the 2004 U.S. Senior Open won by Peter Jacobsen. It is a formidable, par-71 design whose first turn in the national spotlight was when it hosted the 1965 U.S. Open won by Gary Player.
An 11-year-old St. Louis boy, Jay Haas, was a spectator that summer out with his uncle, Bob Goalby, a prominent tour pro. As Haas recalled Wednesday in the St. Louis Post-Dispatch: "I kind of remember being here and being near the 18th green when Jack Nicklaus walked off. There was a lot of people around him, and I remember my Uncle Bob saying, 'Get that guy's autograph. He's going to be a star.' "
Haas got Nicklaus' signature and, if not Nicklausian, eventually fashioned an endurable and solid decades-long career of his own, which is still going well at age 59. If that would seem too old to win the Senior PGA, consider that in 2011 Tom Watson, 61, became the oldest winner of the championship since the advent of the Champions Tour. Hale Irwin was just shy of his 59th birthday when he won in 2004, and John Jacobs was also 58 when he won in 2003.
Irwin, who will turn 68 on June 3 and lived in St. Louis for many years, would be the ultimate, sentimental, golden oldie longshot this week. But consider that he is coming off two years in which he finished fourth and third in the event of which he is a four-time champion. And Irwin was second to Jacobsen in the 2004 U.S. Senior Open, just ahead of Haas and Tom Kite.
A more logical pick would be Bernhard Langer, the only multiple winner on the Champions Tour this season with two titles, and 18 in his career. Kenny Perry, a past Colonial winner who chose to play with his age group this week, will be another golfer to watch. Perry, 52, only has one career senior win, but has great memories from the final round of the 2012 Senior PGA, when he closed with a record 10-under 62 at the GC at Harbor Shores in Benton Harbor, Mich.
Regardless of who prevails at the end of 72 holes, they will join a who's who of former champions, including Gene Sarazen, Sam Snead, Julius Boros, Arnold Palmer, Gary Player, Jack Nicklaus, Lee Trevino and Raymond Floyd. Even without getting presented the huge Alfred S. Bourne Trophy, all of 36 pounds, a winner knows he has achieved a weighty accomplishment.