News
New Kid On The Block: Scottie Scheffler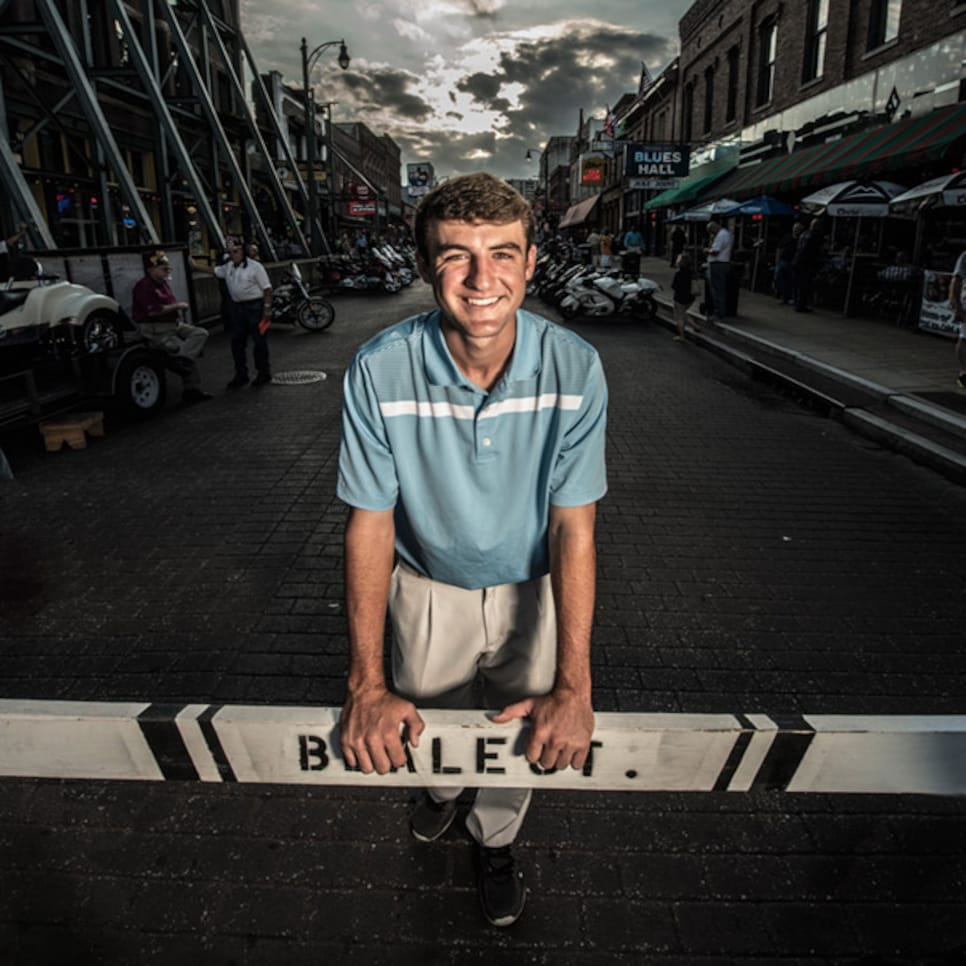 Scottie Scheffler, photographed on Beale Street, Memphis, June 4, 2014.
ON FINISHING T-22 IN A PGA TOUR EVENT AT 17
] a lot, so I knew I could play well.
ON ACING THE 218-YARD SECOND
I was pretty ticked off on the tee box because I had just missed short putts on No. 18 and No. 1. (I started on the 10th hole.) My sister Callie was caddieing for me, and she clubbed me [5-iron]. I hit it really good, and we could see it and hear everyone yelling for it to go in. When it did, everyone went crazy. My sister joked that at least I didn't have to putt it.
I get asked about him a lot, and I understand why. [Both Dallas residents won the U.S. Junior Amateur and made the cut in a PGA Tour event while still in high school.] Jordan and I are friends. He recruited me pretty hard to play for the University of Texas.
I was born in New Jersey. I'm not a cowboy. I do listen to country music, and I do have some cowboy boots, but I don't ever really wear them.
There's a yellow pole about 100 yards out on the range at Royal Oaks in Dallas. When I was 6 or 7, this guy said he'd give me five chances to hit the pole. If I did, he'd buy me a car when I was 17. My dad says I hit the pole twice. Still no car.
I was the short kid on my teams until I grew, like, 12 inches my sophomore year in high school. The other day I was playing with my friend Derek Cahn, who is going to play basketball for Texas A&M next year. I made 20 three-pointers in a row. I beat him in H-O-R-S-E.
My mom [Diane], dad [Scott] and sisters [Callie, Sara, Molly] travel with me a lot. Sometimes we're all in one hotel room. I often sleep on the floor.
In a high school practice round, I shot 60 with three bogeys.
I can eat a lot of food. I'm one of those guys who gets the same meal everywhere I go. There's this Mexican place called Torchy's Tacos. I get three breakfast tacos and a chicken queso no matter what time of day it is. At Waffle House, it's the chocolate-chip waffles.
ON PLAYING ON THE PGA TOUR
I've always wanted to be a tour pro, but I'm not in a rush. I just graduated from high school.
I'd rather watch hoops on TV, but play golf. I like what it tests about me.