FIRE PIT COLLECTIVE
Masters 2022: A star is born at Augusta National
Editor's Note: This article first appeared in Fire Pit Collective, a Golf Digest content partner.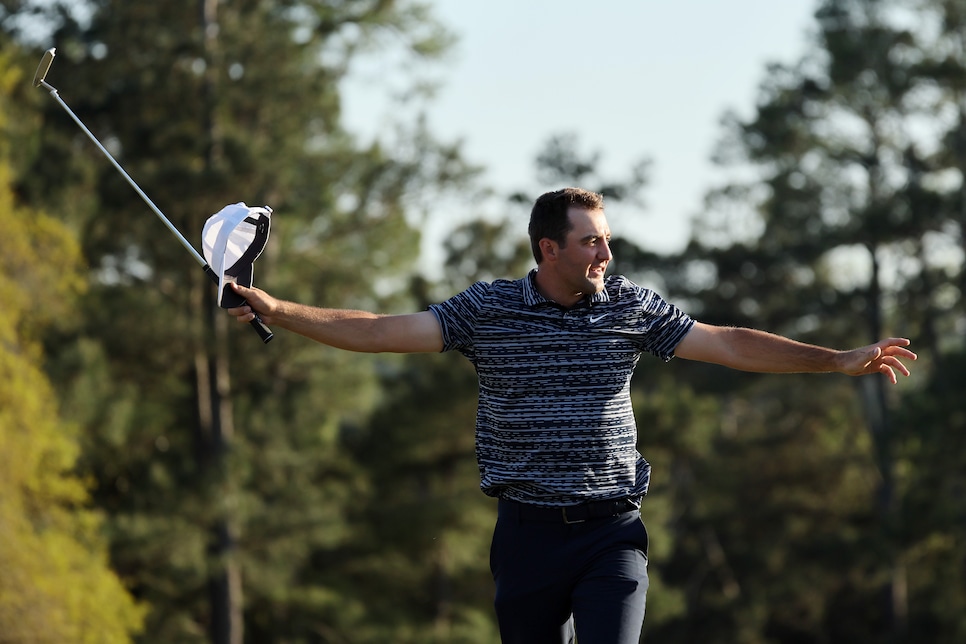 AUGUSTA, Ga.—The loneliest place in golf is the Augusta National driving range on the afternoon of Masters Sunday. Two-by-two, the contenders (and pretenders) depart for their date with destiny, carried off by the polite applause of a packed grandstand. A bit after 2 p.m. on this Sunday, only three players were left: Sungjae Im, feathering short irons at the flagstick; Cam Smith, his glorious mullet blowing in the breeze, smashing drivers as he contemplated how to make up a three-stroke deficit; and Scottie Scheffler, the 36- and 54-hole leader, who emerged from the caddie shack after a brief respite, carrying a green bag of balls and his wedge. The crowd cheered and Scheffler nodded, looking a little bashful. He walked by Smith, but neither acknowledged the other. These talented twentysomethings have been the two hottest players in golf this season, trading everyday PGA Tour victories, but being atop the Masters leaderboard represented something else entirely: One of their lives was about to change. Yet even on the empty range, no player is truly alone. He carries with him the spirit of all the golf buddies and teammates and relatives who have pushed, supported and chided him. Randy Smith, Scheffler's coach since boyhood, was with him now, watching from a discreet distance. How many swings has Smith watched his pupil make through the years? The number is incalculable.
Scheffler took his bag of balls and settled in a bunker near the expansive practice green, and soon Smith sauntered over to hit some chips. There are three flags on the green but, inevitably, the two wound up aiming for the same one. Both of these short-game savants were dancing shots around the hole, one's ball occasionally ricocheting off the other's. Their facial expressions never changed, but the vibe was unmistakable: Anything you can do I can do better. They took this energy to the 1st tee. Smith promptly birdied the first two holes, slicing Scheffler's lead to a lone stroke, the smallest margin since he grabbed this tournament by the throat with a second-round 67. Game on, though if Scheffler felt any panic it was undetectable. "He doesn't get as much credit for it, but Scottie is like [Dustin Johnson] in that nothing ever bothers him," says Max Homa. "He has the perfect temperament for golf. That mental side is the differentiator."
On the petite but dangerous 3rd hole, both players in the final pairing missed the green short-left. Scheffler was the first to play. On the driving range before the round, he had easily chatted Ted Scott, his goofball of a caddie who had guided Bubba Watson to two Masters wins. Now Scott was all business. As Smith witnessed in the pre-game, Scheffler can play a dazzling variety of chips and pitches. Scott told his man, firmly, that the big swale in front of the green had firmed up and he could play a "driver" into it; that is, a low hard pitch smashed into the turf that would trickle onto the green. Scheffler did exactly that, and his ball clanged off the flagstick and disappeared, evoking a shot Charl Schwartzel played on the 1st hole en route to his Masters win in 2011. Smith might have the best short game on Tour, but, thus shaken, he blasted his pitch far past the hole and took bogey. It was a monumental two-shot swing from which Smith never really recovered. He stuffed his approach shot on 7 but upon reaching the elevated green had to be dismayed that Scheffler's ball was even closer. Anything you can do I can do better.
Watching from home in Austin, Texas, two-time Masters champion Ben Crenshaw recognized the steel in his protégé. "He's a gentle giant," Crenshaw said. "He's just the nicest person you could ever imagine, but put him in a competitive situation and he's tough as nails."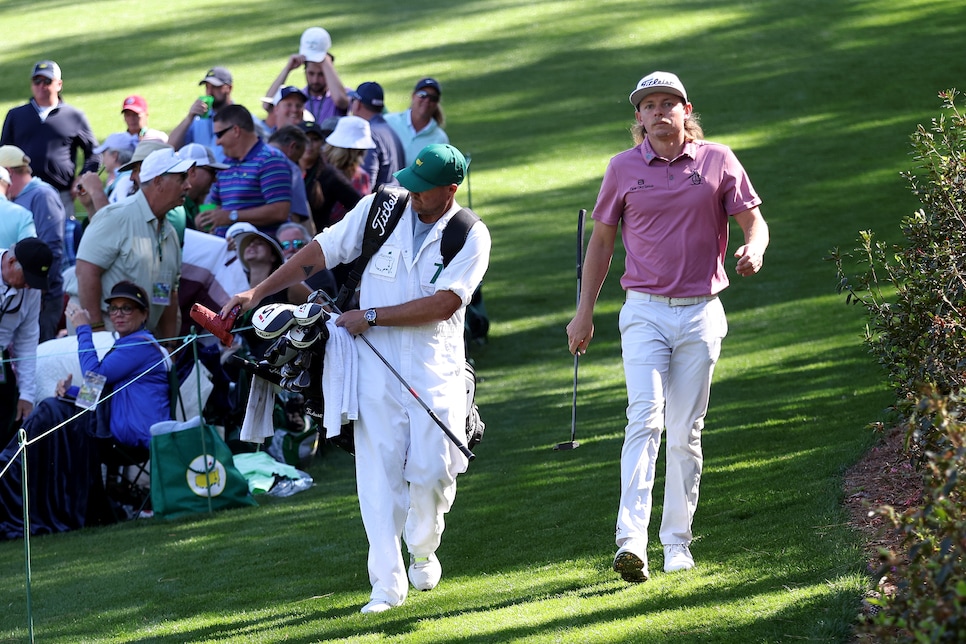 By playing the first seven holes in 2 under, Scheffler dashed the dreams of the other lurkers who hoped he would go backward. His lead over Smith was still three strokes when the two reached the fraught par-3 12th hole. Playing first, Smith dumped his tee shot into the hazard. Scheffler prudently rifled his ball way left and just over the green, then stepped on Smith's neck with a crafty up-and-down while his opponent was making a triple-bogey 6. "Golly, he has great hands," Crenshaw enthused. "How many terrific little shots has he played today? High ones, low ones, spinning ones, running ones. For someone that big and strong, he has just a wonderful touch."
Scheffler had to pass one final test. With his usual belated charge, Rory McIlroy roared home with a 64, holing an outrageous bunker shot on 18 to sneak within three strokes of the lead. But on 14, Scheffler employed his long, flowing, athletic, idiosyncratic, old-school swing to smash a drive down the middle and then nearly knock over the flagstick, restoring order. On the dangerous par-5 15th hole he played a daring, drawing 5-iron over the water to set up a second straight birdie and begin a stress-free stroll to the clubhouse. Other than losing his focus on the final green, it was a spectacular all-around performance that validated Scheffler's recent ascension to world No. 1. Asked what he likes most about Scheffler's game, Harry Higgs says, "There's nothing that he does not do well, so it's everything. I don't know that a lot of people would ever teach somebody to swing the club the way he does, but he hits golf shots and puts the ball where it's supposed to go and shoots great scores. I think it's very simple for Scottie."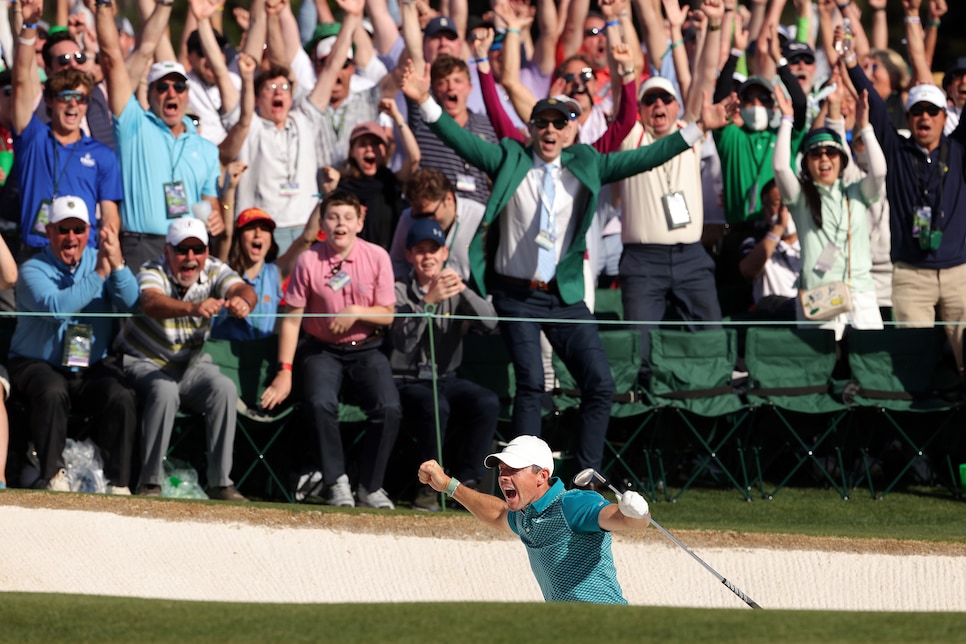 Indeed, a big night for Scheffler and his wife, Meredith, is playing board games and watching The Office. "He is about as boring as they come, in the best way," Higgs says. "He takes care of his business. He lays low at home. I've hardly ever even seen him in [their shared hometown of Dallas]. No, I don't have a whole lot of stories about Scottie. I don't know that anybody would. He's really good at what he does, and he kind of stays in his own lane."
Lest we worry about the new Masters champ losing his sense of self, Scheffler was asked this week about the time he played a high school state championship match with a broken leg. He corrected the record by saying it was only a sprain … and with a laugh noted it occurred when he stepped on an acorn. Now this earnest, self-deprecating 25-year-old with a big, boyish laugh joins the pantheon of Masters champs, alongside fellow Texans Crenshaw and Jordan Spieth. In the victor's press conference, Scheffler flashed back to Spieth's walk up 18 with a similarly big cushion in 2015. There are eerie parallels between that win and this one, in the way Scheffler took a commanding lead (five strokes) through 36 holes, fought like heck in the third round and then met the moment on Sunday. Like Spieth, Scheffler is appealingly human. He gave much of the credit for this victory to his caddie and all of the glory to his creator, and he talked movingly about his three sisters and parents. At a club that only recently began welcoming women members, it was poignant to hear Scheffler hail his mom, Diane, as the family breadwinner and his father, Scott, for taking care of the kids.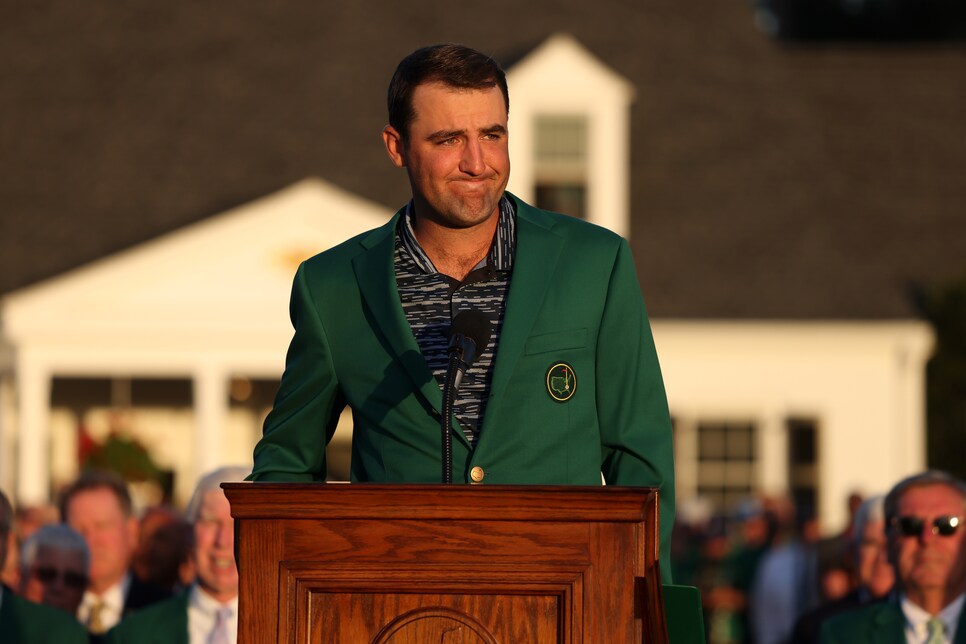 Scheffler also paid tribute to his hero Tiger Woods, beyond his custom of wearing the TW shoes and shirt. Having inculcated Woods's vibe through countless YouTube binges, Scheffler did his best to imitate Tiger's intensity and determination throughout the final round. But Woods always wanted us to believe his makeup is superhuman. Scheffler's vulnerability might be his most likable trait. He admitted to breaking down on the morning of Masters Sunday, so overwhelmed was he by the magnitude of the opportunity. "I cried like a baby this morning," Scheffler said. "I was so stressed out. I didn't know what to do. I was sitting there telling Meredith, I don't think I'm ready for this."
Just the opposite: The Masters could not have crowned a more worthy champion. As Scheffler recounted his emotional Sunday morning, his parents and wife and sisters dabbed at tears within the Augusta National interview room. Scheffler began his journey in golf's loneliest place. He ended it in the warm embrace of his family.