Eyes On The Prize
Scottie Scheffler knows what's at stake this week, but doesn't need to dwell on it
The Masters champ can reclaim the top spot in the world ranking with a win, but doesn't want to go there yet.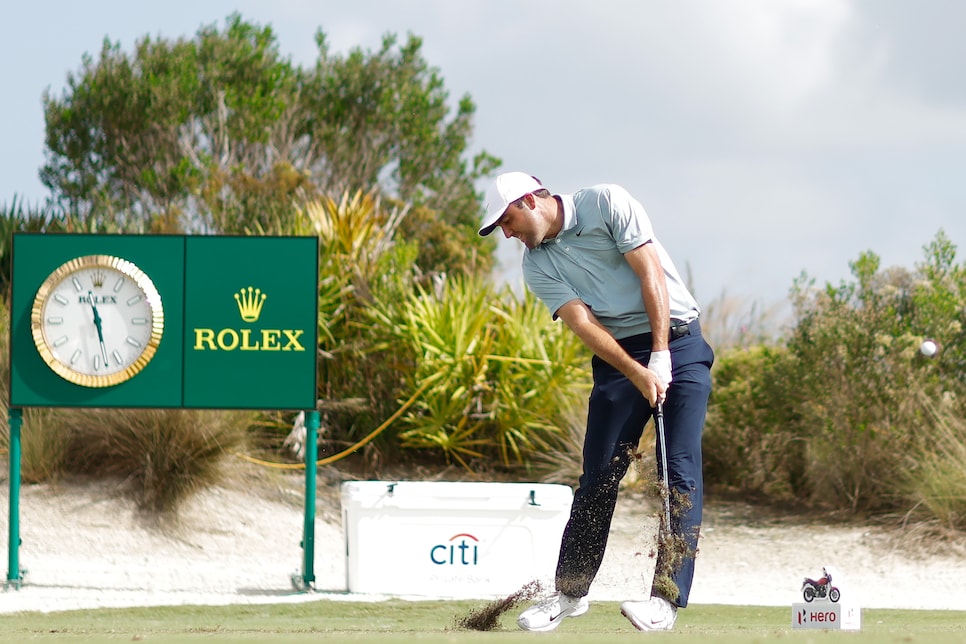 NASSAU, Bahamas—For the second year in a row at the Hero World Challenge, the No. 2 player in the world has a chance to ascend atop the Official World Golf Ranking with a victory. It didn't work out too well for Collin Morikawa last year. Scottie Scheffler hopes for better fortune, though he isn't obsessing over it.

Scheffler, the reigning Masters champion, held the No. 1 spot for 30 weeks until Rory McIlroy wrested it from him in late October with a victory at the CJ Cup, but he can get it back by winning the 20-man event at Albany hosted by Tiger Woods. Through 36 holes, the solid 6-foot-3 Texan finds himself in ideal shape after a four-under 68 on Friday left him a stroke behind defending champion Viktor Hovland.
Despite gusting winds of up to 25 miles per hour strafing Albany, Scheffler produced the day's low score, equaled only by playing partner Xander Schauffele. Both men are part of a four-way logjam at four-under 140, while Hovland, after a 70, leads at 139. Also at 140 are Morikawa (71), who with Hovland was one of four first-round leaders, and Cameron Young (69).
Coming off consecutive top-10 finishes to end the fall portion of the PGA Tour season, Scheffler converted six birdies in difficult conditions—something​ ​he said can only be a confidence-builder. He also is more comfortable on the greens these days after experimenting for a stretch with a mallet-style putter. "I feel like I'm playing pretty solid," he said.
Scheffler has been working diligently on his game of late, noting, "I'm definitely not showing up to finish 20th or whatever it is."
"I've been practicing. I like to practice. I took a nice break before we went to South Carolina [for the CJ Cup]," said Scheffler, 26, who won PGA Tour Player of the Year on the strength of four wins, all in the span of three months before summer. "I was pretty worn out after the FedEx Cup and then the Presidents Cup, so there was a period there for a good five, six weeks where I wasn't practicing too much. I still go out and play for fun and stuff but not too much heavy practice. Last probably month or two I've been getting after it fairly decent."
He wasn't aware that he could regain the No. 1 ranking with a victory. He also prefers to not think about it too much. "I feel like if I continue to play great and win some events I'll get back there, but it's not going to be something that I'll keep in the front of my mind," he said. "It's not something I think about when I'm practicing, it's not something that occupies a lot of my thoughts."
He says that, but it sounds like he has given the world ranking system itself a bit of thought. Like Woods and Jon Rahm have done recently, Scheffler called the OWGR a "flawed system." Not that he understands how it works (and the system recently was given an overhaul), but he appears to grasp how difficult it is to formulate a ranking system with golfers competing on different tours all over the world.
"I understand that they got away from the minimums for every tour, which I think made a lot of sense," he began. "I think now I would say the top players are not bringing as much weight to events as they should. I think there was some stuff like the winner of the Fortinet got more points than the winner of the T​our​ Championship, stuff like that that's a little bit weird. I don't know if that's actually 100 percent correct.
"But it's also really tough to rank golfers when they're not playing the same schedule. So, I think as we all start to play together more often and you get the best players playing together more often, it's going to be much easier to rank those guys. It depends on how much value you place on a guy No. 1 in the world versus No. 50 in the world. It's a tough system; it's not something that's easy to get right. In other sports you have a record, and golf is not necessarily a record. It's a challenging system. I think they kind of went from one extreme to the other and we'll meet in the middle, hopefully, and find something that's a little bit better."
All the fuzzy math aside, the one absolute truth in golf is that winning takes care of a lot of things and answers a lot of questions. And the winner shoots the lowest score.
The game itself is all about simple numbers that anyone can understand.
And that's how Scheffler breaks it down. He has a bottom line he can easily embrace. "I don't like being No. 2 [in the world]. I don't like finishing second," he said.
A win on Sunday will be worth two firsts.