The Loop
Score one for the geezers, but the game is trending younger
The PG in PGA Tour does not stand for Parental Guidance, though maybe it should, given the way the future is putting the squeeze on the past and present these days.
Yes, a geezer, by today's standards, won the Honda Classic on Monday. Padraig Harrington, the affable Irishman, 43, prevailed over Daniel Berger, 21, on the second hole of a playoff at PGA National in Palm Beach Gardens, Fla.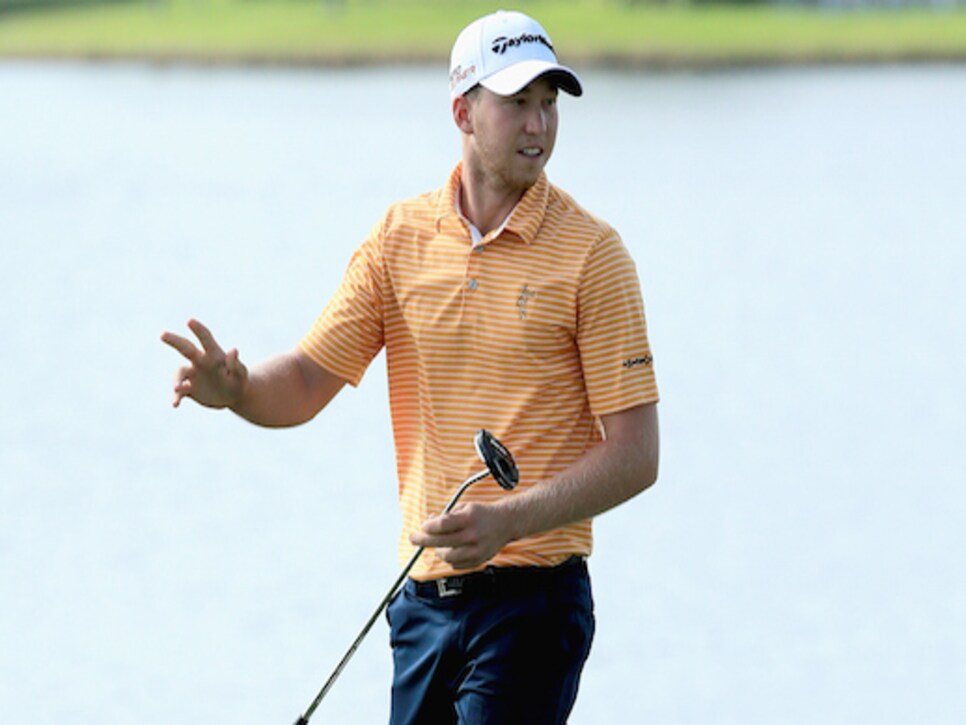 Daniel Berger after making birdie at 18 (Getty Images)
So the old guys won this round. But the game does seem to be trending younger, even this young: The best player in women's golf is a girl, Lydia Ko, 17.
Berger, meanwhile, is part of a high school class of 2011 that includes Jordan Spieth and Justin Thomas, each of them also 21 and already factors on the PGA Tour. Then there's Berger's Florida State teammate Brooks Koepka, 24, who won the Waste Management Phoenix Open last month, and Patrick Reed, also 24, who not long ago declared himself a top five player in the world and is closing in on proving it.
Other tour winners in the 2014-15 season include Ben Martin and Robert Streb, each 27, Sang-Moon Bae 28, Jason Day, 27 and Nick Taylor 26.
"They're better prepared when they get on tour," Arizona State coach Tim Mickelson said, explaining the influx of youth. "They're not afraid, not concerned and they're thinking about winning. College golf is so deep now. The amount of competition is so much better than it used to be."
They're unafraid because they've competed against one another in college and even dating to junior golf, Mickelson said."With Jon [Rahm] playing well at the Phoenix Open, we've got guys saying, well I beat him two weeks ago in a match.' I certainly think you can feed off that."
Rahm, a 20-year-old Arizona State junior, tied for fifth in the Phoenix Open, ahead of Spieth, Berger and Streb, all of whom occupied the top 10.
"We've all played against each other for years and years now," Koepka said in Phoenix. "When you see someone else succeed, you're thinking in your mind, hey, I've played with him for years and years. I know that I can compete with him week in, week out."
Berger has played only 11 events as a tour member and has finished in the top 10 in three of them, the top 25 in six. He already has earned $1,188,405.
He shot 64 in the final round of the Honda Classic, but lost the playoff when he hit his tee shot on the second playoff hole into the water.
"It's all a learning process," he said, a reminder that he and his ilk are still undergoing an education, even as they're already threatening to conquer the world.