Scheffler Wins Aon Risk Reward Challenge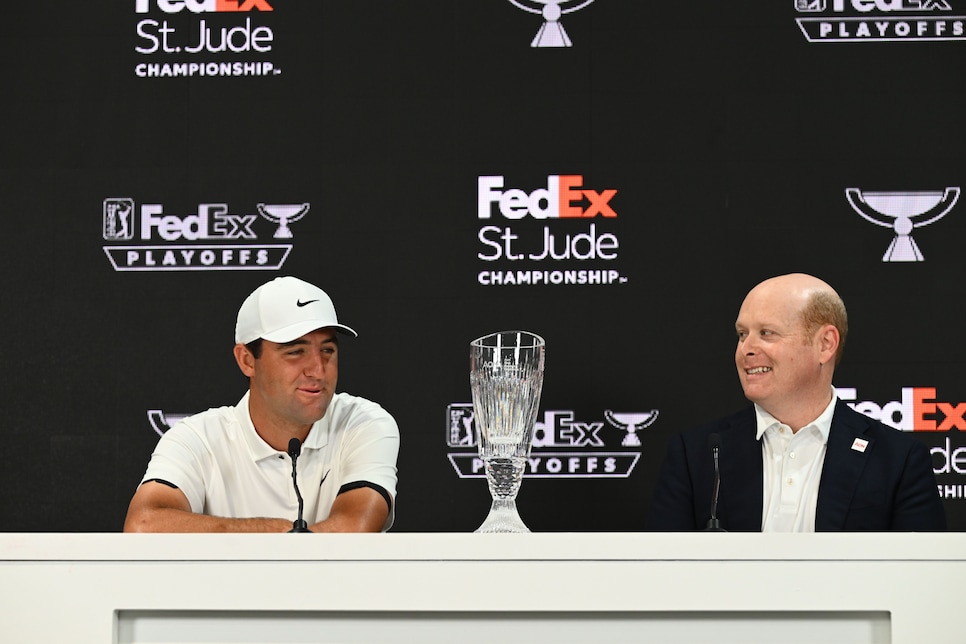 As if becoming the world's top-ranked golfer, winning the Masters, capturing four PGA TOUR victories, and earning more than $13 million wasn't already a productive 2022, now Scottie Scheffler has also claimed the 2022 Aon Risk Reward Challenge and its $1-million grand prize.
The season-long competition that began at the 2021 Fortinet Championship and ended with last week's Wyndham Championship is ultimately awarded to the PGA TOUR pro who accumulates the best two scores on one designated hole at each participating event throughout the season. Max Homa had an opportunity to claim first place as the season wound down, but Scheffler ultimately prevailed, averaging nearly a birdie every time he played a Challenge hole.
"I am excited to win the Aon Risk Reward Challenge as it recognizes the work that my team and I put in throughout the season," says Scheffler. "Decision making on the golf course is something that is really important and it's not always easy. For me to be able to win a competition like this really gives me a lot of confidence going forward that we are making the right decisions. Tournaments can be decided on these Aon Risk Reward Challenge holes. So to put myself in a position to shoot low scores on these certain holes is key."
Adds Andy Weitz, Aon's chief marketing officer: "We're thrilled to have Scottie Scheffler as our PGA TOUR winner of the Aon Risk Reward Challenge. He has demonstrated a real consistency at a high performance level, and we're really thrilled to have him as our winner this year, and the opportunity to add to his list of accolades, the champion of the Aon Risk Reward Challenge."
The Aon Risk Reward Challenge title usually goes to whoever navigates the designated holes with the most-effective playing strategy. Scheffler's aggressive decision-making paid off. He went for the green 74 percent of the time on Challenge holes, trying to drive the par-4 holes and reach the par-5s in two. This helped him score three eagles and 29 birdies during the season, the most of anyone in either category. He also carded the most par-4 birdies with 11 and dominated around the green to save strokes. In fact, Scheffler gained most of his Challenge hole strokes with his short game and putting, reinforcing his ability to excel in the clutch.
Be sure to tune into the LPGA Tour, where Aon ambassador Minjee Lee is leading the Aon Risk Reward Challenge. That race concludes in November, and the winner will also take home the Aon trophy and a $1-million prize. Visit here for all the details, including an up-to-the-minute leaderboard.