News
Sam Saunders gets to see what competing in the PGA Tour postseason is like—finally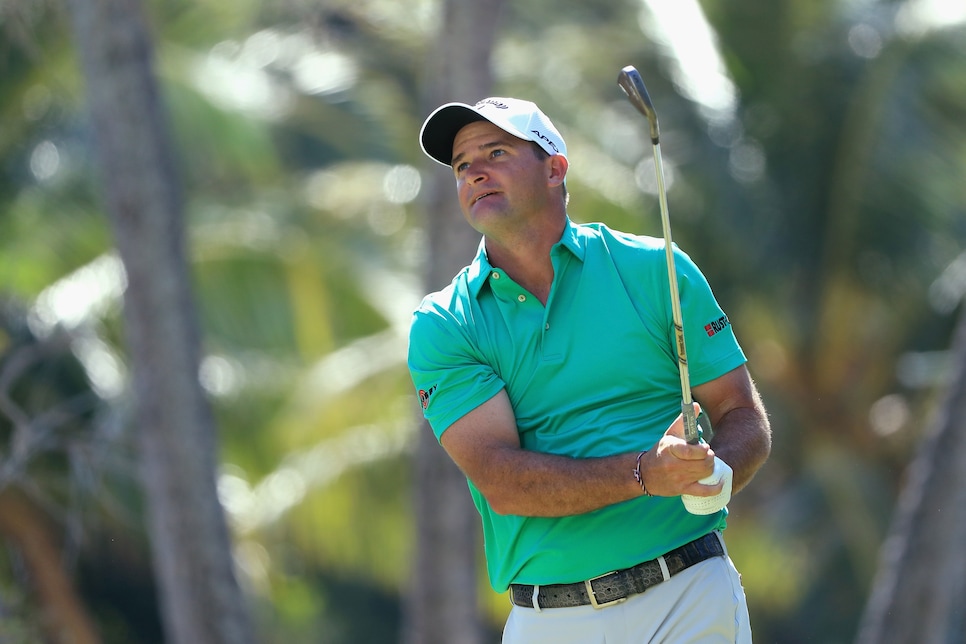 Photo By: Sam Greenwood/Getty Images
Sam Saunders did something this past weekend at the Wyndham Championship that he had never done before in his PGA Tour career: He showed up on the first tee Thursday playing with house money. After finishing in a tie for seventh two weeks earlier at the Barracuda Championship, Saunders knew he had all but locked up a place in the top 125 on the FedEx Cup points list, meaning he would be playing for the first time in the PGA Tour playoffs and—more important—fully exempt for the 2018-'19 season.
"After Reno [Barracuda], I had 411 points and, even though I was only 120th on the points list, there was a 47-point cushion between me and 125th place," Saunders said on Monday, shortly before teeing off in Morgan Hoffmann's charity event just down the road from New Jersey's Ridgewood Country Club—where the first of the tour's four playoff events begins on Thursday. "I know crazy things can happen, but I was 95 percent sure I was in."
If there was any doubt at all, Saunders erased it on Friday in Greensboro, when he made two late birdies to make the cut by two strokes. He had bogeyed the 11th and 13th holes at Sedgefield Country Club to drop to two under par for the tournament, putting him in danger of missing the cut, before birdieing Nos. 15 and 17.
"To be honest, I wasn't nervous," Saunders said. "Maybe I should have been. But I really felt like I'd gotten the job done after Reno. Still, it was nice to make the two birdies and play the weekend. If I hadn't, I'd have probably sat around for two days going 'what if?' This was I was playing golf and not worrying."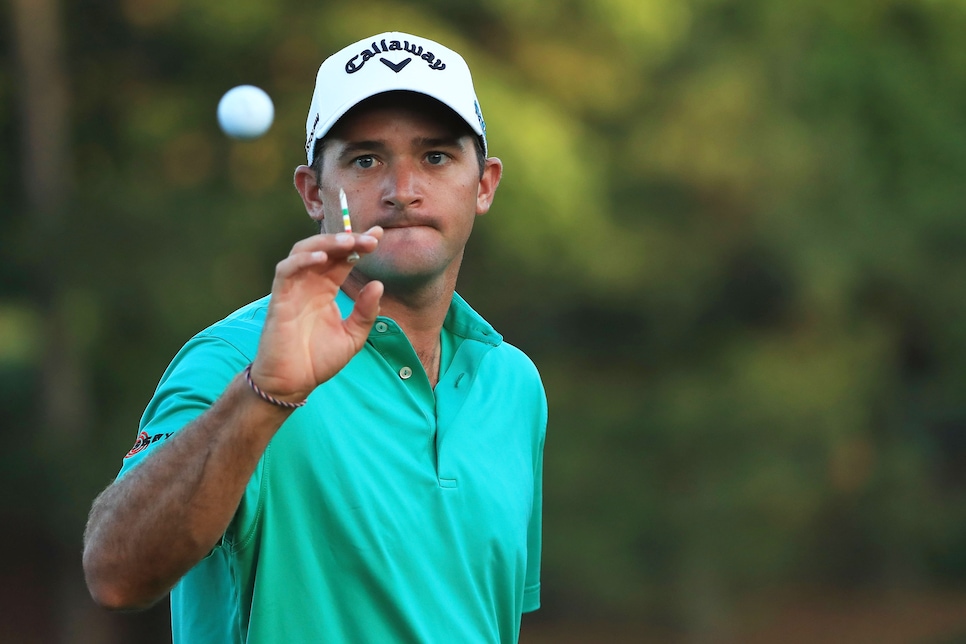 Sam Greenwood/Getty Images
He shot 67-69 on the weekend to finish T-45, "blah" as he put it but plenty good enough to ensure his postseason spot since he maintained his 120th spot on the points list.
"This has been a long time coming," he said. "I've been good enough five years in a row now to keep my PGA Tour privileges and that's no small thing. But to get into that top 125 and make the playoffs—well, that's another goal reached."
He paused. "Now, I need to win."
He had a chance to do that at Reno. He went into the final day in second place, trailing eventual winner Andrew Putnam by three points in the Modified Stableford event. A frustrating 74 (-1 point) dropped him to T-7.
"It was disappointing, very disappointing," he said. "I just didn't play well. But it was the kind of disappointment I need to have more of moving on with my career. My goal isn't just to finish in the top 10—it's to win. But when a top-10 is a disappointment, that means you gave yourself a chance to win."
Saunders, who turned 31 last month, has come a long way since his early golf days, when he could have been forgiven for thinking his full name was, "Arnold Palmer's grandson, Sam Saunders." He had to grind his way up the ladder since turning pro and spent the last three years flirting with the top 125, finishing 137th, 148th and, last year, 129th on the points list. Close, but not where he wanted to be.
He still is not where he wants to be, but he's made a lot of progress.
"I know how hard it is to be successful out here," he said. "I'm not sure people really appreciate how tough it is. Just getting to the Web.com Tour means you're really good. The number of guys I've played with who will never make it out of mini-tours who are very good players is astounding.
"I'm proud—honored really—to have gotten to this point. I know being Arnold Palmer's grandson opened some doors for me early in my pro career but I also think, at times, it made it harder.
Saunders compares himself to peers who are also related to famous golfers. "I think it's remarkable that Kevin Stadler won on the PGA Tour and that Gary Nicklaus made it to the tour," Saunders said. "It's not easy for anyone but when people are looking at you all the time because of who your father is or because of who your grandfather is, that can be difficult."
Saunders' Barracuda finish was his fourth top-10 this season (his best showing was a fifth at the Greenbrier in July), and he's made nearly $1 million. But the most important thing to him is that he's proven that he belongs on the PGA Tour, regardless of his genealogy.
Since his grandfather's death in September 2016, Saunders has taken a much more active and visible role in the Arnold Palmer Invitational and in the charity work the King was so involved in. Saunders has amazed people with his poise and self-confidence, first with his eulogy at the memorial service and since then as the Palmer family's most visible representative of the Palmer legacy.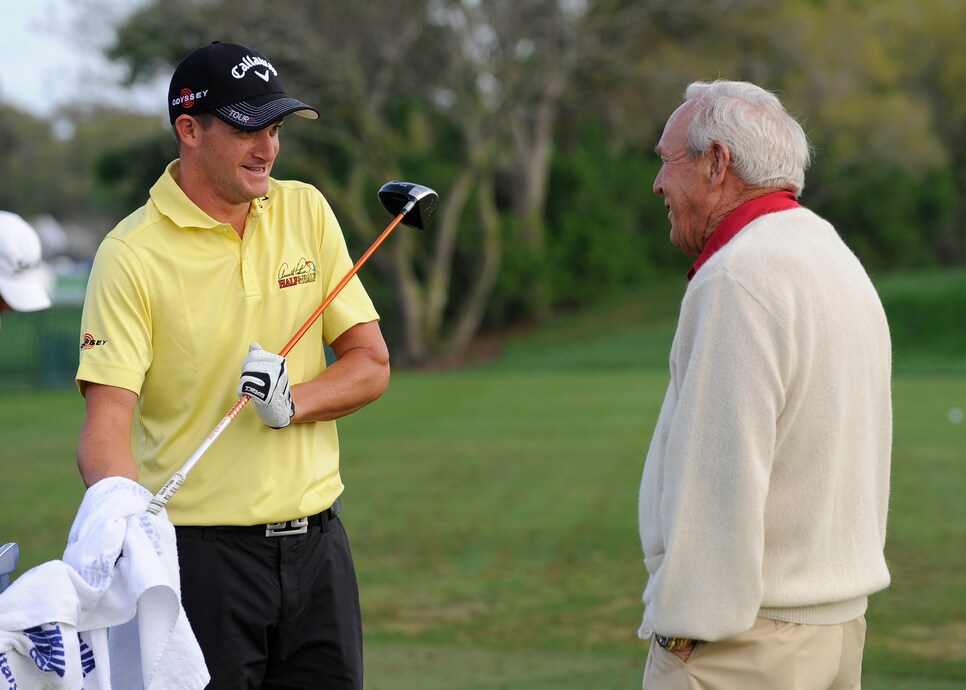 Saunders laughed when the cliché question—What would your grandfather say about your making the playoffs?—was put to him.
"'Why haven't you won yet?' " he said. "Then he'd tell me he was really proud of me but he'd also say, 'OK, now you know you have a job, you've proven you can play out here, it's time for you to win.' And he'd be right about that of course. I know I'm good enough to win out here. I still think I'm improving as a player. I'm better now physically than I've been in a long while, and I'm definitely better mentally—which may be the tougher part of the equation.
"I want to win, but I don't want to be a one-hit wonder. I think I can be better than that."
If he has done nothing else with his play and his personality, Saunders has carved out his own niche—quite apart from his grandfather—in the sport they both love so much.
"There's no better time for me to win than right now," he said. "I've met my goal for the year. I know my job is secure. There's no reason for me not to go out and just play—no pressure at all. It should be fun."
Playing at Ridgewood—and he hopes beyond—represents another step forward for Saunders. He can't wait to find out what comes next.