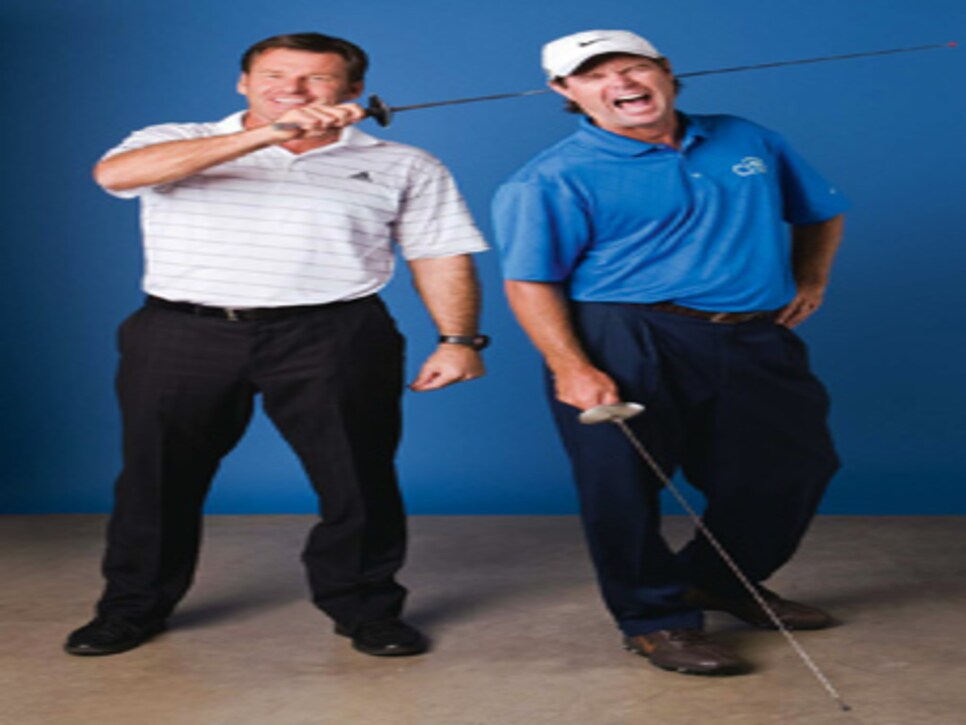 "Nick and I were getting better and better [at ABC]. I wish it had never ended."
As Nick Faldo and Paul Azinger vamp for the camera on a makeshift set in a cold cart barn at Muirfield Village--very different men somehow in sync--there's a definite feeling that this Ryder Cup will be the movie we haven't seen. It doesn't shape up as an over-produced, big-budget extravaganza with a cast of many. Instead, with two complex captains as the leading actors, this one just might be character-driven.
The camera loves each in a different way. Faldo, just off the set of his Thursday gig with the Golf Channel, jump-starts the photo shoot by immediately--as they say in showbiz--playing it big. He shapes his 6-feet-3 frame into variations of the stylized schtick that has become a staple of his latter playing career: the balanced-on-one-leg celebration with arm extended, the feigned stumble, the exaggerated expression. The repertoire of moves is a reminder that Faldo is an only child whose mother enrolled him in ballet and remarked publicly on his "smashing legs." As the shutter snaps, Faldo has the same assured expression that he displayed on those ABC segments when the camera would follow him on an improvised trip to the spa or a merchandise tent.
Azinger, who is less than an hour removed from an opening-round 80 in the Memorial Tournament, arrives in no mood to mug, the staccato click of his steel spikes on the cement floor announcing his heat and hurry. Although it produces a chuckle, Azinger at first resists Faldo's intentionally fey flitting. Scanning the props the photographer had ready--boxing gloves, swords, dueling guns--he wonders how such images will play among the multiple prisms through which the Ryder Cup is viewed.
"You guys want us to be fighting so badly," he says with a smirk. "Ain't gonna happen."
But after about a minute of cool-down, Azinger can't help but engage. Even at 48, he's irrepressibly boyish. Soon he's matching Faldo's playful poses, squaring off in opposing boxing stances, pulling up clothing to match biceps and even their abs. They each supply sound effects as they furiously work the controls of Rock 'Em Sock 'Em Robots. After a particularly solid plastic punch from Faldo, Azinger blurts in a cockney accent, "Ya knocked me block off!"
Their byplay at Valhalla figures to be more dignified, though it could get contentious. The chemistry of this odd couple is contagious and will make onlookers remember and miss their work together in the 18th-hole tower. Truth be told, they miss each other.
"We really had something going on at ABC," says Azinger. "We had a great team and a new way of presenting things, and Nick and I were getting better and better. I wish it had never ended."
Even though ABC's presence in golf has faded, the duo's dynamic has been prolonged through the Ryder Cup, and it's no less interesting.
Faldo hungrily assumes the starring role. Certainly his six major championships give him the goods. But what seems to spark his ambition is the ongoing realization that he's free from the psychological prison he imposed on himself to become--in the late '80s and early '90s--the best player in the game. After so much time in a cocoon, Faldo, 51, is a butterfly seeking exposure. His vehicles include gigs at the Golf Channel and CBS, golf-course design and now the Ryder Cup captaincy.
"Talking about myself as a brand comes naturally now," Faldo told the British newspaper The Observer last year. Accepting that he will never regain the meticulous mastery that was the hallmark of his golf, Faldo's main occupation has become, in the words of his sometime-broadcast partner at the Golf Channel, Rich Lerner, "the biggest public personality transformation in sports since George Foreman's."
But Faldo's television work with his two new employers has not reached the level he achieved at ABC. There are too many incomplete thoughts, an often-mumbling delivery filled with by-now annoying verbal tics like "crumbs," "chalk and cheese" and "break the duck," surprisingly unsatisfying swing analysis, and a persistently awkward chemistry with his regular tower mates, Kelly Tilghman and Jim Nantz. It has become clear that Faldo benefited immensely from Azinger's partnership. It was Azinger who brought the energy, challenging Faldo to match his insight.
By contrast, Azinger doesn't do stardom. Through his remarkable journey from skinny late bloomer to major-championship winner to cancer survivor to Ryder Cup captain, he has remained a spontaneous combination of wit and grit, an astute observer of people and his game, and, among his peers, a natural communicator and connector. Glitz has never stuck to Azinger, nor has he pursued it. It's why he refrained from trying to raise his image to land another television job (choosing to return to what has become for him the toil of the PGA Tour), and why he concedes Faldo the higher profile in their public relationship.
Underdog that he is, Azinger's unharnessed competitiveness and candor caused him some high-profile confrontations when he entered the top levels of the game. He had a run-in with Greg Norman in 1987 after publicly questioning Norman's then-paltry number of American wins, causing the Shark to confront Azinger on the practice putting green, saying, "I understand you have a problem with me," leading to a tense exchange. And it was no accident that Azinger and Seve Ballesteros also pushed each other's buttons during their matches in the 1989 and 1991 Ryder Cups (see accompanying story).
Azinger's lot is to feel, show and express his emotions more readily and openly than is common for a professional golfer. It was why his eulogy at Payne Stewart's funeral was so moving. Wearing rolled-up pants as an homage to his friend, Azinger told a hilarious story of the mechanically challenged Stewart showing off his new bass boat by running the engine as it sat in a garage, only to watch it catch fire and blow up. But the laughter turned to tears when Azinger, his voice breaking, barely managed "Goodbye, Payne."
It's not surprising then that any tension that exists between Faldo and Azinger has always come from the latter. In his new life, Faldo has presented a blithe spirit of confident self-promotion. Openly campaigning for a television job years ago, he told Golf Digest's Guy Yocom, "This boy has it all. I can be serious and analytical. Or philosophical, or dramatic. I'm quick and always good for a laugh." And last year, he summarized his experience at ABC thusly: "Zing ended up being the straight man, and I was the funny one, bouncing things off him, going off at tangents. They seemed to like my English-isms, so I used that to my advantage."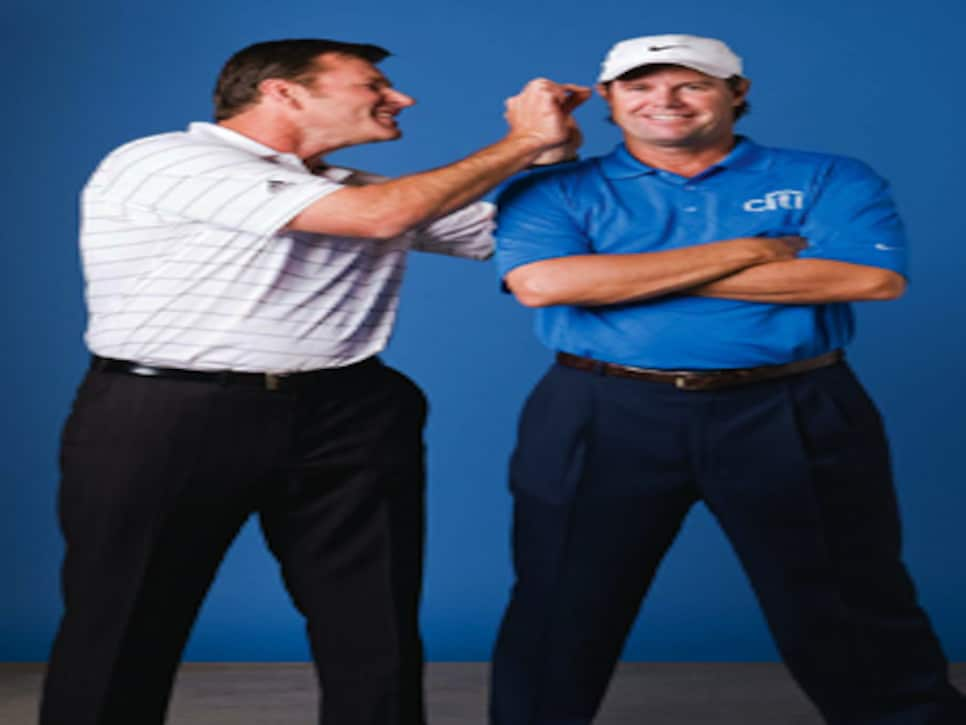 ...I don't know how I slipped."
Azinger admits it rankles to have received comparatively less praise for his own work. Add that his golf prime was interrupted and ultimately robbed by cancer, that he is out of television and feeling physically and mentally spent as a competitor on tour, and it's not surprising that Azinger enjoys puncturing Faldo's balloon like a guest speaker at a celebrity roast.
"Yeah, I've felt my accomplishments have been minimized in comparison with Nick's," Azinger admits. "I try to brush it off, brush it off, but that's a real feeling. There's always a little something there."
It has come out publicly when the two captains have made joint appearances to promote the matches. On a conference call last year, after Faldo gave a weak dodge to a question about his testy relationship with Colin Montgomerie, Azinger assumed a plaintive voice to point out, "That was a horrible answer."
Later, when Faldo chose to illustrate the popularity of the Ryder Cup by contrasting the number of reporters on the conference call with how many he'd get if he were promoting Nick Faldo Enterprises, Azinger piped, "So the Ryder Cup is bigger than Nick Faldo Enterprises? That's huge."
At a PGA of America gala last October in Louisville, Azinger stayed on the offensive. When a replay of their singles match in 1993 was put on the screen, Azinger pulled out the line he had first used on NBC during the 1995 Ryder Cup. "Look at that: I had cancer, and he still couldn't beat me."
When Faldo contended, "I look better in shorts," Azinger countered with, "I look better naked."
Finally, Azinger pulled out the big guns. "Nick and I are like this," he said, extending his index and middle fingers together. "This is me," Azinger said, extending only the index finger. "And this," he added, exposing only the middle finger, "is Nick."
Overmatched, Faldo only smiled. He has learned in his makeover that being humbled just a bit makes him more appealing.
Of course, this game can get a little edgy. Before the Masters, Azinger gave this take on Faldo to a British writer, Ian Stafford of The Daily Mail.
"Nick Faldo has tried to redefine himself," Azinger said in a tape-recorded interview. "I'd say he is both who he is and who he was. Some people have bought it. Some have not. But if you're going to be a p---k and everyone hates you, why do you think that just because you're trying to be cute and funny on air now that the same people are all going to start to like you?
"The bottom line is that the players from his generation and mine really don't want to have anything to do with him," Azinger added. "He did what he did as a player, and there are relational consequences."
After the story made its way across the Atlantic, Azinger attempted to defuse the issue by telling the Associated Press that he had left this message on Faldo's cell phone: "I said, 'This is Zinger. Well, it's already started. I don't know if you've seen it, but one of those papers said I called you a p---k and that everyone from your generation hates you. Even though you pretty much are and everyone pretty much does, I have more diplomacy than to say that.' "
The joke didn't end the controversy, and Azinger knew he had taken things too far. "You know, I was so sorry," he says. "I left two separate messages apologizing. I referred to two Nicks, one past, one present, but I guess that didn't matter. I don't know why I did it. Let's face it, he's trying to redefine himself. It's my great regret in the whole thing. Because I like Nick. And we have a great relationship. And I don't know how I slipped and said that, but I did."
It is a measure of their relationship that Faldo--who has often acknowledged the cost of his insularity in his playing days by referring to himself as, among other things, "a selfish bugger"--did not hit back.
"Well, I know what Zing is like," Faldo says. "He likes to joke and go to the edge. And the other thing is that he's used to talking to American journalists. And you guys are a lot easier; you let him off the hook if he says something and then says, 'Well you know what I mean,' with a little smile on his face, and so you clarify it. In Britain, it's black and white. If you said something, well then, you said it. Doesn't matter if it was a joke, or if you were laughing, or whatever. There can be so many different tones, but they don't matter. He got a swift education in Fleet Street."
At the photo shoot, Azinger tried to put more salve on what remained of the wound. Reprising a technique he employed at the 1991 Ryder Cup when he called Johnny Miller "the biggest moron in the booth" and tried to recover with "I meant the biggest Mormon in the booth," Azinger offered the possibility that he had not used the word in question. "What I said was that I was pro Nick," he said. It drew a smile from Faldo.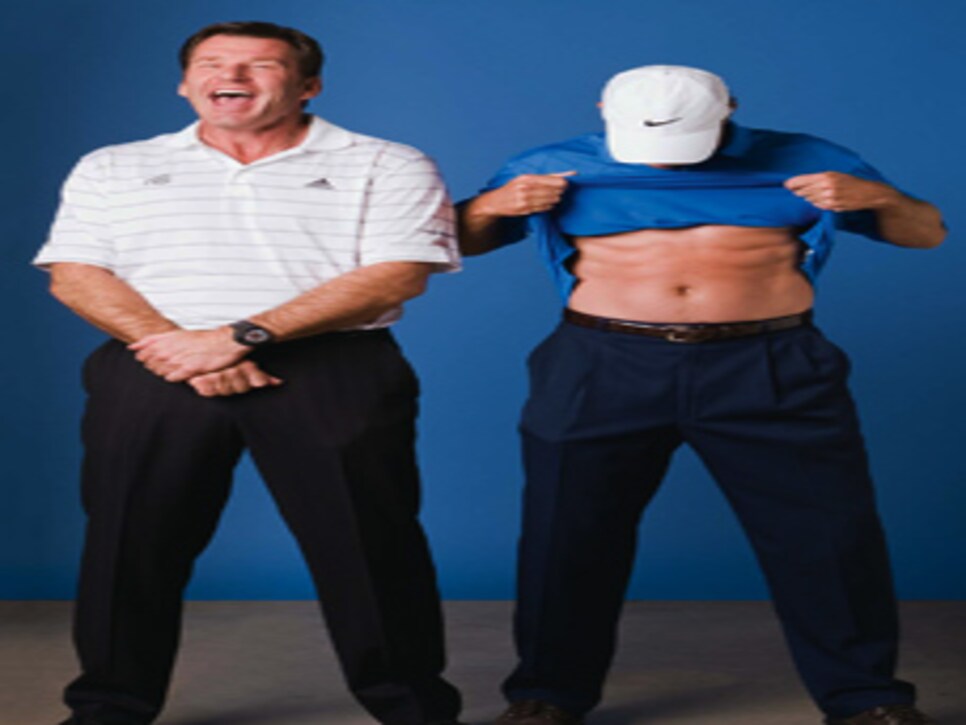 So it goes with these two. What provides the bedrock for their captaincies is the authenticity of their Ryder Cup experiences in the event. Even in a team setting and with partners through some of the hardest fought golf ever played, Faldo remained a distant and generally disliked figure. In 1999, Mark James informed Faldo that he would not use a captain's pick on him even if he were winning tournaments in the weeks leading up to the match. When Faldo wrote a letter of good luck, James made a show of famously "binning it" in the trash in front of the team.
Once asked about Faldo's contribution, captain Bernard Gallacher replied, "Faldo brings you points."
And is that it? Gallacher was asked.
With Azinger, it's the intangibles. Despite an overall record of 5-7-3 in four Ryder Cups (2-0-2 in singles), Azinger was considered by his captains and teammates a warrior on the course and an inspirational figure off it.
Dave Stockton, Azinger's captain at Kiawah Island, one of his assistants for the matches at Valhalla and a close friend who moved with his family out of their home near Palm Springs for two months so Azinger could live there during his 1994 radiation treatment, calls him a natural leader.
"I don't think anybody has ever cared about the Ryder Cup more than Paul," says Stockton. "As a player, he always wanted to play the other team's best. As a captain, he'll understand the players in a deep and analytical way. He's the guy who always wants to be on the front line, the guy who inspires the others."
Former European captain Tony Jacklin singled out Azinger among the American players: "Match play is in this man's blood. The better the player Azinger went up against, the better he played." Says Azinger, "I think the Ryder Cup is the greatest experience you can have as a player at our level."
The last shot Azinger hit in a Ryder Cup was one of the most clutch do-or-die shots in the event's history. Coming to the last hole of his match with Niclas Fasth 1 down and the Americans trailing, 13½-10½, with three tight matches behind them, Azinger had to win the hole, or Europe would win the cup. From the left greenside bunker, with Fasth only 20 feet from a birdie, Azinger holed the shot. Remembering that moment, Azinger showed how he gained strength by making it personal.
"Niclas was a pretty feisty guy--a lot of fist pumps," he says. "I just decided that I could not let this guy score the winning points. Could not happen." Azinger's dislike for Faldo lasted longer. It started when Azinger bogeyed the final two holes at the 1987 British Open to give Faldo his first major championship, by one stroke. At the trophy presentation, Faldo's only words to Azinger were, "Sorry about that."
"That was all he said," Azinger wrote in his 1995 autobiography, Zinger. "I couldn't believe it! I had led the entire week, and I confess that it hurt a little that he wasn't more consoling."
I had a rivalry with [Nick]; He didn't have a rivalry with me. It was one way.'
Faldo became Azinger's target, because of his standard of play and because of the wound he had inflicted. "I always felt like no one knew how to prepare to play well better than Faldo, and I tried to emulate that," says Azinger. "And I had handed him the claret jug, and I wanted to avenge that. But for Nick, I don't really think he knew I existed. I had a rivalry with him; he didn't have a rivalry with me. It was one way."
Faldo confirms as much, believing his whole career that getting personal only distracted from a championship mind-set. "I never thought like that about guys," he says. "Paul was obviously a hell of a player, very spirited, but I never got into that. When I played them, I played against the shots they were throwing at me. I just tried to beat them the good old honest way: outplaying their shots." Faldo and Azinger met only once at the 1989 matches, but it was a doozy. Azinger teamed with Chip Beck to make 11 better-ball birdies and defeat Faldo and Ian Woosnam, 2 and 1. In 1991, Azinger and Mark O'Meara administered a 7-and-6 alternate-shot pasting to Faldo and David Gilford as the United States won back the cup at Kiawah Island.
When the teams arrived at The Belfry in 1993, Azinger had just won his first and only major, the PGA Championship, beating Norman in a playoff, with Faldo third.
"I was probably the most confident player in the game at that moment," says Azinger. On Sunday, Azinger drew Faldo in the final singles match. "All day long I could barely take a deep breath, I was so nervous the matches were going to come down to us," says Azinger. On the par-3 14th hole, Faldo holed a 6-iron for an ace to go 1 up. But Azinger birdied the next to draw even. Faldo was 1 up on the 18th tee, but by that time the U.S. team had retained the cup. After Faldo missed a birdie putt, Azinger expected his six-footer to tie the individual match to be conceded. "That would have been a gracious gesture on Nick's part," Azinger wrote, "but Nick declined, and he stood off to the side while I labored over what should have been a meaningless putt. That made me mad." Azinger sank the putt, staying undefeated in the Ryder Cup against Faldo. Recalling that situation earlier this year, Azinger said he knew his right shoulder would be biopsied after the event. "My shoulder was killing me," he said. "Even if I'd had a scorecard, I couldn't have put it in my back pocket the whole matches." Two months later, Dr. Frank Jobe would tell him, "You have cancer."
Paul was obviously a hell of a player, Very spirited, but I never got into that.'
The next time Faldo and Azinger had a conversation of any length would be after they were offered their jobs at ABC in late 2004. In the interim, neither player was ever quite as good. "I was never the same golfer again," Azinger says. After taking most of 1994 to recover from chemotherapy and radiation treatments, he settled into the second tier of PGA Tour players. He has one victory since the 1993 PGA, the 2000 Sony Open in Hawaii, his 12th career win. It was a bittersweet victory, as it came only three months after Stewart's death. "That win was for a lot of people who needed something good to happen, but it took a lot out of me," says Azinger. Since playing in the 2002 Ryder Cup, Azinger has only four top-10 finishes.
Faldo won one more major, the 1996 Masters. When he won the 1997 Nissan Open, it was his ninth and last victory on the PGA Tour. Faldo admits losing the capacity for intense practice, and his swing began to lose speed and precision. Faldo's private life has remained tumultuous, his third marriage ending in 2006. But he is a father of four who calls time with his children a major priority, and he admits to softening, particularly with fans. "It's taken me 30 years to realize what those 15 seconds can mean to someone," he says.
Still, there is little doubt the pair will bring their old intensity to Valhalla. Azinger has been the more outwardly proactive captain, lobbying to change the number of captain's picks from two to four, and the points system so that each week the top-10 Americans are rewarded. Tournament wins have also been given greater weight, all for the purpose of bringing the hottest players to Valhalla. "We've averaged six players each of the last five Ryder Cups who had not won a tournament that year," he says. (The Europeans averaged about four players who had not won a tournament that year.)
If the Americans win in September, "I think my legacy will be that I was the guy who changed the way the team was picked," says Azinger. "Most of all, I want the players years from now to say the best memories they have of the Ryder Cup are from the one where Zinger was the captain."
The [digs] that go below the belt might get a bit of an ouch.' --Nick Faldo
Faldo's captaincy has had its share of bumps. Along with the contretemps with Montgomerie, Paul McGinley resigned as an assistant captain four months after he had accepted the position. McGinley said he wanted to earn his way onto the team, but there was speculation he was miffed that Faldo did not choose a player from Ireland when that country was the site for last year's Seve Trophy matches. Otherwise, Faldo has kept his strategy secret and been nearly as distant in communicating with his prospective players. "What I've said to them is, 'You talk to me. If you want anything from me, you call me,' " Faldo said at the Masters. " 'I am very accessible. I am not going to go down the line or start calling guys, asking, "What do you need?" . . . If you want me, you call me.' If I don't hear from them, I'm happy."
Of course, Faldo will almost surely hear from Azinger, either through the media or personally. He doesn't mind.
"For that week, and for those three days, it will be intense, but I think it's very important we have good camaraderie and good fun doing it," says Faldo. "There will be a few digs. The ones that go below the belt might get a bit of an ouch. Or something."
Perhaps Faldo has decided that the something is better than the nothing that is his norm. The irony of Valhalla is that the man Faldo will be closest to among all the participants will be Paul Azinger.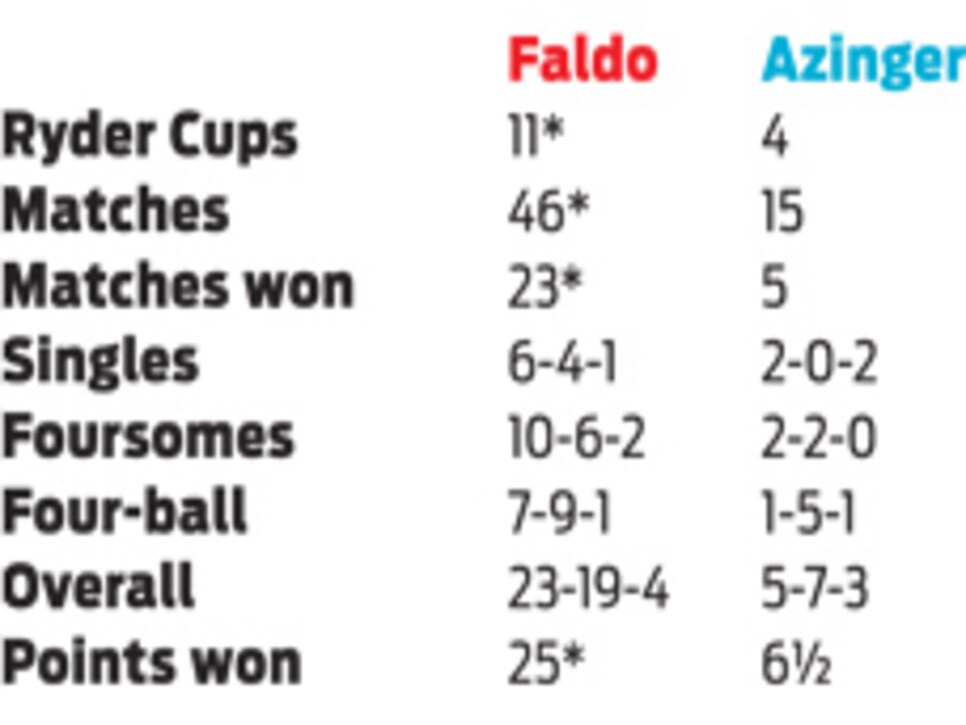 Wins, losses and controversies
Faldo and Azinger have had several notable showdowns. Faldo memorably made 18 consecutive pars in the final round of the 1987 British Open to beat Azinger by one stroke after Azinger bogeyed the final two holes, and in 1993 Azinger overcame Faldo and Greg Norman to win the PGA Championship. Here, some selected highlights from their Ryder Cup careers:
1977 / Royal Lytham & St. Annes
At age 20, Faldo goes 3-0-0 competing in the first of his 11 Ryder Cups as a player.
Faldo gets three points in a 17-11 loss, the last defeat for Great Britain & Ireland before the rest of Europe becomes part of the Ryder Cup.
Faldo beats Johnny Miller, 2 and 1, for his only point.
Faldo teams with Bernhard Langer to win three of four matches and is 4-1-0 overall, but Europe loses, 14½-13½.
Faldo is winless in two matches, but the United States loses the Ryder Cup for the first time since 1957.
Faldo is 3-1-1, and the United States loses a Ryder Cup at home for the first time.
Azinger, playing with Chip Beck in a 2-and-1 four-ball victory over Faldo and Ian Woosnam, notices Faldo paying attention to Beck's putting line and announces, "I'll read my partner's putts, if you don't mind."
In Sunday's singles, Seve Ballesteros asks Azinger if he can replace a scuffed ball but is rebuffed. "Is this the way you want to play today?" says Seve, who later remains silent when Azinger stands over a two-footer at the 13th hole and asks, "Is that good?"
Azinger is 1 up when he drives into water at the 18th, and Ballesteros disputes the drop he is given. Both make bogeys. That was good enough for Azinger to win the singles match, though when the teams tie, 14-14, as the defending champion, Europe retains the Cup.
1991 / Ocean Course, Kiawah Island
On the 10th tee of a Friday foursomes match that Azinger has said featured "one bit of controversy after another" that left him "livid"--though the U.S. team led, 3 up--Ballesteros and Jose Maria Olazabal point out that Azinger and Beck had mixed up the use of 90- and 100-compression balls in their foursomes match:
"I can tell you, we're not trying to cheat," Azinger says.
"Oh, no, no. Breaking the rules and cheating are two different things," Ballesteros responds before he and Olazabal rally to win, 2 and 1.
That isn't it for the sniping. Says Seve:
"The American team has 11 nice guys . . . and Paul Azinger."
Azinger, who once called Ballesteros "the king of gamesmanship," adds: "Seve always develops a cough at the Ryder Cup."
Faldo makes an ace against Azinger with a 6-iron from 186 yards at the 14th hole during Sunday's singles, though Azinger birdies the next hole and the 18th to halve their match. Davis Love III, who makes a six-foot par putt on the 18th to beat Costantino Rocca for a crucial point, says the huge roars from the gallery after Faldo's ace caused Rocca to back away from his tee shot on the 18th hole. Says Love: "It may have been the only time in Ryder Cup history that a hole-in-one actually hurt the team that made it."
Faldo's 1-up victory over Curtis Strange with a 93-yard wedge shot to four feet to save par at the 18th is a crusher for the Americans in a 14½-13½ loss. Azinger has this to say about Faldo's slow play during the matches: "They ought to invoke the same-day rule."
In his last Ryder Cup as a player, Faldo goes 2-3-0, but Europe wins again.
Azinger, 1 down to Niclas Fasth playing the 18th hole, holes a bunker shot to halve his match and keep the U.S. alive before Europe pulls away. "No one remembers that 10- or 12-footer I made on 17, or it was over right there," Azinger says. "The whole European team is on the green on 17 ready to pop the cork. But I made the putt to keep it alive. And then 18. . . . I said to my caddie, 'I have to make this, don't I?' And he didn't even say anything. And the last thing I said before I hit the shot was, 'Well, of course I do.' And then I made it."
Azinger, who holed a similar greenside bunker shot on the 72nd hole to defeat Corey Pavin and Payne Stewart in the 1993 Memorial Tournament, added this: "Really, if we had won those matches, where would that shot be in the history?"