Ryder Cup 2023
Ryder Cup 2023: Fans yelling at players? Jordan Spieth says he's done the same thing at games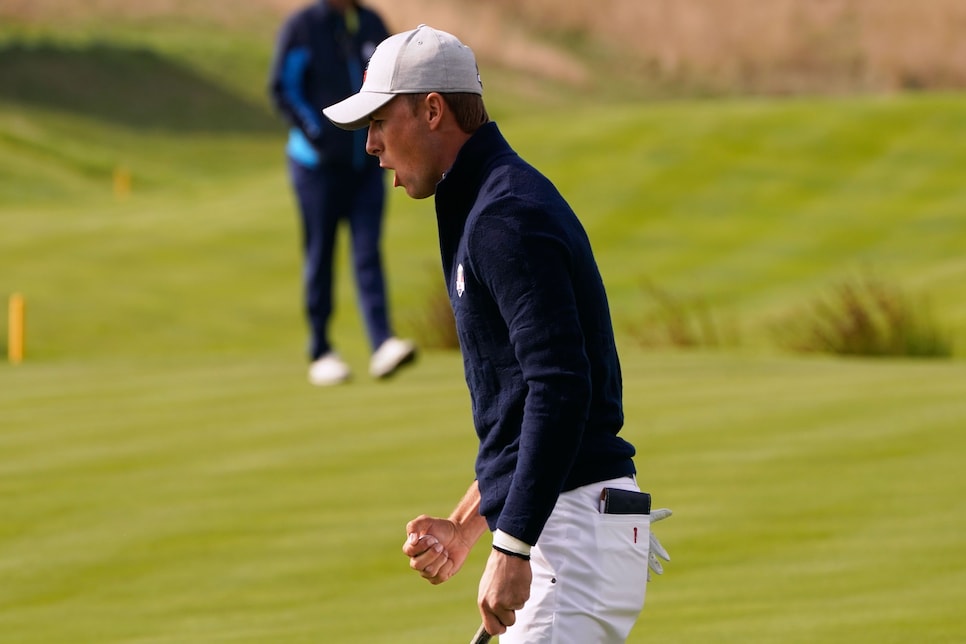 Jordan Spieth celebrates during his fourball match during the 2018 Ryder Cup.
LIONEL BONAVENTURE
ROME — Passionate, highly competitive and, lord knows, mouthy, Jordan Spieth admits he's probably the sports fan you think he is. Yes, he's from Dallas, but he was most likely to scream at opposing players when his idol, Tom Brady, was still playing for the Patriots.
"I've shouted plenty of things at sporting events at people that I have no reason to do, so I also try to say, 'pot and kettle,' and recognize that it's all just sport and move on," Spieth said with a self-effacing grin on Tuesday at the Ryder Cup.
The subject in his press conference was how he might handle the razzing he and his teammates likely will receive from a pro-Europe crowd at Marco Simone Country Club in the Italian countryside, where the U.S. team will try to secure the Cup on foreign soil for the first time in three decades. In men's pro golf, the Ryder Cup and Presidents Cup can be counted as the only occasions in which hordes of fans are openly rooting against you.
A four-time Ryder Cupper, Spieth has twice played and lost away from home—in 2014 in Scotland and 2018 in France—and understands better than anyone that ignoring the crowd, and maybe playing up to the fans, can have a big role in the outcome.
"I try and just throw it out of my head and just stick to what I'm doing because I think blocking out the noise is the healthiest thing to do," he said. "I played a lot of matches with Patrick Reed—when he felt insulted, he turned the notch up. When I feel insulted, I don't turn it up or down. I'm just like, 'OK, they are drunk, move on.'"
Speith, 30, a three-time major winner, has mostly been a strong big-stage performer. In Ryder Cup matches involving a partner, he's posted an 8-4-2 record combined in four-ball and foursomes. His trouble has come as an individual, where he has yet to win and is 0-3-1. (Spieth is also coming off a 5-0-0 performance in the 2022 Presidents Cup in which he won his first singles point among the two team competitions.)
He says he relishes the big crowds, and in the press conference, he even bought into a European reporter's analogy to playing in front of a raucous soccer crowd.
"That's what this tournament is about, so it's probably the most similar to like a football match of any other golf tournament, that's for sure," Spieth said. "And I think that we enjoy that. It's an exhibition that we prepare like it's the biggest tournament in two years, and part of that is … there's a lot of uniqueness to this event, and one of them is the crowd."
To be sure, Spieth relishes every one of these unique opportunities.
"I try to remember that coming in and really embrace that and try to have a lot of fun with it," he said, "because although they are rooting against you to make putts, they are very educated and fantastic crowds that if you have fun with [them], they will have fun with you."