Ryder Cup Uniforms
Ryder Cup 2021: Here's what Team USA will wear at Whistling Straits
*All products featured on Golf Digest are independently selected by our editors. However, when you buy something through our retail links, we may earn an affiliate commission.*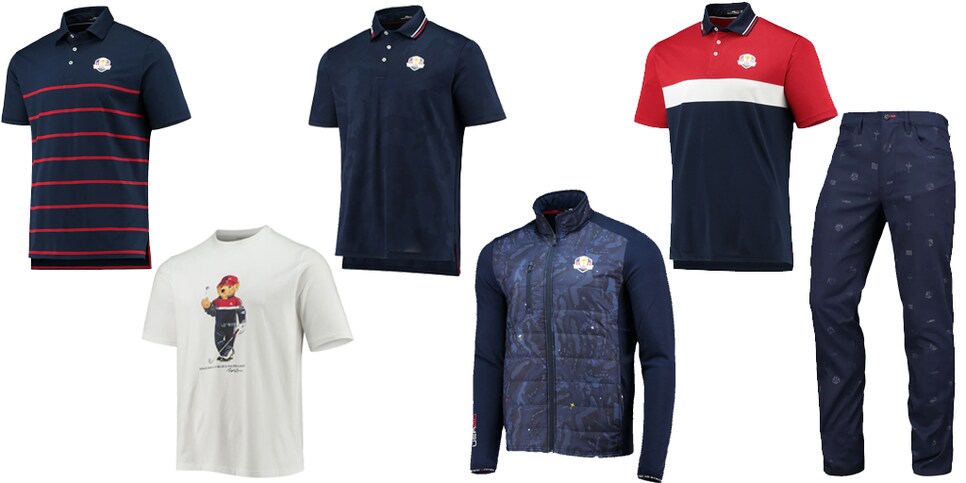 With half the Ryder Cup team selected, Ralph Lauren is releasing a sneak peek of the American team's uniforms before it heads to Whistling Straits at the end of September. Ralph Lauren is outfitting the U.S. team during play and at all the surrounding events the Ryder Cup brings for players and their families, including the opening ceremony and welcome dinner. The collection is decidedly upscale and patriotic, rooted in navy with touches of red, white and a few pops of gold. As always, players will be given several layering pieces they can wear with their uniforms, so don't be surprised if the team isn't dressed exactly alike throughout the week.
RELATED: Patriotic Golf Gear: Our favorite USA-themed items
Each player will also be given a sweater with his name across the back from the brand's Made to Order program. In addition to the patriotic scripting for players, their significant others and caddies, RL will release a collection of apparel and accessories for fans to celebrate the tournament. Here's a look at the uniforms for the U.S. Ryder Cup team and the entire Ralph Lauren Ryder Cup collection.
RELATED: 2021 Ryder Cup merchandise, uniforms will carry 2020 emblem
Team U.S. Ryder Cup Uniforms: Day 1
On the first day of the three-day competition, the team will wear solid navy pants with a red-striped navy golf shirt. It's a simple and quiet look that can be enhanced by the scripted jacket that features a golf-inspired blue camo print with white stars and red details incorporated into the design for a unique Americana look.
Team U.S. Ryder Cup Uniforms: Day 2
Saturday, the team will be in a full navy ensemble with the Mesh Camo Jacquard Polo over navy pinstripe pants. Each shirt has the Ryder Cup Team logo at the chest, "USA" printed on the back of the shoulder and "United We Stand" printed on the back of the collar. The pants will all have "United We Stand" printed in silicone on the interior waistband, along with a few other hidden patriotic details at the pockets.
Team U.S. Ryder Cup Uniforms: Day 3
Adding a bit more color, the Sunday look is a flattering red, white and blue color-blocked golf shirt over bold printed navy pants. The print on the pants is a monochromatic micro-print featuring the Ryder Cup logo, trophy, the American flag and other imagery related to the event. A sweater with an almost identical color-block pattern is also available for the players to wear.